Dora Review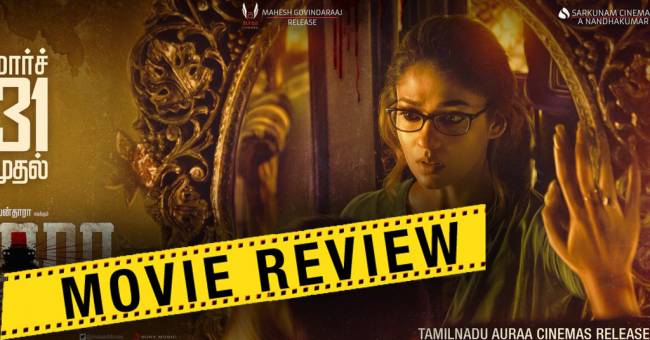 Lady Superstar Nayanthara's Dora Movie was released today. This Movie directed by Doss Ramasamy came with a lot of expectation. Thambi Ramaiah and Harish Uthaman who acted in Thani Oruvan & Bairavaa also played important roles in the film. Nayanthara plays as an innocent girl (Pavalakodi) who is a daughter of a Taxi Driver, played by Thambi Ramaiah. Let's move on to Dora Movie Review.
Dora Movie Review
This movie is named after a Vintage Austin Cambridge Car which is called as "Dora". This car also plays a significant role in this film. Background of the story is, Pavalakodi (Nayanthara), an innocent girl who lives with her father,  decides to start a call taxi business. She encounters with this car. This car is possessed by a stubborn spirit and Nayanthara's Attitude changes, and she becomes a rebel when she gets control of this car.
First Half of this movie is mostly occupied by the father & daughter duo (Nayanthara and Thambi Ramaiah). Thambi Ramaiah and Nayanthara combination didn't work well in this movie as the scenes with their combination made the audience get bored. Their comedy scenes also didn't trigger much laughter among the audience. Second Half of this movie is predictable but it is watchable and bit interesting when compared to the first half. Interval block was nice, the scenes which involve the car have grabbed the attention of the audience in the theater than any other scenes in this movie.
There is no Main male lead in this movie and Nayanthara has stolen the show with her brilliant performance. More Claps from the audience for her performance. Mervin Solomon composed the music for this film. Enga Pora Dora and Ra Ra songs from this movie got a good response from fans before the release of the movie. Music has also come out nicely for this movie. There was no need to give an "A" certificate for this movie.
This movie is getting average reviews from all centers; this is a good try by Nayanthara, but the director missed a good chance to deliver a nice movie with Nayanthara.
Verdict: Watch this Movie if you are a Nayanthara Fan
Rating: 2.5/5