Bigg Boss Tamil Vote aka Bigg Boss Vote for Bigg Boss Season 3 has started and people can vote either through the online voting poll or through missed call service or through Hotstar App. The complete details regarding Bigg Boss Tamil Vote Season 3 can be found below. This will be the third year for Bigg Boss Tamil. 50 votes per day per Gmail ID will be available, which the audience can use to vote for their favourite. Kamal Hassan, the Host of Bigg Boss Tamil 3 will announce the eliminated contestant based on the vote percentage received. However, the final decision will be in the hands of Star Vijay Management.
Bigg Boss Tamil 3 Voting Eviction Process: Each week the housemates will nominate the Candidates for elimination. One person can nominate 2 participants, later the public will vote from the nomination list available online. The person with the least number of votes or with less vote percentage will be eliminated. You can also Vote for Big Boss Tamil 3 here but the votes cast here will not be added in the official count. Bigg boss Tamil season 3 can be watched online at Hotstar (Official Broadcaster). The complete details of the Bigg boss Tamil vote process are as follows. Wikipedia
Bigg Boss Tamil Vote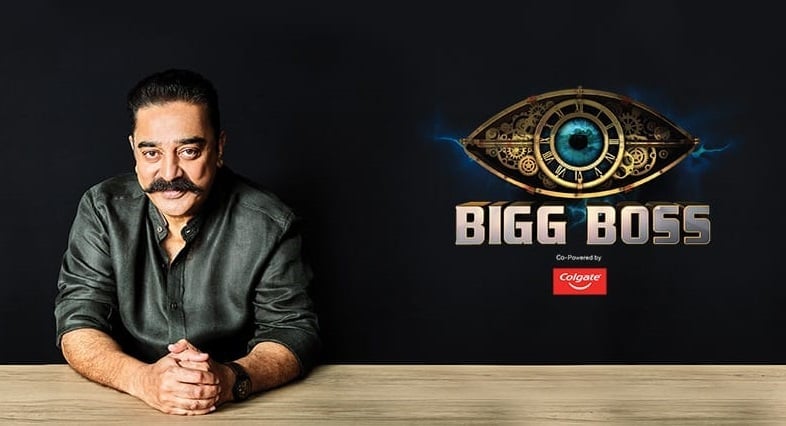 Bigg Boss Tamil Vote – Public Opinion by TamilGlitz
Disclaimer: This is an unofficial poll conducted by TamilGlitz purely as a public opinion & your votes don't count in the official one conducted by Vijay TV. Scroll Down for the Official Bigg Boss Tamil Voting Method.
Click Here to Scroll to Comments
Bigg Boss Tamil Vote Official Method
1. Bigg Boss Tamil Voting through Google
Go to Google, Sign In and Search 'Bigg Boss Tamil Vote' (or) 'Bigg Boss Vote'
Click on the candidate who you wish to vote.
Select the number of votes (maximum of 10 votes).
Click Submit.
Your Votes have been successfully submitted to Star Vijay TV.
2. Bigg Boss Tamil Voting through Missed Call
To save your favorite Tamil Bigg Boss Contestant, just give a missed call to the below mentioned mobile number.
| | |
| --- | --- |
| Contestant | Missed Call Number |
| Vote for Fathima Babu | 8367796803 |
| Vote for Losliya | 8367796805 |
| Vote for Sakshi Agarwal | 8367796810 |
| Vote for Madhumitha | 8367796806 |
| Vote for Kavin | 8367796804 |
| Vote for Abhirami Venkatachalam | 8367796801 |
| Vote for Saravanan | 8367796812 |
| Vote for Vanitha Vijaykumar | 8367796815 |
| Vote for Cheran | 8367796802 |
| Vote for Sherin Shringar | 8367796813 |
| Vote for Mohan Vaithya | 8367796807 |
| Vote for Tharshan | 8367796814 |
| Vote for Sandy | 8367796811 |
| Vote for Mugen Rao | 8367796808 |
| Vote for Reshma | 8367796809 |
| Vote for Meera Mithun | 8367796816 |
How to vote in Hotstar for Bigg Boss Tamil 3?
Open Play Store in your Mobile.
Search for " Hotstar " app and Install the latest version.
Now open the Hotstar app.
Go to "Bigg Boss Tamil" page.
Below the stream, you will find an option to vote.
Click the "Vote now" button.
Choose your Favourite Contestant.
You have 50 votes each day to vote for Bigg Boss Tamil 3.
Missed call voting method is also available.
Bigg Boss Tamil Season 3 Details
| | |
| --- | --- |
| Host | Kamal Hassan |
| Starting Date | 23/06/2019 |
| Channel | Star Vijay |
| Number of Days | 100 |
| Voting Method | Online (Hotstar, Google) |
| Live Streaming | Hotstar |
Bigg Boss Tamil Vote Live Status
Vijay Television will be displaying the Live Vote count of individual contestants who are into Bigg Boss Tamil Final. The Bigg Boss Tamil vote counts will be displayed in regular intervals in Vijay TV in a small box at the bottom. As of now, voting for Elimination has not started. Bookmark us to be updated.
Who will win Bigg Boss Tamil Season 3?
The online polling of Bigg Boss Tamil Vote is active from Monday to Friday of every week. The results are then collected by Vijay tv and the contestants with the least bigg boss vote percentage will be shown the exit. The total vote count of the Bigg Boss poll will be revealed by the host Kamal Hasan, however, the individual vote count will not be disclosed. The contestant with the highest vote percentage will be declared as the winner of Bigg Boss Tamil 3.
Bigg Boss Tamil Online Voting Q&A
Will Kamal Attend all episodes? No, Kamal will be seen only during the Weekends ( Saturday & Sunday).
How long will the voting take place? Every week from Monday to Friday.
Will elimination happen all weeks? No, Elimination may not happen in some weeks.
Where can we see the Vote results? The voting results will not be publicly disclosed, you have to wait until they announce.
What happens when 2 contestants get the same votes? The decision will be taken by Vijay tv management.
Where can I watch Bigg Boss Tamil Online? You can watch Vijay TV's Bigg Boss Tamil Exclusively on Hotstar.
When will Bigg Boss 3 Tamil eviction Happen? The eviction happens every Sunday based on the Vote Percentage.
Where is Bigg Boss house in Chennai? Bigg Boss Tamil House is set up in EVP Film City Chembarambakkam.
When does Online Voting for Bigg Boss Tamil 3 Begin? Bigg Boss Tamil Vote begins 10:00 PM every Monday.
Who has the Chance of winning Bigg Boss Tamil Season 3? As of now Tharshan has a huge fan following and has high chances of winning the Bigg Boss 3 Title.
Bigg Boss Tamil Season 3 Gallery
Following are some of the frozen moments taken during the Bigg Boss Tamil Vote program. These include the funny moments during some task and Mumtaz getting emotional.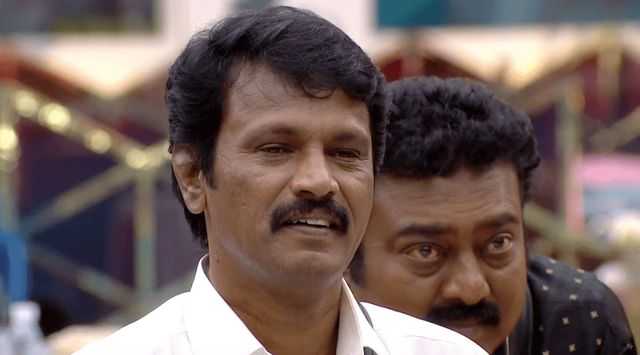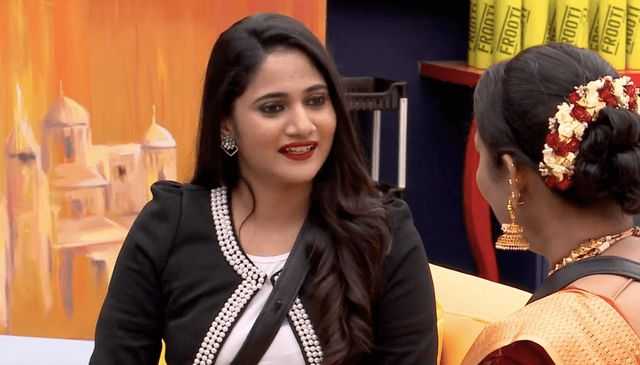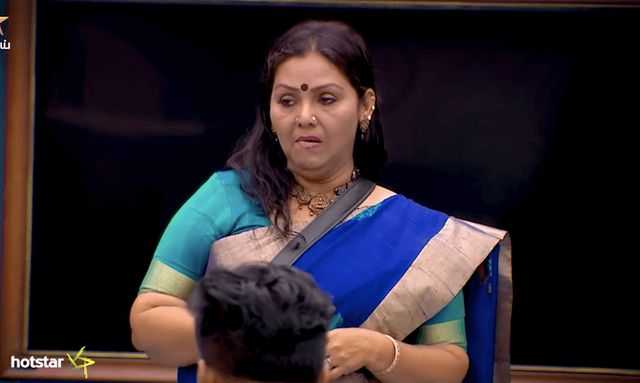 Bigg Boss Tamil 3 Contestants
Here are the current Bigg Boss Tamil 3 Participants, each one of them is unique in their own way. People show their likings towards them based on their behaviour inside the house. It is evident that Fathima Babu, Cheran & Losliya has gained huge fan followings as of now.
Fathima Babu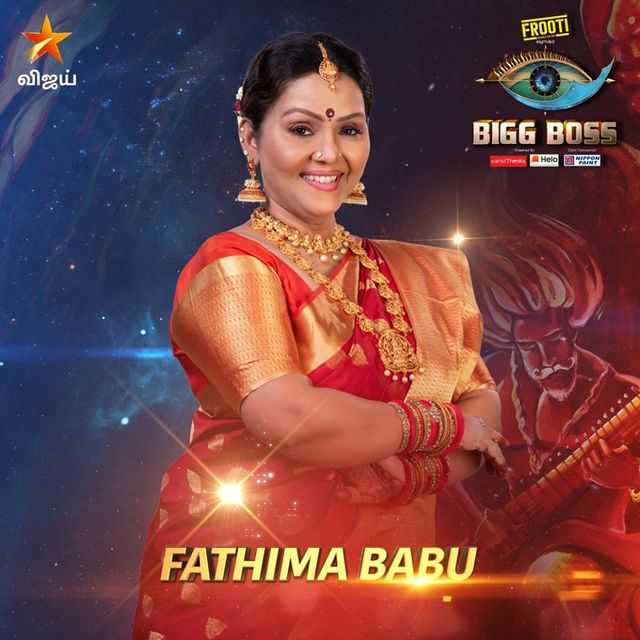 Fathima Babu is a Tamil actress, Tv host, and politician. She is a Malayali born and brought up in Puducherry. She is known for her majestic and heavenly voice. She is best known as a former news anchor in Doordarshan. She is acted in several Tamil and Malayalam movies. She made her debut in Unnidathil Ennai Koduthen in 1998. She has also acted in so many small screen serials including Yaradi Nee Mohini, Aranmani Kili in Vijay Television. She has also joined in AIADMK party during when Jayalalitha was Chief Minister. She was also appointed as chief by Jayalalitha.
Losliya
Losilya is a Sri Lankan actress and model who born and raised in Sri Lanka. She is one of the famous Model & Anchor in Sri Lanka. After completing her studies she started her career in modelling to follow her passion. Now she is participating as one of the 16 contestants in Bigg Boss Tamil season 3, Her Father Died when she was a kid, she has gained popularity and support from the youngster on first-day self
Sakshi Agarwal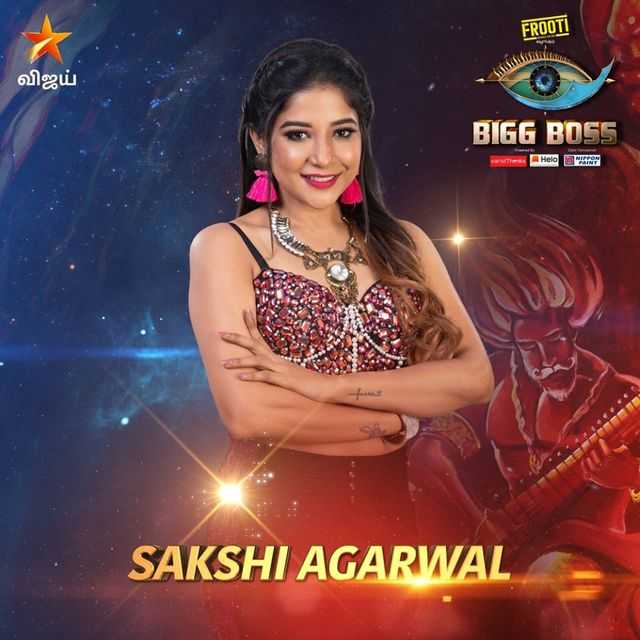 Sakshi Agarwal is a south Indian cinema actress and model who primarily appeared in Tamil and Malayalam movies. She was born Uttarakhand and then her family moved to Chennai where he lived most of her life. Sakshi got a gold medal from Anna University for Bachelor of Information Technology. She made her debut in Tamil cinema with 2015 Yoogan movie. She is known for her role in Thala Ajith's Viswasam in 2019. Now she is playing a lead role in a female-centric horror movie titled Cinderella. She has been worked in more than 100 TV commercials ads in her modelling Career.
Madhumitha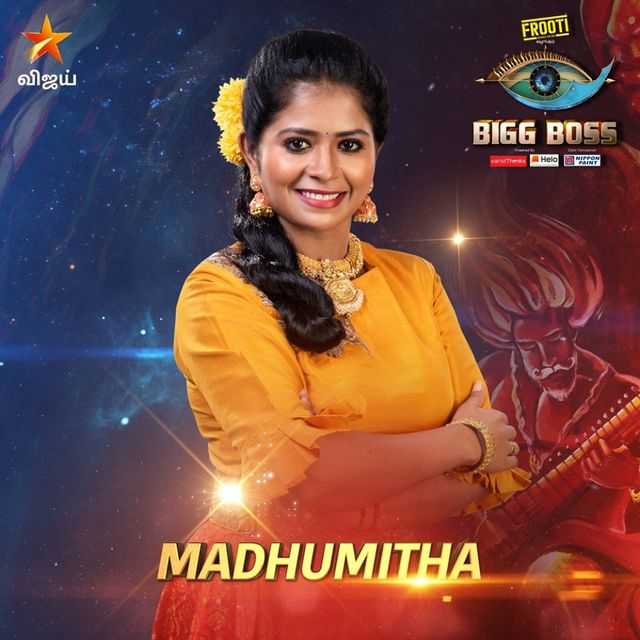 Madhumitha Moses popularly known as Jangiri Madhumitha is a Tamil comedy actress. She was born and raised in Chennai. She appears in Tamil films after gaining fame through Vijay TV's comedy series, Lollu Sabha series. Her role as Jangiri in her first feature film Oru Kal Oru Kannadi made her familiar among Tamil audience, In that movie, she paired with Santhanam, that became a super hit combo and continued in several movies. In her 7 years of career in Tamil cinema, she acted more than 50 movies in important roles. She married her cousin, Moses Joel, on the 18 February 2019
Kavin
Kavin is a popular Tamil cinema and Tv actor. He is a Tamil boy born and raised in Trichy. To follow his passion he dropped his studies and attended a training session on acting. He began his career in Vijay Tv as a serial actor. His role as Vettaiyan made him popular among the audience. He has hosted multiple reality shows in Vijay Tv which includes Kings of Dance and Vijay Television Awards. He played a cameo role in Vijay Sethupathi's Pizza in 2012. He played a lead role as Shiva in the movie Natpuna Ennanu Theriyuma along with actress Ramya Nambeesan
Abhirami Venkatachalam
Abirami Venkatachalam also known as Abirami Iyer is a Tamil actress and Brarathanattiyam dancer who born and brought up in Chennai. She is known for her acting in popular Tamil web series 'Ctrl Alt Del' in Put Chutney. She made her debut in Tamil web movie in Murali Karthick's Kalavu in 2017 along with Kalaiyarasan which released in Zee5. She plays an important role in Thala Ajith's upcoming movie Nerkonda Paarvai. She is passionate in her modelling career, she has appeared in various television commercials for popular brands. Abhirami Venkatachalam is the title winner of Miss Tamil Nadu 2017 contest.
Saravanan
Saravanan is popularly known as Paruthiveeran Saravanan is a Tamil cinema actor, director, and poet. He is a well-known actor who played the lead role in Tamil movies in the 90s. Saravanan was born in Salem into a Tamil family. He made his debut in the movie Vaidhehi Vanthachu in 1991which became hit followed by Pondatti Rajyam, Akkarai Cheemayile and Veettai Paru Naattai Paru. He made direction debut in a film called Thaayumaanavan in 2003 which didn't go well. In 2007 his Chevvaazhai role in Paruthiveeran movie became a breakthrough in his career. Following Paruthiveeran he acted in several movies in important supporting roles.
Vanitha Vijaymumar
Vanitha Vijayakumar is a south Indian actress and producer. She is a daughter of popular cine couple actor Vijay Kuman and actress Manjula. She has starred in Tamil, Malayalam, and Telugu films. She made her debut as a heroine in Tamil cinema with the movie Chandralekha paired with actor Vijay in 1995. She recently produced and acted a Tamil film titled MGR Sivaji Rajini Kamal in 2015. In a recent controversy, Vanitha came in front of media to accuse her father Vijakumar and brother actor Arun Vijay for chasing her out of the house owned by her mother.
Cheran
Cheran is a national award-winning director and actor who is known for his work in Tamil cinema. Cheran was born in Kolinjipatty near Madurai. He made his directorial debut in controversial film Bharathi Kannamma in 1997 which was a big box office hit. His popular movies include Pandavar Bhoomi, Vetri Kodi Kattu. He made his acting in the film Solla Marandha Kadhai in 2002 followed by Autograph. His recent movie Thirumanam didn't perform well at the box office. He is criticized for his controversial speech against Sri Lankan Tamils in an audio launch event stating that he felt ashamed that I fought for Sri Lankan Tamils later he apologized for that
Sherin Shringar
Sherin is a south Indian model-actress who primarily appears in Tamil and Kannada movies. Sherin from Karnataka, born and raised in Bangalore. She studied at Baldwin Women's Methodist College later discontinued her studies to focus on a modelling career. She made her debut in Tamil cinema with Thulluvadho Ilamai in 2002 paired with actor Dhanush. She was critically acclaimed for her performance in the Horror Thriller film Whistle in 2003. Recently she starred in Udayanithi Stalin's Nanbenda movie.
Mohan Vaithya
Mohan Vaithya is a Carnatic singer hailing from Tamil Nadu. He comes from a musical family. His father is a Kadam Master and mother is a singer. Veena maestro Rajhesh Vaidhya is his last younger brother. He is an actor, dance choreographer and also been a part of many reality shows. He is debuted in the Tamil movie Sethu. He was not able to speak until he was four age with is hard work and dedication he became a great Carnatic singer
Tharshan
Tharshan is a Srilankan model and actor. He was born and raised in Jaffna, Srilanka. He is debuted in Tamil cinema with the movie 'Verenna Vendum' in 2018. He started his career as a software engineer and worked for 5 years before he discontinued to pursue his career in modelling. Initially, he struggled to get the attention of the audience. As a model he acted in commercial ads of popular brands include Pothys, Malabar Gold. Now he is one of the contestants of Bigg Boss. He hopes this attempt give him some limelight
Sandy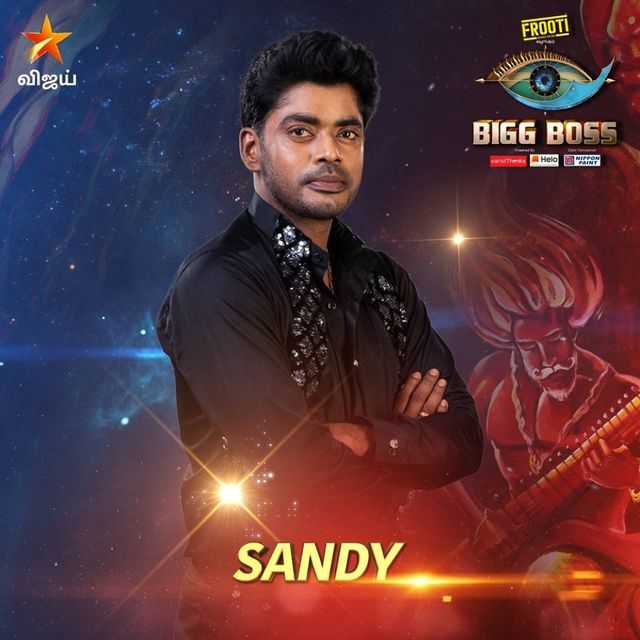 Santhosh Kumar well known as Sandy master is an Indian Dance choreographer. He is born and raised in Chennai. Because of his passion for dance, he started learning dance from a young age. He made his debut through KalaignarTv's reality dance show Manada Mayilada. In that show, he choreographs Sathish Krishnan and Jayashree who selected as the title winner which made him popular among Tamil audience. later he moved to Vijay Tv to choreographs their shows. In 2014 he choreographed a Tamil movie titled 'Aaaah' Now he is one of the judges in 'Kings of Dance' season 2.
Mugen Rao
Mugen Rao is a singer, actor and social media influencer who is from Kuala Lumpur, Malaysia. He was born and raised in Malaysia. He completed his Diploma in Performing Arts. He made his debut in Malay movie titled Senandung Malam. He also acted in several other Malaya movies. He began his musical career by working with Random.CROWNZ in 2013. He released several music videos which went viral on the internet. His music album titled 'Kayalvizhi' made him popular among Tamil audience. Now he is a talent under IBP Studios which is managed by the well-known producer Coruz Hooks.
Reshma
Reshma is a Tamil Tv and cinema actress. She was born and raised in the USA. She made her debut in the Tamil television serial Vani Rani and also played an important role in Vamsam serial both telecasted in on Sun Tv She has worked as an air hostess before she entered into Cinema. Her performance in the movie Ko2 is applauded and Velai nu Vanthuta Vellaikaran brings a good reach to her.
Let us know Which contestant you are supporting and why in comments. So you can vote for the Bigg Boss Tamil housemates here and also check various other polling methods. Let us know your opinion about Bigg Boss Tamil Vote in comments and whom you wish to support. Who do you think will win Bigg Boss Tamil Season 3. Let's wait for the result of this week's Voting Process.