Bigg Boss Tamil Vote aka Bigg Boss 7 Tamil Vote for Bigg Boss Season 7 has started and people can vote either through the online voting poll or through missed call service or through the Hotstar App. The complete details regarding Bigg Boss Tamil Vote can be found below. This will be the sixth year for Bigg Boss Tamil. 1 vote per day per Hotstar ID will be available, which the audience can use to vote for their favourite. Kamal Hassan, the Host of Bigg Boss Tamil 7 will announce the eliminated contestant based on the vote percentage received. However, the final decision will be in the hands of Star Vijay Management. The Bigg Boss 7 Tamil elimination list for this week can be seen below and the elimination happens every weekend.
Bigg Boss Tamil 7 Voting Eviction Process: Each week the housemates will nominate the candidates for elimination. One person can nominate 2 participants, and later the public will vote from the nomination list available online. The person with the least number of votes or with the lowest vote percentage will be eliminated. You can also Vote for Big Boss Tamil 7 here but the votes cast here will not be added to the official count. Bigg Boss Tamil season 7 can be watched online at Hotstar (Official Broadcaster). The complete details of the Bigg Boss Tamil vote process are as follows. Wikipedia
Bigg Boss Tamil Vote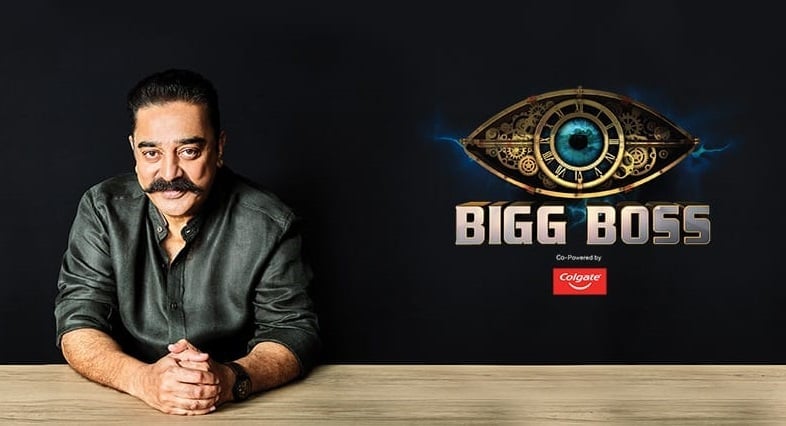 Bigg Boss Tamil Vote – Public Opinion by TamilGlitz
Disclaimer: This is an unofficial poll conducted by TamilGlitz purely as a public opinion & your votes don't count in the official one conducted by Vijay TV. Scroll Down for the Official Bigg Boss Tamil Voting Method.
Scroll Down for Bigg Boss Live Chat
Bigg Boss Tamil Vote Official Method
1. Bigg Boss Tamil Voting through Google
Go to Google, Sign In and Search 'Bigg Boss Tamil Vote' (or) 'Bigg Boss Vote'
Click on the candidate who you wish to vote.
Select the number of votes (maximum of 10 votes).
Click Submit.
Your Votes have been successfully submitted to Star Vijay TV.
2. Bigg Boss Tamil Voting through Missed Call
To save your favourite Tamil Bigg Boss Contestant, just give a missed call to the below-mentioned mobile number.
| | |
| --- | --- |
| Contestant | Missed Call Number |
| Vote for Cool Suresh | |
| Vote for Poornima Ravi | 8886602480 |
| Vote for Raveena Daha | 8886602482 |
| Vote for Pradeep Anthony | 8886602481 |
| Vote for Nixen | 8886602479 |
| Vote for Vinusha Devi | 8886602485 |
| Vote for Mani Chandra | 8886602477 |
| Vote for Akshaya Udayakumar | 8886602471 |
| Vote for Jovika Vijaykumar | 8886602476 |
| Vote for Aishu | 8886602470 |
| Vote for Vishnu Vijay | – |
| Vote for Maya Krishnan | 8886602478 |
| Vote for Saravana Vickram | 8886602483 |
| Vote for Yugendran Vasudevan | 8886602487 |
| Vote for Vichithra | 8886602475 |
| Vote for Bava Chelladurai | 8886602473 |
| Vote for Ananya Rao | 8886602472 |
| Vote for Vijay Varma | 8886602484 |
How to vote in Hotstar for Bigg Boss Tamil 7?
Open Play Store on your Mobile.
Search for the " Hotstar " app and Install the latest version.
Now open the Hotstar app.
Go to the "Bigg Boss Tamil" page.
Below the stream, you will find an option to vote.
Click the "Vote now" button.
Choose your Favourite Contestant.
You have 10 votes each day to vote for Bigg Boss Tamil 7.
The missed call voting method is also available.
Bigg Boss Tamil Season 7 Details
| | |
| --- | --- |
| Host | Kamal Hassan |
| Starting Date | 01/10/2023 |
| Channel | Star Vijay |
| Number of Days | 100 |
| Voting Method | Online (Hotstar, Google) |
| Live Streaming | Hotstar, Star Vijay TV |
Bigg Boss Fan Zone Poll
Bigg Boss Fan Zone Poll Tamil is a daily poll conduced in Hotsar for all the super fans, which on winning will get a chance to be part of the Bigg Boss Tamil Season 7 Grand finale. You can find this questions by searching for "Bigg Boss Tamil" in hotstar and find a section called Bigg Boss Fan Zone and then answer the daily questions. Top 5 ranked users will get their name featured on the show, so continue watching bigg boss more and top the leaderboard.
Bigg Boss Tamil Vote Live Status
Bigg Boss Tamil Eviction results will be released on Sunday Episode by Kamal Hassan, however since the Shooting gets over by Saturday, we can expect the eviction results to be leaked even before the show gets telecasted. Vijay Television will be displaying the Live Vote count of individual contestants who are in the Bigg Boss Tamil Final. The Bigg Boss Tamil vote counts will be displayed at regular intervals on Vijay TV in a small box at the bottom. As of now, voting for Elimination has not started. Bookmark us to be updated. Bigg boss Tamil vote result decides the eviction each week and it is ultimately the audience's decision based on the contestant's performance.
Who will win Bigg Boss Tamil Season 7?
The online polling of Bigg Boss Tamil Vote is active from Monday to Friday of every week. The results are then collected by Vijay tv and the contestants with the least bigg boss vote percentage will be shown the exit. The total vote count of the Bigg Boss poll will be revealed by the host Kamal Hasan, however, the individual vote count will not be disclosed. The contestant with the highest vote percentage will be declared as the winner of Bigg Boss Tamil 7. So far Aari Arjuna has gained some fans along with a few haters.
Bigg Boss Tamil Online Voting Q&A
Will Kamal Attend all episodes? No, Kamal will be seen only during the Weekends ( Saturday & Sunday).
How long will the voting take place? Every week from Monday to Friday.
Will elimination happen all week? No, Elimination may not happen in some weeks.
Where can we see the Vote results? The voting results will not be publicly disclosed, you have to wait until they are announced.
What happens when 2 contestants get the same votes? The decision will be taken by Vijay TV management.
Where can I watch Bigg Boss Tamil Online? You can watch Vijay TV's Bigg Boss Tamil Exclusively on Hotstar.
When will Bigg Boss 7 Tamil eviction Happen? The eviction happens every Sunday based on the Vote Percentage.
Where is Bigg Boss house in Chennai? Bigg Boss Tamil House is set up in EVP Film City Chembarambakkam.
When does Online Voting for Bigg Boss Tamil 7 Begin? Bigg Boss Tamil Vote begins at 10:00 PM every Monday.
Bigg Boss Tamil Season 7 Contestants
Cool Suresh
Cool Suresh laid the first stones of his career path by featuring in a variety of roles in Tamil cinema as an ancillary actor playing grey shades and antagonists preferably. Cool Suresh made his acting debut as a disorderly and hostile college bully. In a few of the movies that came after, he played similar evil characters. After beginning his acting career in 2001, Suresh consistently played characters with a grey undertone onscreen to a devoted empathizer for his inspirations offscreen in 2021. Cool Suresh is perhaps most recognized only after for being a passionate advocate, committed well-wisher, and a self-proclaimed patron of actor Silambarasan. He in fact became notorious for all the online memes, criticism, comments, and trolls that content creators have directed at him. Upon creating a trademark for his clown bearing impulsivities he has stepped into the Bigg Boss house with a grandeur red carpet welcome.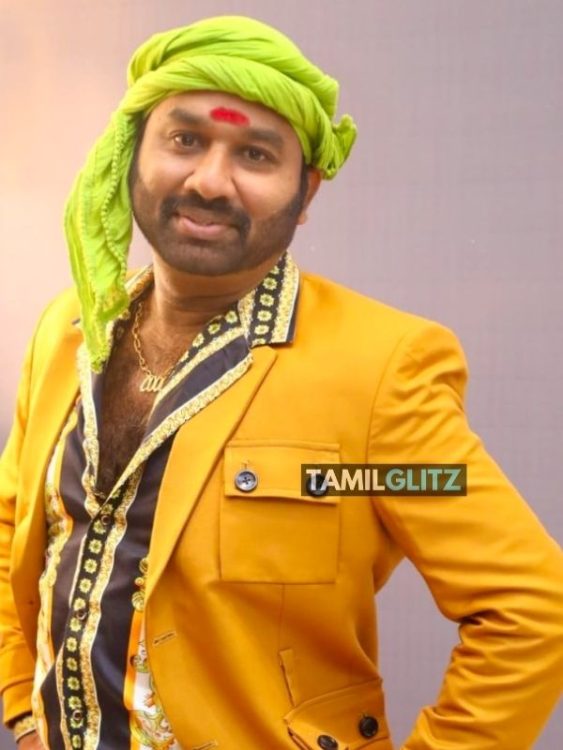 Poornima Ravi
Poornima Ravi hailing from a semi-urban humble town of Vellore in Tamil Nadu and was born to a normative and austereness couple Ravi Somasundaram and Usha Ravi establishing her own career castle. Her mother who is a meek and modest school teacher at a nearby school in her neighbourhood Poornima Ravi had demonstrated a zealous interest in her higher education thereby she obtained a college degree from VIT University. Later after her degree gained a great deal of fame by operating the Araathi YouTube channel. Before quitting her job as a computer programmer to pursue her desire and longing for what she was meant to be becoming a content creator creating blogs and videos, Later, she subscribed to the Nari Kootam YouTube channel to further her passion. Poornima Ravi now in the vision and mission of creating an identity for her entered as a prospective participant in the Bigg Boss Season 7.
Raveena Daha
Raveena Daha is an aspiring model who kick-started her striving to excel in the field of art and performance right at the age of four. A Chennai-born and brought-up Mallu girl with impressive acting skills onscreen and innocent actions offscreen rose to fame after the Vijay television serial Mouna Ragam. South Indian actress Raveena Daha predominantly appears in Tamil movies and television shows in impactful roles though they are short-lived. She is perhaps most recognized for her part in the movie crime psycho-thriller movie Ratsasan, in which she nailed her performance with spine-chilling emotions portrayed by her acting on a delicate and petrifying abusive scene in school. She gained notoriety in particular with this film and now she has taken up another milestone in her career by entering Bigg Boss season 7.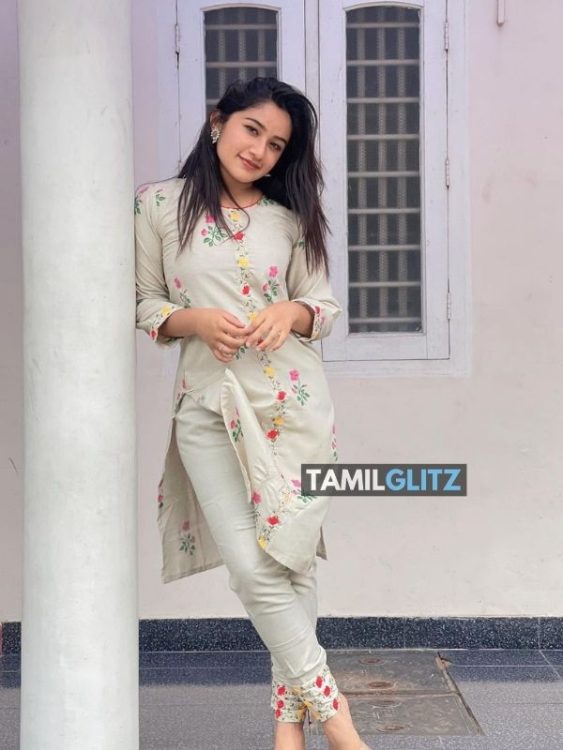 Pradeep Anthony
Pradeep Antony a Chennai born and brought up young aspiring artist who is backed up with a graduation in Visual Communication. A recently turned actor, who commenced his career as an assistant director and collaborated with seasoned filmmakers and actors in a bunch of memorable movies. He actively participates in the community of Kollywood actors and directors and also on television networks he is well remembered as actor Kavin's friend after he stepped in the Bigg Boss reality show when Kavin participated just to give him a slap and bring him back to his track and form in riding towards his targeted destinations.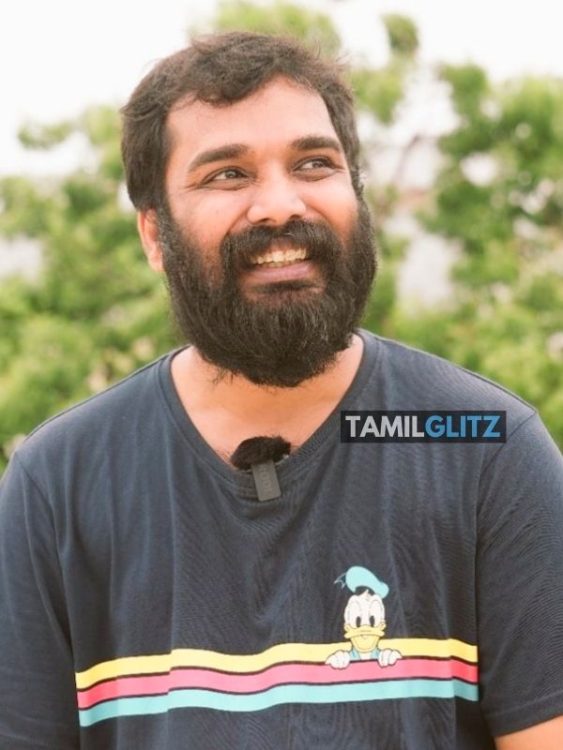 With Dance and music as his hobbies and exceptional professional specialities include scriptwriting, art direction, conceptualization, and art direction. He maintains a close friendship with Sivakarthikeyan and Kavin, whose most recent film DaDa was a smash hit and featured Pradeep Anthony in a supporting friendly satirical role. Now has entered the Bigg Boss show as and by himself as a potential competent to spread his wings further apart.
Nixen
Nixen, a Chennai born an exceptionally bright individual who was most admired for his rap work and lyrics amidst music lovers. He persevered through his early education and eventually earned a Bachelor of Science in Commerce from SRM College, demonstrating his dedication to furthering his education and his love of creative endeavours. Born into an complicated and complex family where sailed against the current to drop his anchor in the deep ocean of his career, constantly met disagreements with his parents. Despite his father's initial reservations about pursuing a career in the media industry, Nixen was persistent and extremely uncompromising in his pursuit of a living in media production and entertainment. He demonstrated a remarkable willingness to take on any role in the movie industry. Yet another stepping stone for Nixen by entering into the Bigg Boss show.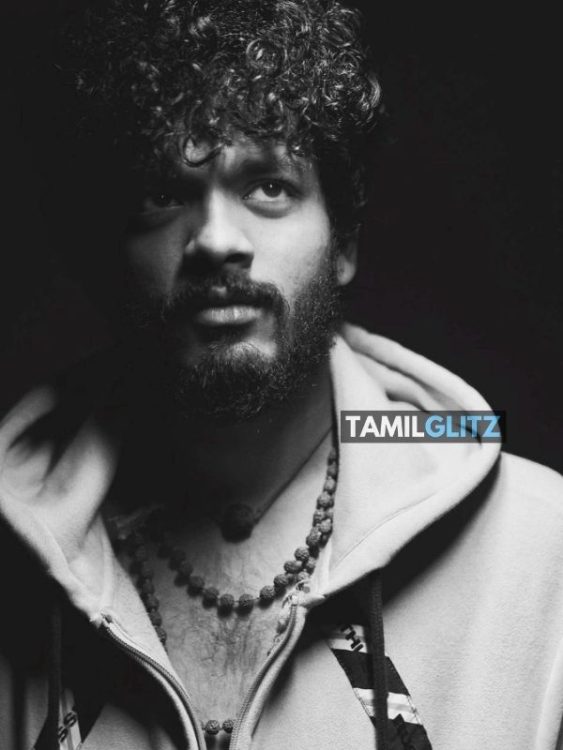 Vinusha Devi
Vinusha Devi a dusky beauty, South Indian Telugu speaking model and actress born and raised in Chennai solely appears in Tamil television programs, particularly those on Vijay Television. She ascended to acclaim as the lead character in the Tamil television series Bharathi Kannamma.
After replacing Roshini Haripriyan in the role, she at first encountered resistance from the audience and fan base. Nevertheless, she continues to develop and evolve as an actress and steadily grows into a more fascinating and well-liked as the new kannamma or heroine of the Bharathi Kannamma serial. And now she has stepped into the Bigg Boss house to sweep away her sway across her existing fan base.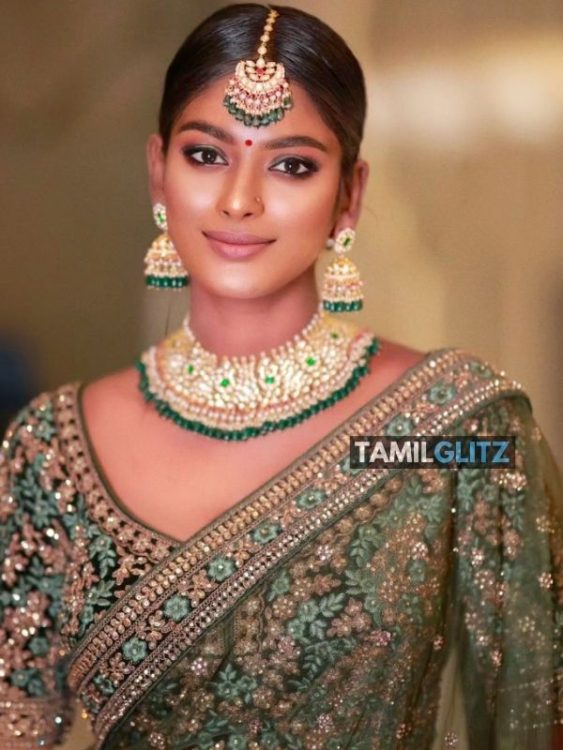 Mani Chandra
Mani Chandra a Bangalore born Tamilian graduated from Bangalore's Newton Public High School. He later earned his B.Com degree from a reputable Bangalore college. He has enjoyed dancing since he was a child and has taken part in numerous school and college cultural events. He is currently following his passion and desires by enjoying life as a choreographer. In none of the platforms has he disclosed any information about his previous or current relationships. Mani Chandra is a well-known dancer and choreographer who has won numerous awards for his artistic abilities and dedication. Mani Chandra began his career as a dancer, performing at local festivals and community gatherings and events in his early stages. Now has entered the highly acclaimed stage of Bigg Boss house.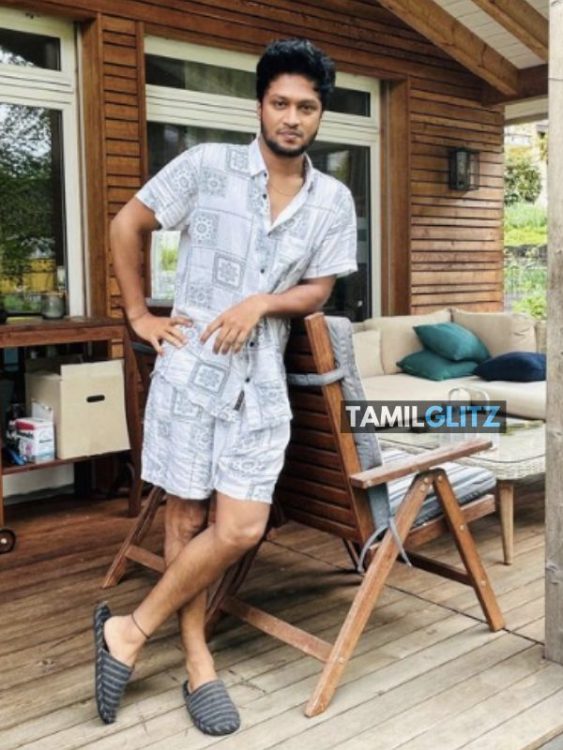 Akshaya Udayakumar
Akshaya Udayakumar hailing from Palakkad, Kerala has carved out her style and unveiled her career as an actress, model, and social media influencer in order to break into mainstream films. She is best known for her cute roles in the Malayalam and Tamil film industries.
Akshaya Udayakumar, a fashion model and Instagram influencer, began her career in the world of social media promotions, marketing, modelling, and vlogging. She rose to prominence through her short Instagram clips that showcased how she and her actor brother Abishek Udayakumar imitated iconic scenes from films of various genres. She also collaborated with various brands to create photo shoots for them. When she made a cute cameo in Love Today movie audiences and critics alike praised the cast performances, direction, plot, music, editing, cinematography, humour, and social message, and she impressed both with her acting skills and charm. Now all set to impress the common audience of the Bigg Boss show as well.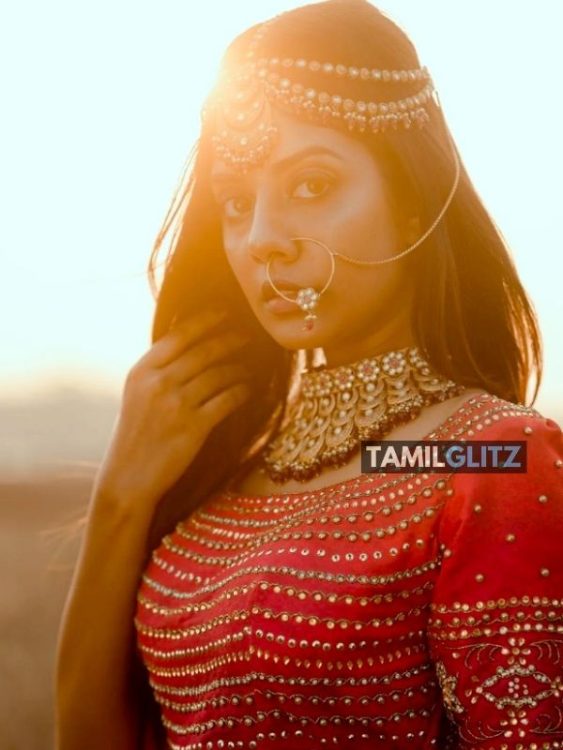 Jovika Vijaykumar
Jovika Vijayakumar is the daughter of South Indian Tamil actress and Bigg Boss fame Vanitha Vijaykumar, a talented and promising performer, and the granddaughter of versatile actor Vijay Kumar. Vanitha, her mother, is equally committed to realising her daughter's dream and shares Jovika's desire to shine as a talented actress.
Jovika Vijaykumar was inspired to pursue her lifelong dream of acting by her mother. She honed her skills while pursuing her dreams under the tutelage of renowned actors and actresses. Future endeavours, inquiries, and initiatives are currently in the works, demonstrating an early streak of outcomes and a turning point in the field of her passion by entering the Bigg Boss show as a kick-start for her bright spotlight ahead.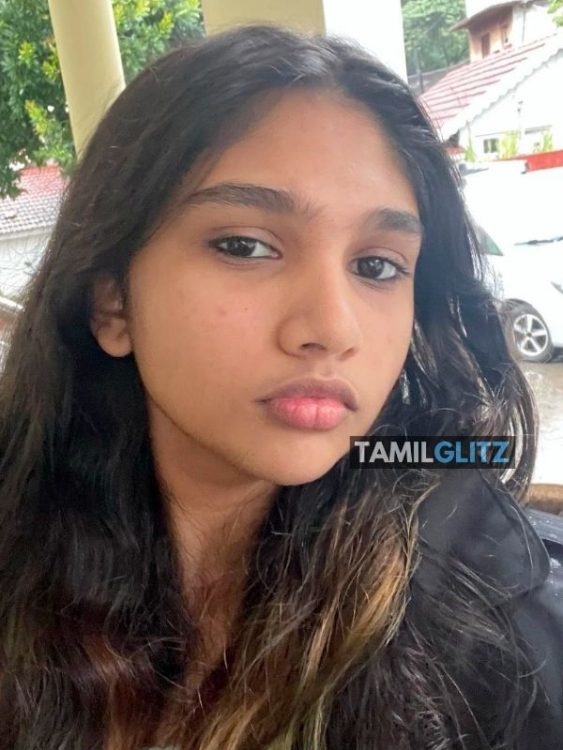 Aishu
Aishu is a dancer and Instagram influencer from Tamil Nadu who lives in Ooty. Aishu ADS, also known as Aishu ADS, is a gifted and ecstatic dancer who is an integral part of the Ads crew Ooty, a dance company based in Ooty, Tamil Nadu that is also run and maintained by her mother Shyji. She has a lot of energy and a versatile dance style, which has helped her gain popularity among Instagram users. She competed in the second season of Dance vs. Dance, a popular reality show on Colors Tamil Television, where she demonstrated her skills and won the judges' and audience's hearts. Aishu ADS is esteemed and admired for her charitable efforts and support of various philanthropic endeavours. Is all set to knock down hearts with her charm and allure in the Bigg Boss show.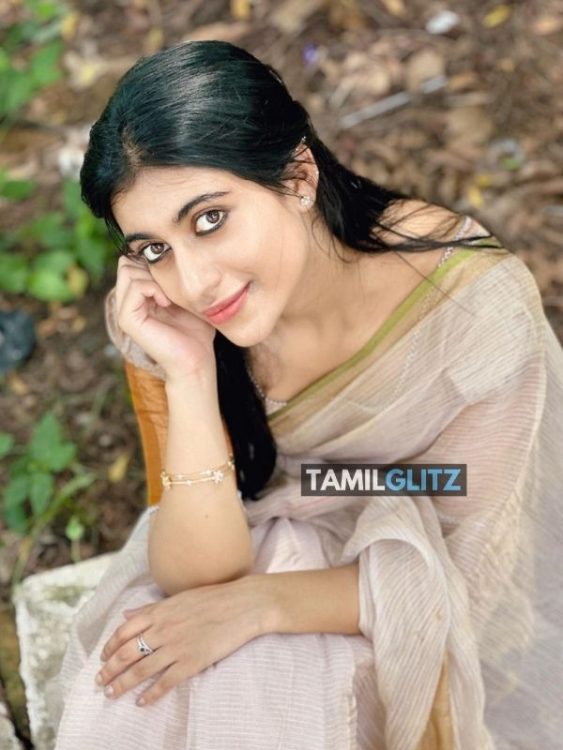 Vishnu Vijay
Vishnu Vijay, an actor, was born and raised in Chennai, Tamil Nadu. Most of his followers refer to him as Vishnu. Vishnu Vijay has a master's degree in science in electronic media, according to his academic record he is an unmarried young man . After the success of the Office television series, Vishnuvardhan, who had a standout performance as a character performer primarily as a comedian, also made his debut in the movie acting in a few notable films. Early in his career, Vishnu Vijay requested a college lecture presentation on TRPs from STAR Vijay's programming director, Pradeep Milroy Peter, as part of his post-graduate degree assignment. Vishnu Vijay skillfully made the transition from program producer to actor after dazzling Peter with his acting prowess and charisma, which led to Vishnu's initial hiring by the channel. Is all set to conquer millions of hearts by his humour in the Bigg Boss show.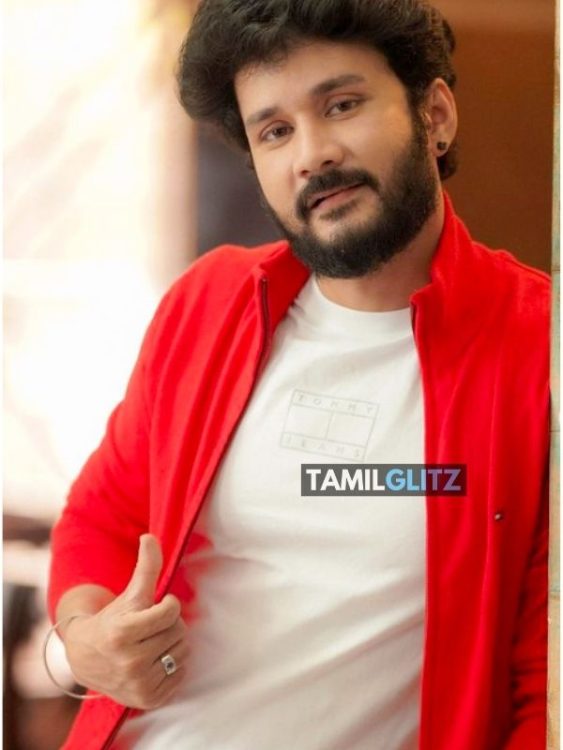 Maya S Krishnan
Maya Krishnan was born and nurtured in the small semi urban city Madurai, Tamil Nadu, India. She attended one of esteemed schools in the city, TVS Lakshmi Matriculation Higher Secondary School for her primary and secondary education before moving to Bangalore to pursue higher education in engineering at Amrita University School of Engineering. She was an active sports champion in school and competed in gymnastics as a child, finishing sixth at the Nationals. Swagatha S Krishnan, her sister, is a singer and performer who primarily works in the Tamil music industry and is a well-known social media figure. Maya Krishnan gained popularity after the escort cameo she played in Vikram movie is all set to debate and set up healthy discussions yet again from actor Kamal Hasaan in the Bigg Boss show.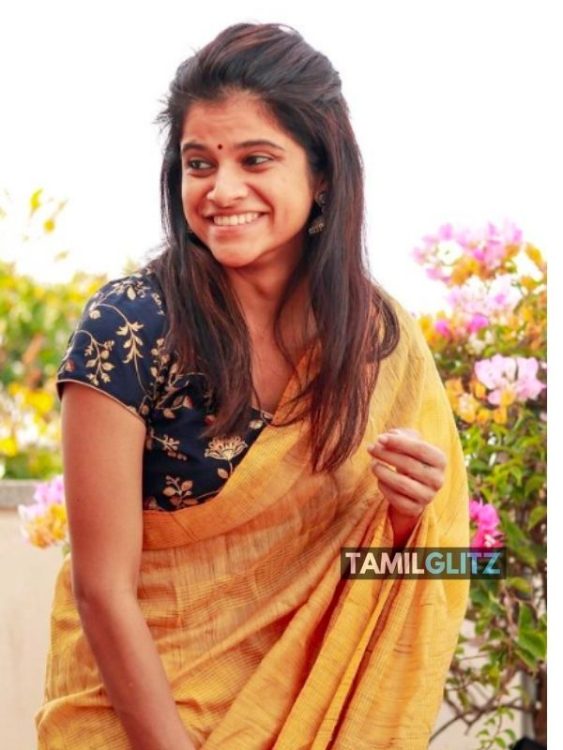 Saravana Vickram
Saravana Vickram, a South Indian television serial and program actor, was born on June 28, 1995 in Theni, Tamil Nadu, India and raised there. He is a film and television supporting actor who primarily works in the Tamil film and television industries. Kanmani was his first film, which was released by NP Media and directed by Naveen Prasad. He attended Vidyaa Vikas Boys Higher Secondary School in Tiruchengode for his primary and secondary education, and Mahendra Engineering College in Mallasamudram for his higher education. His academic credentials include a bachelor's degree in engineering. Kathiresan is his father's name. Saravana Vickram, an actor, has appeared in a number of well-known films, including Kanmani, En Uyir Nanban, Pagutharivu, and Karam. Is now setting up his target towards the cinema industry by entering the Bigg Boss house.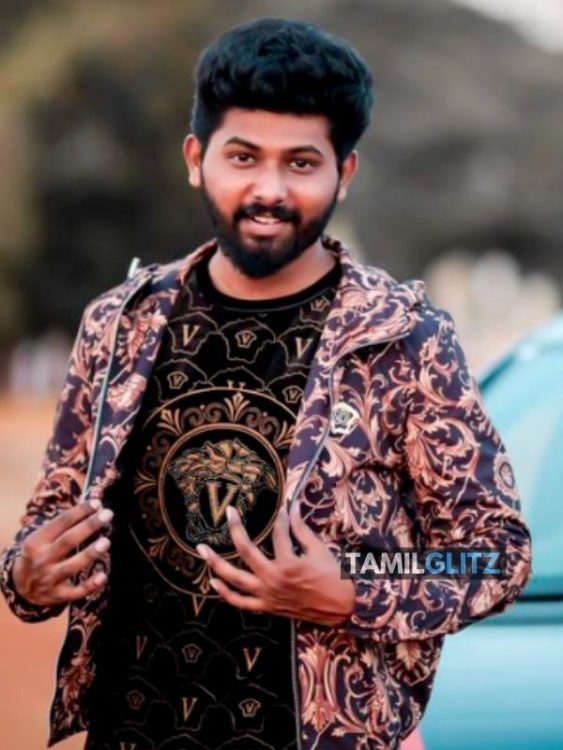 Yugendran Vasudevan
Yugendran Vasudevan is a well-known and multitalented South Indian actor, singer, music director, and show producer. He is a veteran and versatile performer and entertainer. He has also performed hundreds of songs in regional languages such as Tamil, Telugu, and Malayalam. Yugendran Vasudevan is the son of the successful and well-rounded Malaysian singer Vasudevan. He takes on obligations in media as a host and music director on a regular basis. Born and raised in Chennai, Tamil Nadu, India, he is a South Indian musician and performer. Yugendran has performed throughout the South Indian entertainment sector, but primarily in Kollywood, where his artistic endeavours have been featured in Tamil-language films, songs, and music performances. Now he is making an impactful comeback to the Tamil Television industry through Bigg Boss season 7.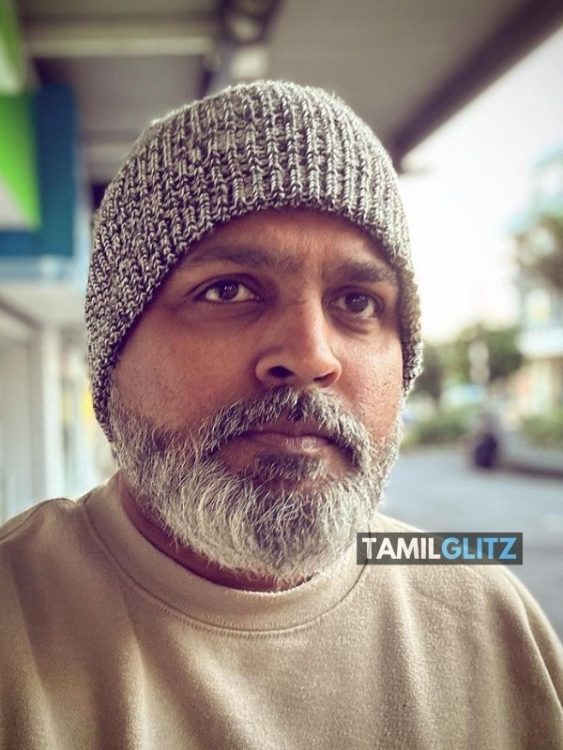 Vichithra
Vichithra is a South Indian actress best known for her work in Tamil films. She also appeared in cameo and guest roles in a number of Telugu, Malayalam, and Kannada films. She played backup roles that were supporting and cameos in a few critically acclaimed films. Vichitra was born and raised in Chennai, Tamil Nadu, but her parents were said to have Mysore ancestors. Later, after her marriage to Shaji, she relocated to Pune and retired from performing to work as a consultant in Jaya and sons as she is also a psychology graduate with a bachelor's degree in the field of study. Who rose to fame after her comeback in Cook with Comali show is now creating an impression through Bigg Boss as well.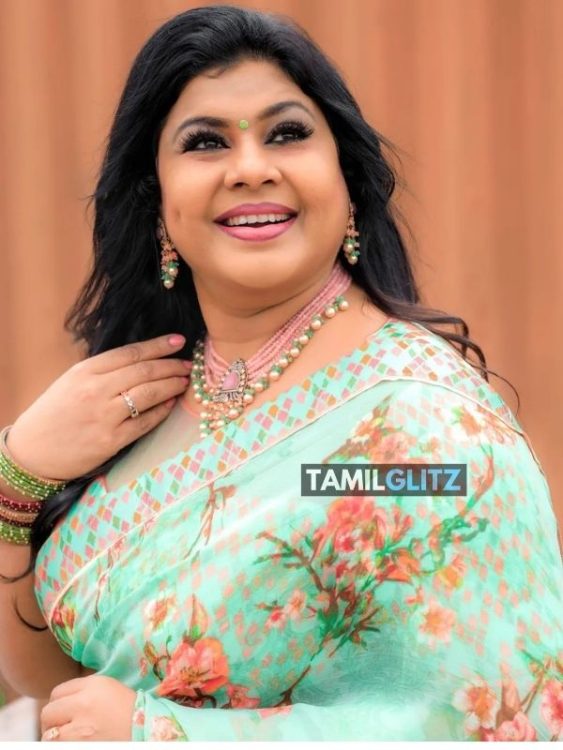 Bava Chelladurai
Bava Chelladurai is a South Indian Tamil author, actor, and storyteller best known for his enlightening political ideologies, public speaking, and profound social activism. It is often stated that with only 60 people in the audience, once he began telling his stories aloud in Tiruvannamalai, nearly 500 book lovers would attend and gather around the talk, enjoying listening to his storytelling.
Bava Chelladurai is also well-known for his political activism and social activism. He is also an important member of an impartial panel that opposes killing, honour killing, and violence against Dalit community members. Bava Chelladurai also spoke out and actively protested the construction of a drainage pipe in Tiruvannamalai's Sonagiri Forest. Is all ready to story tell his audience and create mental awareness and face turmoil with Kamal Hasaan's political controversies in the Bigg Boss house.
Ananya Rao
Ananya Rao, also known as Annu, is a fascinating person from Hyderabad, Telangana, India. She recently rose to prominence as an actress, dancer, Instagram model, and social media influencer. On August 10, 1998, she was born. Ananya is well-known for her abilities as well as her interesting content, particularly her short dance reels and quirky Instagram feeds, which have captured the attention of millions of people online and earned her a large fan base. Ananya Rao is descended from a close-knit family. Her parents, Urban Rao and Anurima Rao, have had a significant impact on her life. Ananya has a close relationship with her beloved sister Apoorva S. Rao, who is also a well-known Indian actress and model. Is all set to break through the glass ceiling and build her tower of scope through the Bigg Boss show.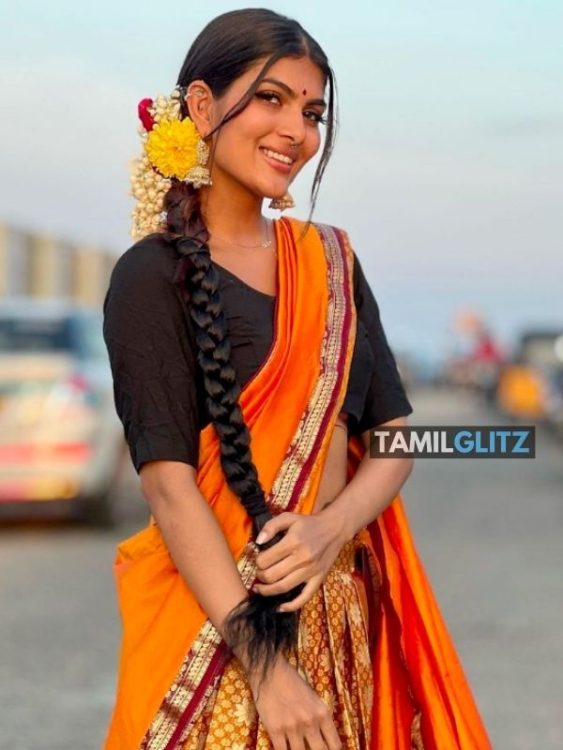 Vijay Varma
Vijay Varma is a multi-talented dancer, performer, and aspiring actor. Vijay Varma is not only an accomplished actor but also a skilled dancer. His first foray into the film industry was in actor Vijay's political commercial hit movie Thalaivaa, where he played his first role as a dancer and actor Vijay's friend and member of the dance crew.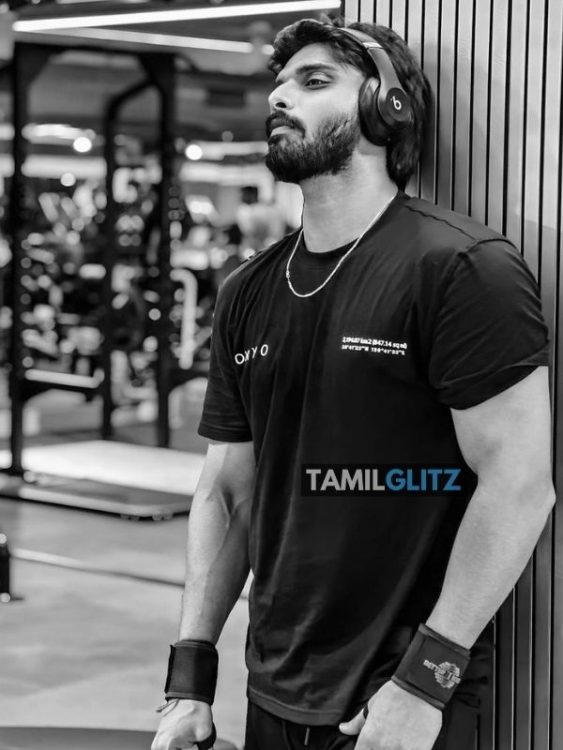 Vijay Varma holds a true and unadulterated passion for dance in the highest regard. He considers his love of dance to be more important than acting as a career, describing it as an intense passion. His career choices reflect his dedication to his passion over his profession. Now it is all Vijay Verma and Bigg Boss stage to give the audience a few rocking moments and surprises.
Bigg Boss Tamil Season 6 Contestants
GP Muthu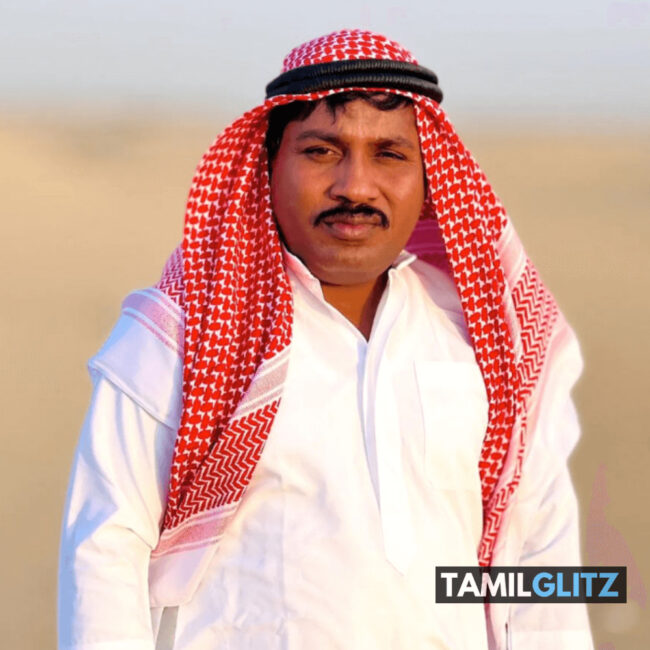 From Tamil Nadu, India, and formerly a carpenter, GP Muthu is a well-known social media influencer. He was born in Tuticorin, Tamil Nadu, India, on Friday, March 29, 1985. GP Muthu completed the third grade of his education. He quit school and started working in a jewellery store. He learnt the business and opened his own jewellery store after working there for ten years. GP Muthu got married and relocated to a new home. At some point during this time, GP Muthu's brother perished in an accident. GP Muthu cared for his kids after his brother passed away. After experiencing significant losses, he eventually closed the jewellery store. Ganesan, his father, had the idea to start a carpentry business after that. His dad was a carpenter, just like his friend. On owing to corona which had a negative impact on the carpentry sector. Major life issues didn't arise for him until that point. He claims that she doesn't even have enough money to buy her kids snacks. He didn't start using the then-popular TikTok app on his smartphone until after that. He says he has posted as many as 80 films per day to TikTok. He claims that he is particularly dependent on using TikTok. Then, as a result of family issues, he made a suicide attempt. Tik Tok was later banned in India for information theft in the interim. He hasn't eaten in three days and has been quite sad since Tik Tok was banned. He has been posting footage on Instagram loops ever since. He also launched a Youtube account, which quickly racked up 988k subscribers. GP Muthu is anticipated to appear in the Kamal Haasan-hosted version of the well-known reality series "Bigg Boss Tamil 6" in 2022.
Azeem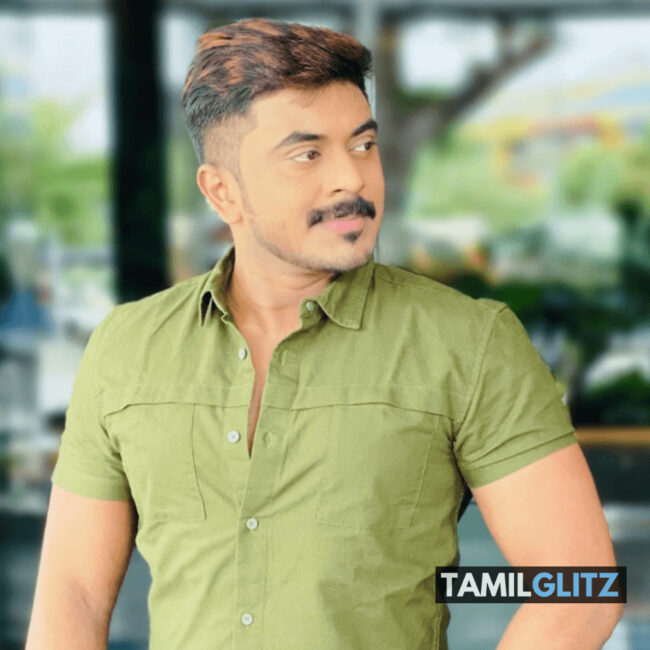 Mohammad Azeem is employed by Sun TV. He holds a degree in computer science. He traded in his vocation as a computer engineer for one in the entertainment industry. He received his degree in visual communication from Loyola College. He had always had a strong attraction to the entertainment industry. He worked as a radio host for his college during his college years in order to get some experience in that field. After gaining first-hand experience as a radio jockey, he made the decision to enter the entertainment industry.In 2008, he made his VJ debut on Zee Tamizh. He has worked as a VJ for Sun TV since 2012. Recalling his involvement as an actor in the television series "Maya," for which he received the best performer of the year award. He was an avid sportsman in college and hopes to become a movie actor and a movie producer.An Indian actor and anchor named Mohammed Azeem primarily works in the Tamil television industry. Along with Vani Bhojan, he made his acting debut in the B.Nityanandam-directed television series "Maya." Azeem has also made guest appearances in a number of well-known television series, including Deivam Thandha Veedu, Priyamanaval, and Maya. Aseem and Shivani Narayanan played the lead characters in the Star Vijay TV serial Pagal Nilavu. Azeem participates in the Kamal Haasan-hosted Bigg Boss Tamil 6 programme.
Robert Master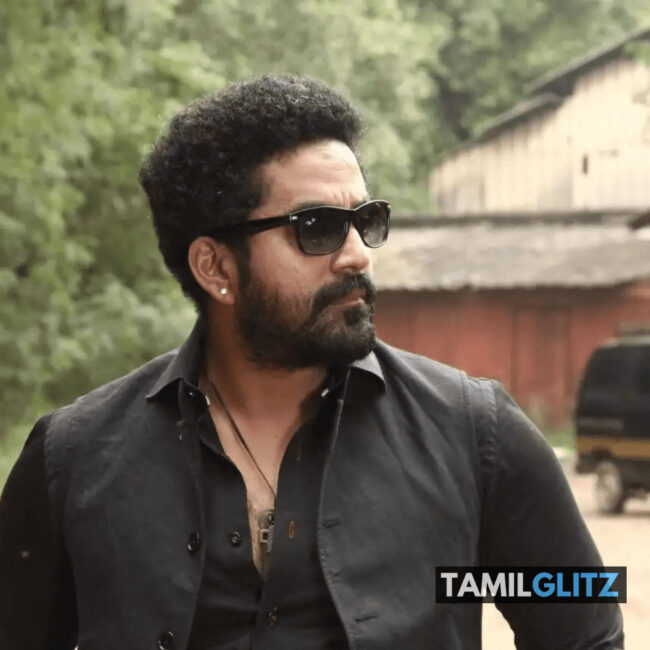 Robert is a choreographer from India. He primarily works in the Tamil film sector. His full name is Robert Raj, although he goes by Robert in public. Additionally, he performs in cameo roles or plays villains in his own choreographed dance routines. He began his career as an actor but eventually found success as a choreographer. He portrayed Mammooty's kid in the 1991 film Azhagan. In songs like "KallooriSaalai" from the movie Kadhal Desam and "EnnaAzhagu" from Love Today, he began to dance. When he was older, he was chosen to play the lead antagonist in the 2002 movie Maaran. The storyline of the movie garnered favourable reviews. Robert portrayed Shivadas, a Shivadas who was the son of a powerful parent. In 2003, Robert also appeared in the film Pavalakodi. However, his performance came under fire for not bringing his humorous quips to life. He was supposed to be Shiva's dishonest friend, who was portrayed by actress VijayaSarathy. Robert made a special appearance in the Kuththu song "Pothuthaakku." Robert starred as the immoral character in the 2005 movie Dancer. He portrayed Arun, the director of a dance institute. His portrayal of the villain was so convincing that he won several accolades for it. In the same year, he was given the Tamil Nadu State Film Award for Best Villain. For the song "Love Panlama" in the movie Poda Podi, which he choreographed, he won the Vijay Award for best choreographer in 2012. Asaiye Alai Poley, PadapadakkudhuManame, Chennai City Gangster, and Onnunarendu are a few other films in which he had cameo appearances
Asal Kolaar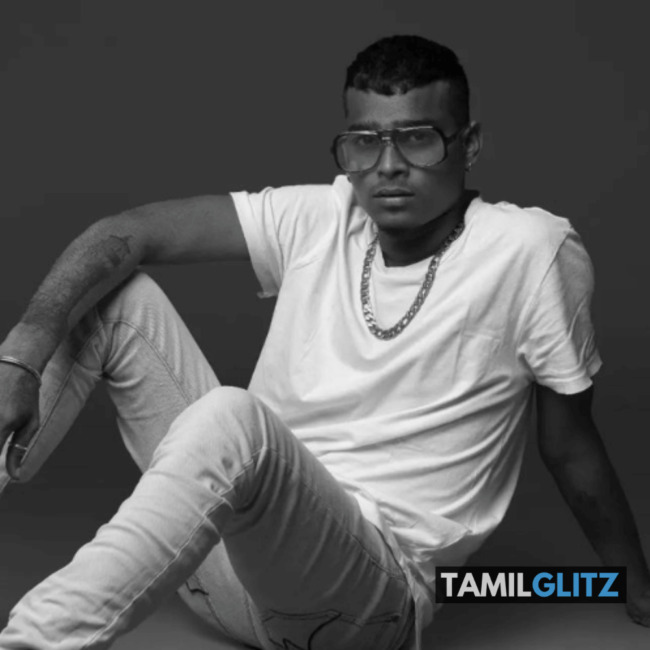 Rapper, singer, and poet Asal Kolaar, also known as Vasanth Kumar, is well-known. His most well-known song is from the Jorthale album, which has gotten 30 million YouTube views. He was given numerous chances to perform in the Tamil and Telugu industries after that song. More songs, including Pona Povura, Lifetime of a Bachelor, Kawa Ulla, and Vaanambaa, feature his work. Kolaar's forthcoming single is Baby Gurl from the movie Coffee With Kadhal. He would feature on Bigg Boss Tamil, sources said.The lyrics and music of Jorthale song was composed within 1 hour. He was recognised and become very popular among people by this song. The theme song of 'Yennai Arindhal' was composed by him. In 2020, three songs of 'Paris Jeyarai' were sang by him and it was his first experience in movie.
Shivin Ganeshan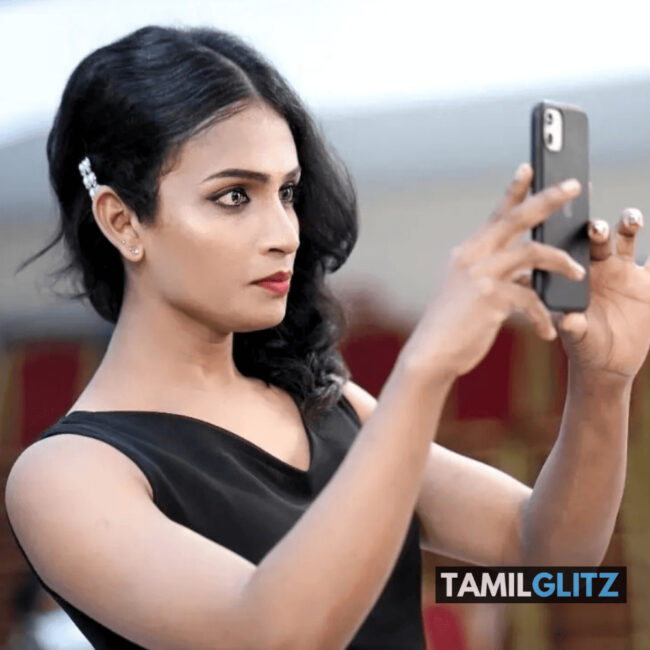 Shivin Ganeshan is a Transgender, like Namitha Marimuthu in bigg boss season 5 , Shivin Ganeshan is going to participate in season 6.She is a model and VJ.She was a performing kid from her childhood.She took part in mistransstar international representing India which was conducted in barcelona. She was the first Indian transgender to be selected for MIss equality beauty pageant.she also participated in Miss Tamilzham 2022.She is a active NGO volunteer in "Teach for change" organisation.This NGO conducts seminar classes and events for Government school students.Her mother is a brave women.But could not accept the change happening to her son.So she send her to Singapore to make her financially stable.The main reason for her entry in bigg boss is to reunite with her mother.
Sheriina Sam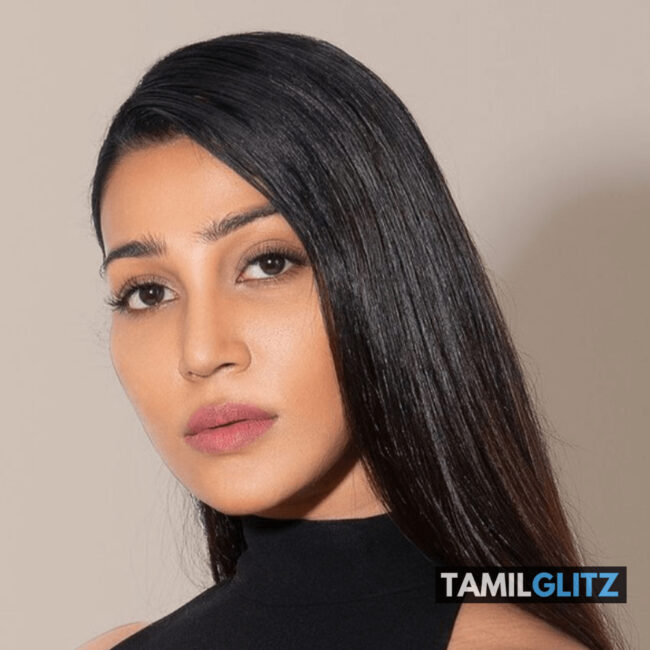 An Indian model from Cochin, Kerala – Sheriina the Bigg Boss Tamil contestant has repeatedly represented India abroad. The elegant and beautiful model competed in numerous international beauty contests and exhibitions. She is a multi-talented, well-known performer, diva, and star. This page contains the identity of Bigg Boss Tamil Sheriina. Sherina holds dual careers in acting and business. She or he participated in multiple supermodel exhibits and started their profession as mannequins. She began her media career by using modelling. She participated in several pageant competitions. 2021 saw her make her film debut in the Tamil language with Vinodhaya Sitham (ZEE5). She started two companies, Sayara Motors and UVI Studio, and is a highly qualified and renowned business executive.Her modelling career officially began when she advanced to the Femina Miss South overall final 14 in 2009. After that, she went on to win the title of Grazia Ford Supermodel of India. The next year, Sherina represented India at the International Ford Supermodel of the World competition in Montenegro, Europe. She was one of the top 10 contenders out of a total of 40.
Ram Ramasamy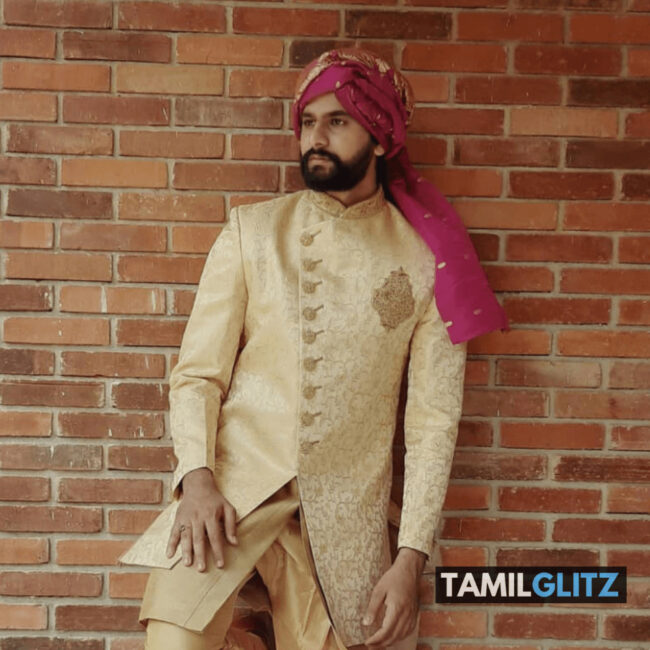 We were the first to inform you that a cricketer would be taking part as a participant on "Bigg Boss Tamil" for the first time ever. We now know that the competitor with the good looks is none other than Ram Ramaswamy.Ram Ramasamy is a cricket player from Tamil Nadu who has also modelled for several brands, hosted television shows, and made his acting debut in a new film that will be released in 2023. The young man, who was born in Chennai, has expertise with reality television, having participated in India's Top Model, which aired on Colors TV. We'll have to wait and see what kind of an impact he has on Kamal Haasan's "Bigg Boss 6," which is currently airing.
Aaryan Dinesh Kanagaratnam – ADK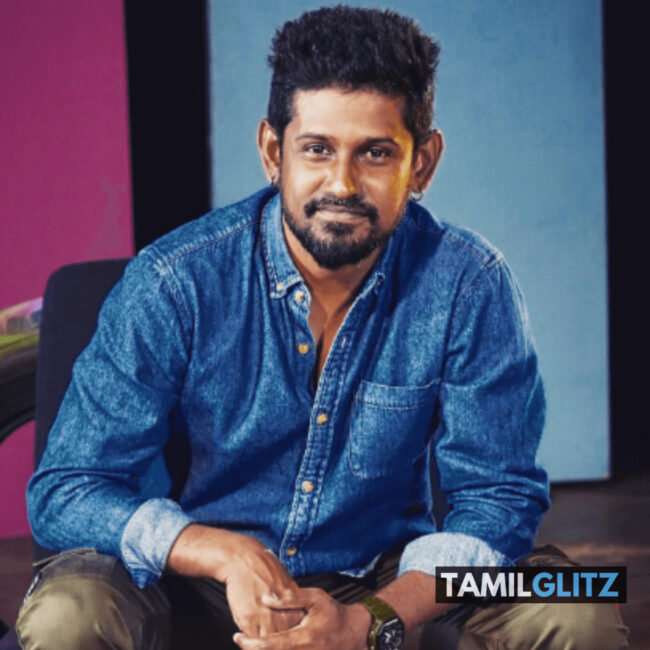 Aaryan Dinesh Kanagaratnam – R&B and hip-hop singer and music producer Dinesh Kanagaratnam, commonly known by his initials A. D. K. or simply as Dinesh Kanagaratnam, is from Sri Lanka and has written songs in the Tamil language. As a playback vocalist, he frequently works with music directors in Tamil cinema.To further his burgeoning interest in music, he started working with local artists on a part-time basis. He was given an opportunity by Bathiya, a Sri Lankan musician, in 2004 and began recording rap tracks until Vijay Antony came across him.Alongside Lady Kash and Blaaze, he is well known for his rap battle performances during A. R. Rahman concert tours. He worked together on the song "Aathichudi" for the movie's soundtrack, TN 07 AL 4777.
Janany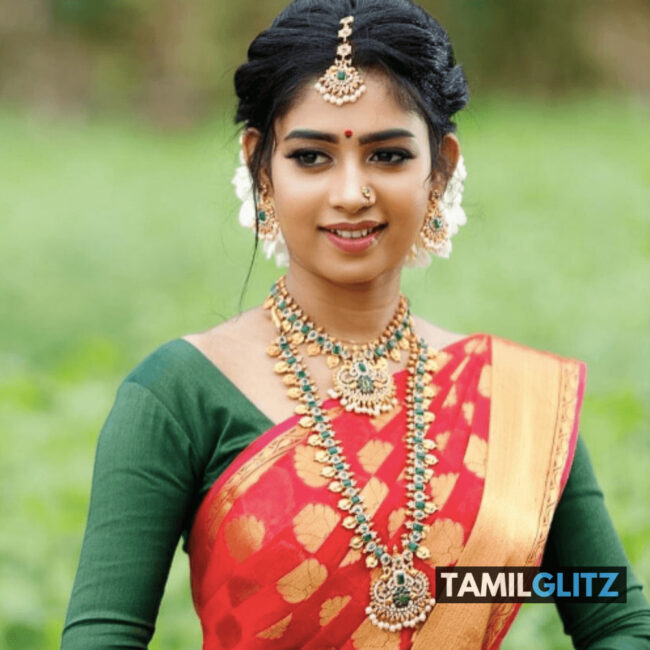 Janany is a model. She is a Sri Lankan native. Janani reads news and serves as an anchor for a well-known YouTube channel. She will be a contestant on kamal hasan's bigg boss tamil season 6 on Vijay TV. It's expected that she will be getting a huge fan base army as she looks absolutely stunning.
Amudhavanan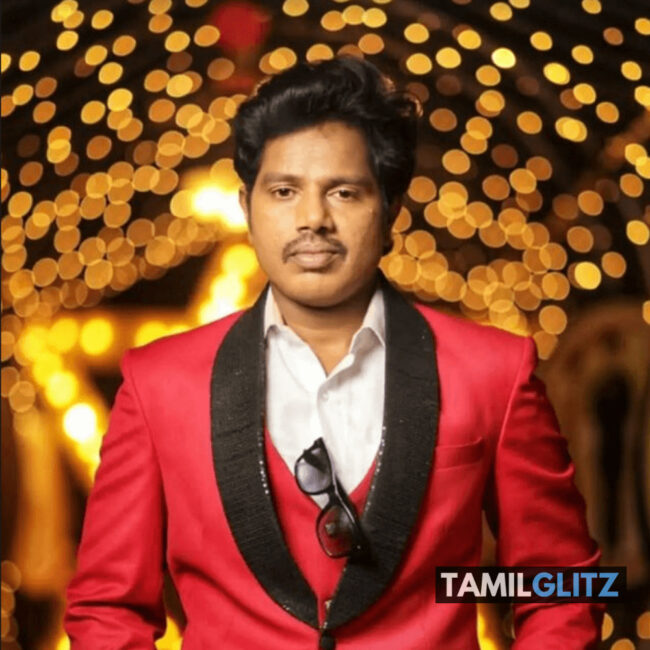 Amudhavanan is a dancer, actor, and mimicry artist from India. His primary line of activity is in Tamil television. He is also well-known for his contributions to the hit comic reality series Kalakka Povathu Yaaru, which is judged by Uma Riyaz and actor Pandiarajan. Through the Bala-directed Tamil film Tharai Thappattai, he made his big-screen debut. Amaudhavanan Alongside RK Suresh, he played a supporting part in the film Billa Pandi. He has had guest appearances on a number of other television programmes, including Jodi No. 1 and Athu Ithu Ethu. He is a participant in Season 6 of the well-known reality TV series Bigg Boss on Vijay TV, which is hosted by Kamal Haasan.
Vj Maheswari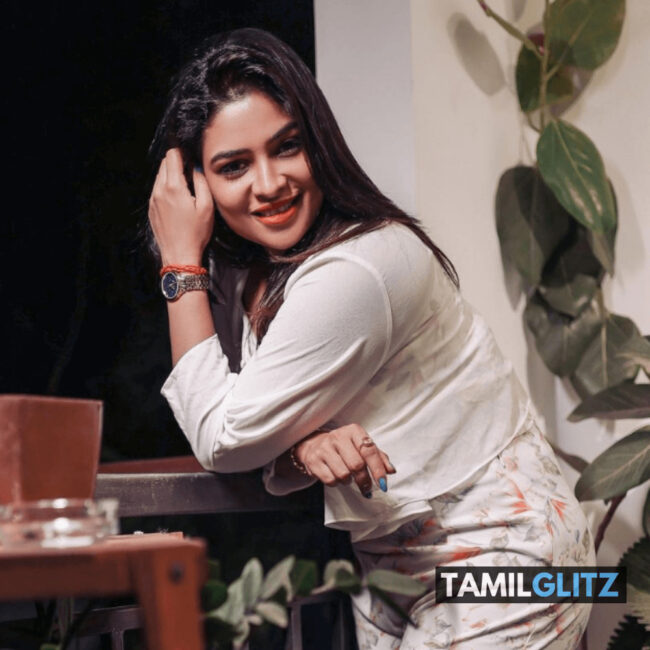 Indian actress and TV host Vj Maheshwari has mainly appeared on Tamil-language channels like Sun TV, Vijay TV, Zee TV, IsaiAruvi, Kalaigar TV, and Colors Tamil. Maheshwari Chanakyan was born in Chennai on February 17, 1985. She lived in Chennai and went to school there. After finishing her education, she started working as an anchor for well-known networks including Sun TV and Isai Aruvi. Maheswari wed Chanakyan while she was working as an anchor, but sadly, their union only lasted a year. They intended to divorce despite the fact that she was pregnant at the time because of certain misconceptions. Then, with both parties' approval, she acquired custody of her son Keshavan. She thus lived with her son and parents for the first 10 years of her single status.She would compete on Bigg Boss Tamil 6, reports claim
Kathiravan Vj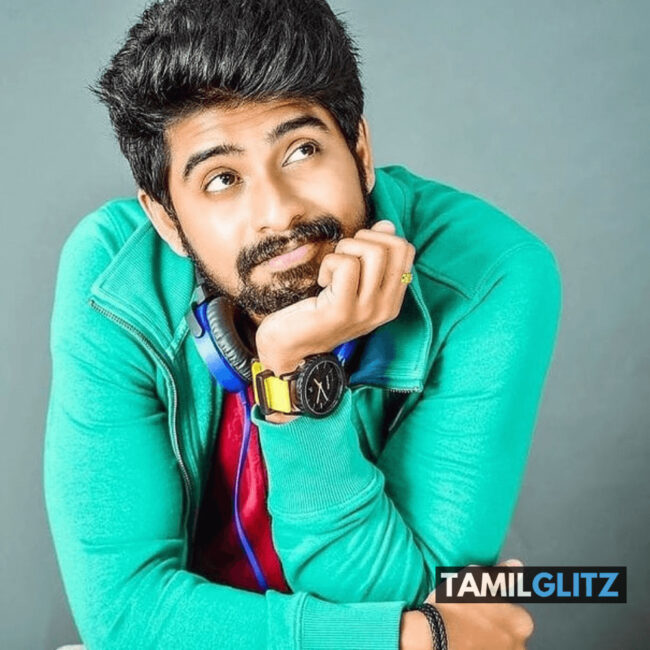 Popular model, host, and actor VJ Kathiravan is most recognised for his work on the Sun music programme Vaazthukkal. In Tamil Nadu's Chennai, he was born. He started working as a video jockey on television after completing college in Chennai, doing various shows including Endrum Iniyavai and Vaazthukkal, among others. Additionally, he served as an anchor on Sun TV and hosted a number of public events. In the short film Kaara, VJ Kathirravan made his acting debut.VJ Kathiravan joined Sun Music a few years ago and has since hosted numerous weekday and weekend shows. He primarily hosts programmes like Endrum Iniyavai and Vaazthukkal. Kathir performs numerous public events as a host in addition to these television shows as a VJ. He is now competing in Bigg Boss Tamil Season 6, the source claims.
Ayesha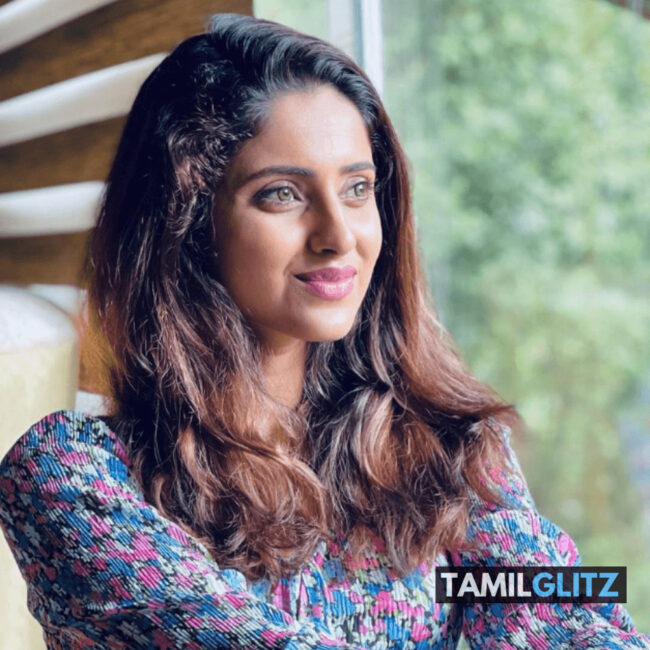 An Indian actress named Ayesha primarily works in the Tamil television industry. She appeared in the Rasool-directed Ponmagal Vandhal television series on Vijay. In the serial, she is paired with Vicky Krish. She gained the nickname "Ponmagal Vanthal Rohini" after the TV show. Her kind expressions and naive appearance had gained her many admirers. She has also appeared as a character in the Sun TV drama Maya. She now plays the lead in the Zee Tamil television series Sathya. Ayesha makes a significant leap by participating in Season 6 of Bigg Boss Tamil, which is broadcast on Star Vijay and Hotstar.
Rachitha Mahalakshmi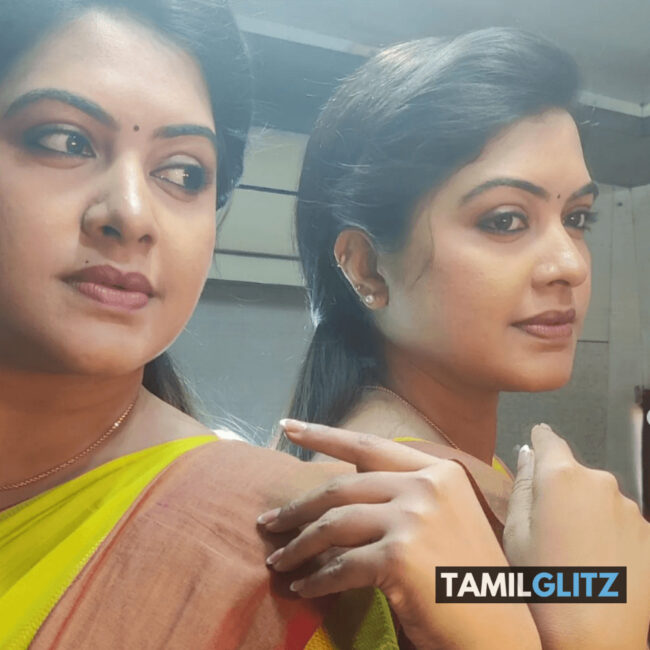 South Indian actress, presenter, host, and model Rachitha Mahalakshmi is from Bangalore and mostly works in the Tamil, Telugu, and Kannada cinema and TV serial industries. She was born in Bangalore, Karnataka, India, on April 24, 1988. She began her career as a model before moving into the film business. Through the Tamil television series Pirivom Santhippom, she created her acting debut in 2011. She gained notoriety as "Meenatchi" in seasons 2 and 3 of the television series Saravanan Meenatchi.She also worked in Telugu serials like Maa Nanna and Swathi Chinukulu. She was named "Best Tamil Serial Actress" by the Vijay Television Awards in 2015 and 2017 for the Vijay TV series "Saravanan Meenatchi." In the Zee Tamizh stand-up comedy programme "Junior Senior," Rachitha made an appearance as a judge.
Manikandan Rajesh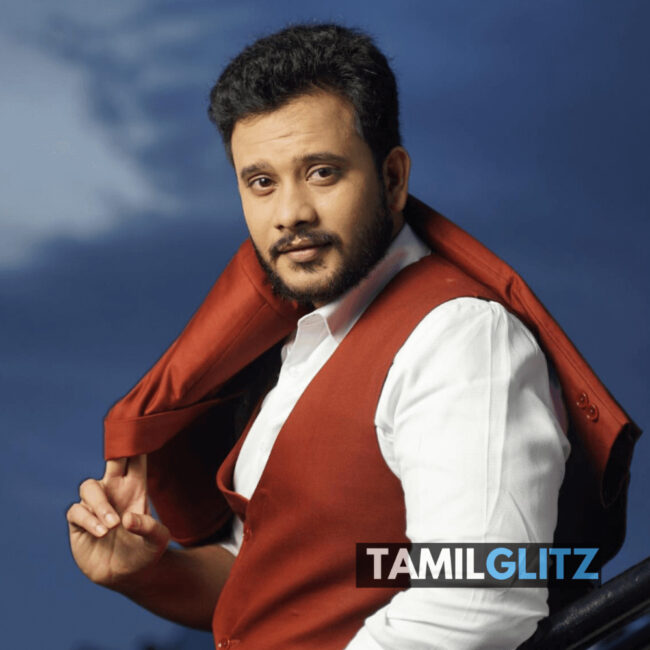 Manikandan Rajesh is a small-screen performer from South India who is most known for his roles on Tamil television. He is well known for being the younger brother of the seasoned and endearing South Indian actress Aishwarya Rajesh. Manikandan Rajesh is an actor and businessman who exclusively appears in Tamil television networks as a serial actor and contestant in reality shows. In the Tamil soap opera Aval, Manikandan made his television debut on Vijay TV.The multi-talented actor also had appearances in television programmes like Thai Veedu, Siva Manasula Sakthi, and Azhagu. He has worked with several well-known performers and actresses from the Tamil television industry, such as Naresh Eswar, Vasu Vikram, Poovilangu Mohan, Revathi, Thalaivasal Vijay, and Archana Harish. He gained notoriety and popularity for his role in Mr. and Mrs. Chinnathirai Season 3 on Vijay Television alongside his wife Sofia Manikandan.
Shanthi Arvind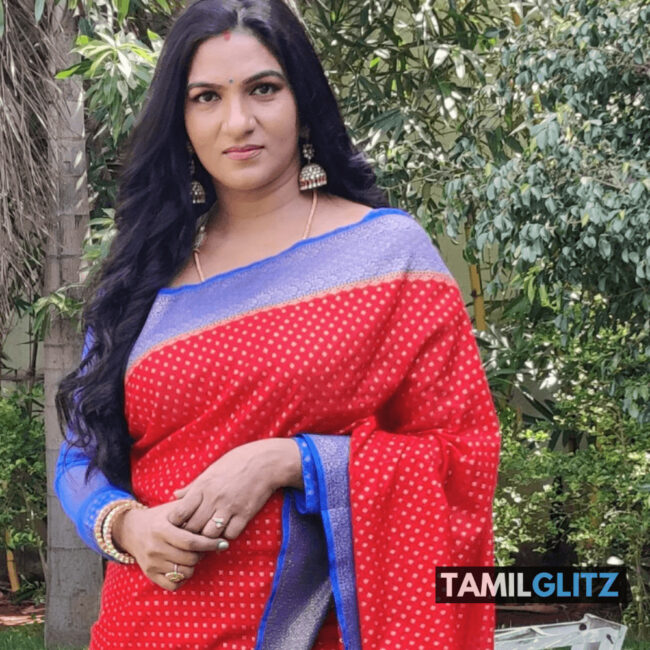 Indian actress, dancer, and choreographer Shanthi Arvind primarily works in the Tamil cinema and television business. In 1990, she made her acting debut in the R. V. Udayakumar-directed Tamil film Kizhakku Vasal. Shanthi gained notoriety for her role in the Sun TV Metti Oli series. The audience generally likes how she plays the bad guys in the serials Eeramana Rojave, Kannana Kanne, and Muthuzhagu. Along with Arvind Swamy, Ritika Singh, Chandini Tamilarasan, and Ganesh Venkatraman, she also appeared in the film Vanangamudi. At the moment, she is performing alongside Srithika in the supporting role of Kalyana Parisu 2, a solar TV series.She is a competitor on Kamal Haasan's sixth season of Bigg Boss Tamil.
Vikraman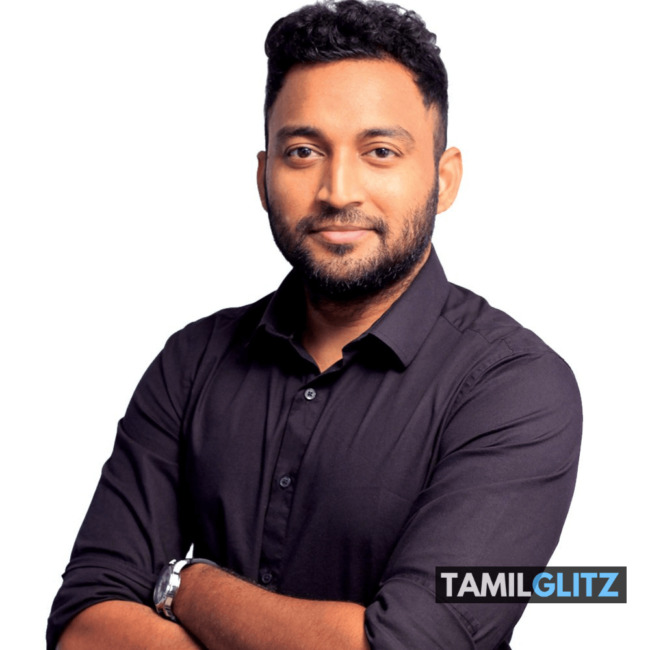 Vikraman Radhakrishnan is his full name. He is a politician and the Viduthalai Chiruthaigal Katchi's official spokesperson. At the School of Policy & Governance, he also holds the title of Net Zero Fellow. As a former political editor for Galatta Dotcom and a correspondent for Puthiyathalaimurai Television Online News, Vikraman has worked in both fields. He is also a popular YouTuber. His Instagram handle is @iravikraman, and as of this writing, it has 4003 followers. Vikraman is a member of Thirumavalavan's Viduthalai Chiruthaigal Katchi and an Indian politician (VCK) The most popular television programme Big Boss Season 6 on Star Vijay is where Vikraman Radhakrishnan is competing, per the reports.
Dhanalakshmi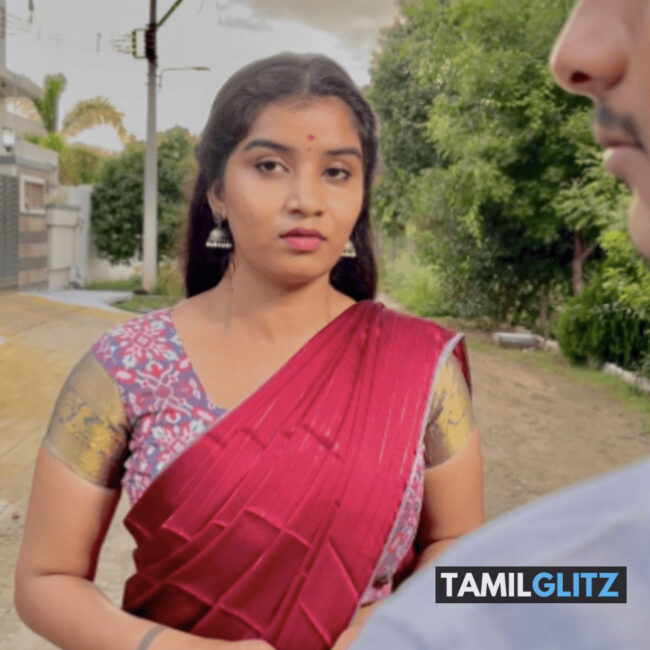 Dhanalakshmi is a Tamil Nadu native who uses TikTok. She was raised in Erode, where she was born. She had aspired to be an actress since she was a young girl. You must generate your own opportunities if no one presents them to you. She makes the decision to prove herself, so she begins making TikTok videos and draws viewers from all over the state. Dhanalakshmi currently has about 400k followers. Additionally, she appeared in a couple short films and a Tamil film. Dhanalakshmi received yet another enormous opportunity as she competed in Bigg Boss Tamil Season 6 as a commoner candidate.
Nivashini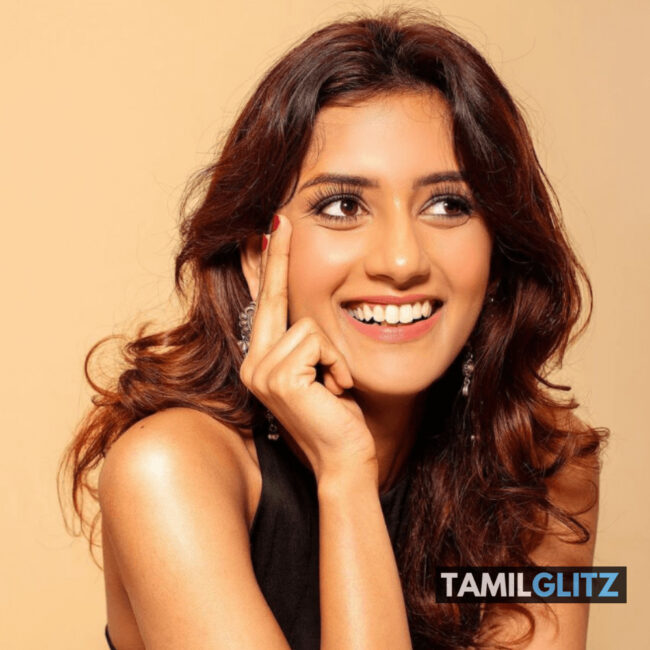 Model and social media influencer Nivashini is from Singapore. Her interests include photography and music. She became well-known after participating in the highly regarded Vijay TV television programme Bigg Boss Tamil Season 6. Nivashini is said to be the first Bigg Boss contestant from Singapore.
Queency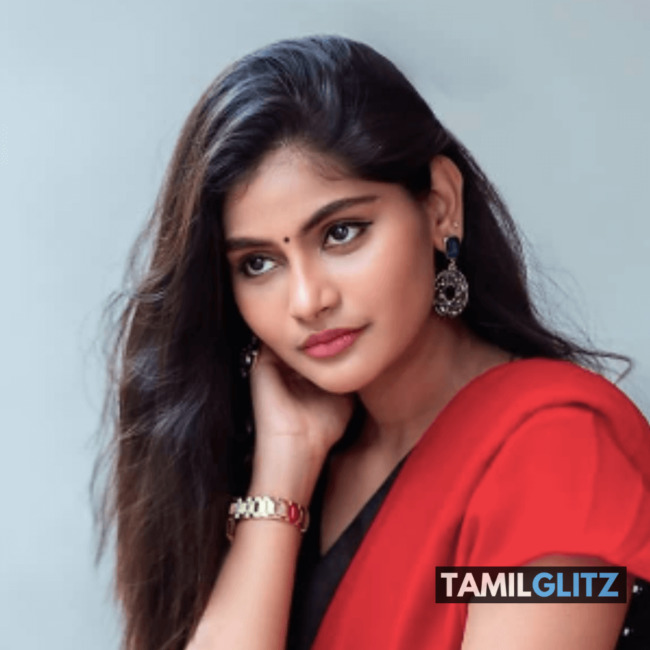 Tamil actress, model, and dancer Queency Stanly, also known as Queency, is from India. On February 21st, she was born in Coimbatore, Tamil Nadu. She began her profession as a model after completing her schooling, and she later appeared in album tracks like Thanimai Athu Varama and others. Queency made her film debut in the Karuppu Kannadi movie after appearing in the Sun Tv series Anbe Vaa. Her most recent acting project was Vidiyum Varai Kaathiru. Queency is a well-known Tamil television actress and model from India. She is now performing in the serial Vidiyum Varai Kaathiru. She is also a popular YouTuber. Her Instagram handle is @queencystanly, and as of right now, she has 75.1K followers.According to reports, Queency will be a contestant on Kamal Hasan's Bigg Boss Tamil Season 6 on Vijay TV.
Bigg Boss Ultimate Contestants
Thamarai Selvi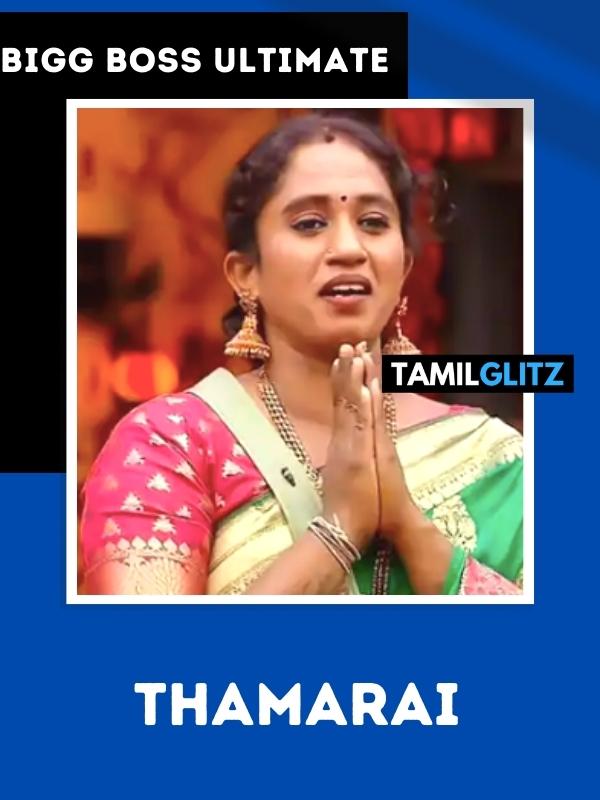 Thamarai Selvi, the reviver of the pride of Tamilnadu by her stage works, the theatre artist, the stage performer has now gained stardom after she stepped into the television reality show Bigg Boss. Thamarai Selvi is a strong determined and dedicated Drama Artist who brings out the plight and chaos of the drama artists in Tamilnadu. The theatre artist now breathes the foreseen future success story in her massive blown up past life.
Dhadee Balaji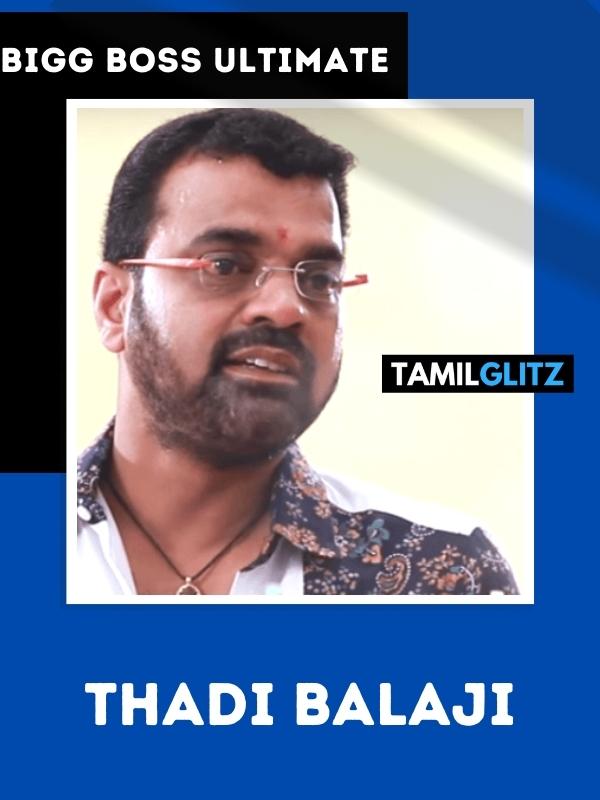 Dhadee Balaji is a Tamil actor and comedian. He acted in many movies as a comedian. Later he joins in Vijay television and plays a huge part in many reality shows. He remarked his presence in people's hearts through his entertainment in Television shows. He was also one of the judges in the "kalakka povadhu yaaru" comedy show. Balaji acted in many movies with comedian Star vadivelu as a sub-comedian. Apart from this Erode magesh and dhaadi Balaji's that dynamic duo hosting always seems to be an awesome and energetic combo which was compiled as a show named "naduvula konjam disturb pannuvom". And hosted many more shows. His dedication to his work was always magnificent. His hard work and effort paved a path to enter into Bigg boss.
Abhinay Vaddi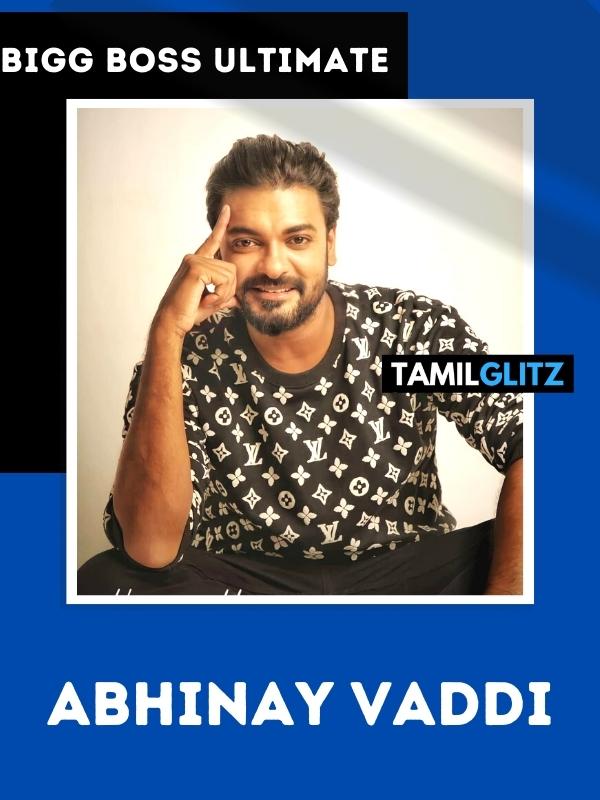 Born into the celeb clan, living his life as a passionate farmer and entrepreneur, enlighten the world on the importance of natural resources and sustainability. Abhinay Vaddi is a family fanatic who again educates the world by the compassion and love that he expresses towards his wife and daughter. The actor who made his debut in the Tamil industry with his movie young India is highly acclaimed for his performance. Following this, he reprised the mathematical genius Ramanujan in his biopic movie. The actor himself is exceedingly excellent in mathematics.
Anitha Sampath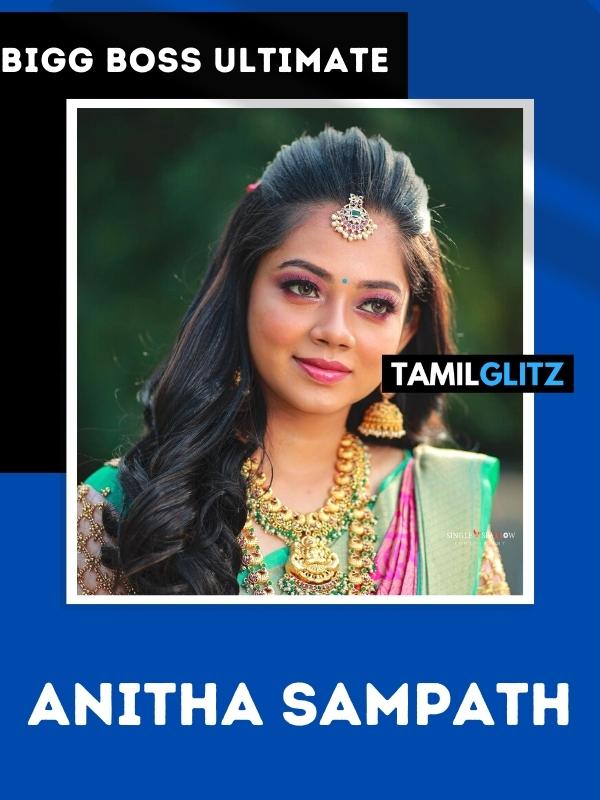 Anitha Sampath is an Indian Television/ News Anchor and a Voice artist. Anitha Sampath was born on June 12, 1992, in Chennai, India. She is 28 years old. She did her schooling and under graduation in Chennai itself. She is an Electronics and Communication Engineering Graduate. She is known for her work in Tamil TV Polimer News and News 7. She has also appeared as a News anchor in movies like Kaala, Sarkar, Varma 2.0, etc. She also made her acting debut in the Tamil series Emergency on Youtube Channel Put Chutney. This series got her good recognition of her performance. She also has her own channel called, Anitha Sampath Vlogs, and posts daily vlogs to entertain and engage all her loyal subscribers.
Suresh Chakravarthi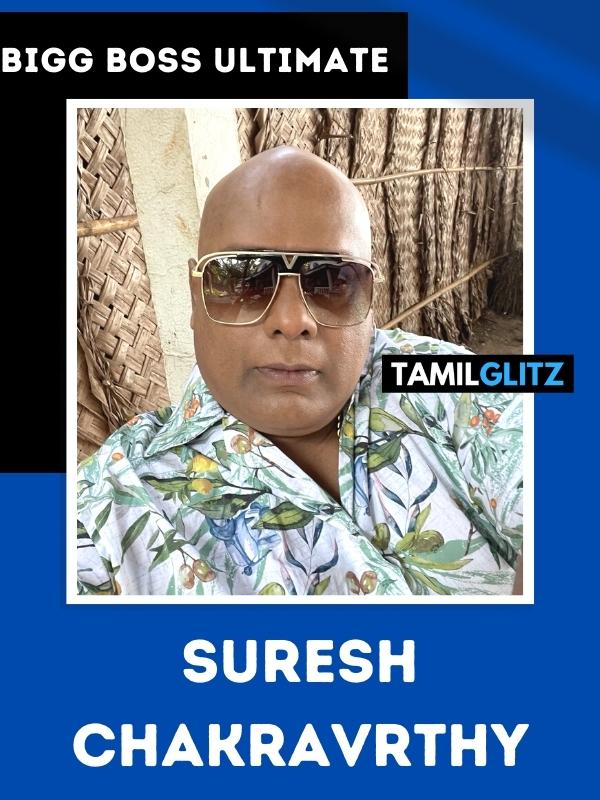 Suresh Chakravarthi is an Indian Actor, Anchor, Writer, Director, and YouTuber.He is from Chennai, TamilNadu. Mr. Suresh is well known for his work in the film 'Azhagan', he also has a youtube channel named Suresh Chakravarthi with the food chain "Chak's Kitchen". He has over 45 videos on his youtube channel and has also featured well-known actors like Ramya Krishna and Supriya in his series called Star Special. He started the channel around 4 months ago and already has a huge audience. His youtube channel now has 47,000 subscribers. He makes videos in Tamil which attracts a lot of local audience's appreciation.
Snehan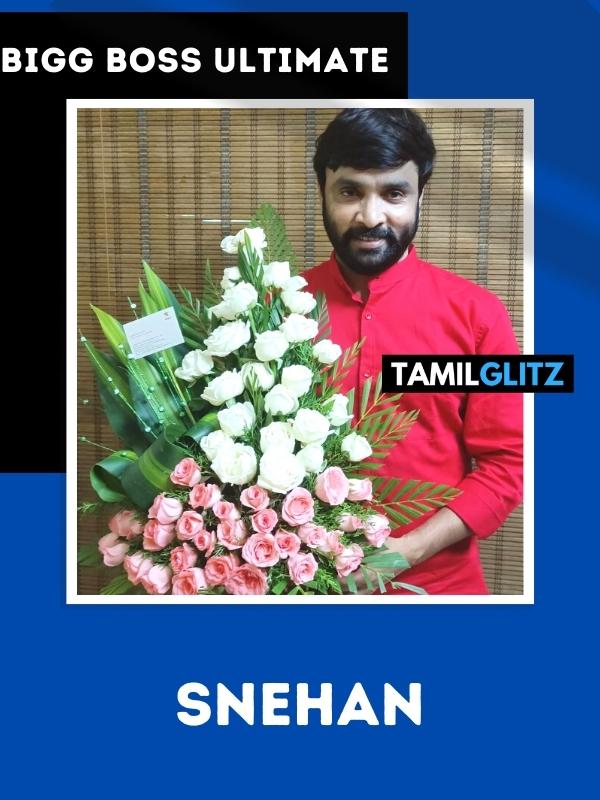 A multitalented snehan aka sivaselvam is a lyricist, poet as well as politician. He is an imminent writer. He bags himself with many awards and recognitions. He joins his hands alongside the kamal Hassan party. Years passed he changed his name to snehan meaning of serving love among people. He had worked 750+ movies as a lyricist. This is a huge achievement but didn't recognize by people. His breakthrough moment happened after he entered Bigg boss's house, everyone came to know who he is. Bigg boss has given him the limelight and shown him to everyone. Unfortunately, he became runner-up. After this bigg boss, he married his long-term girlfriend kanniga.
Balaji Murugadoss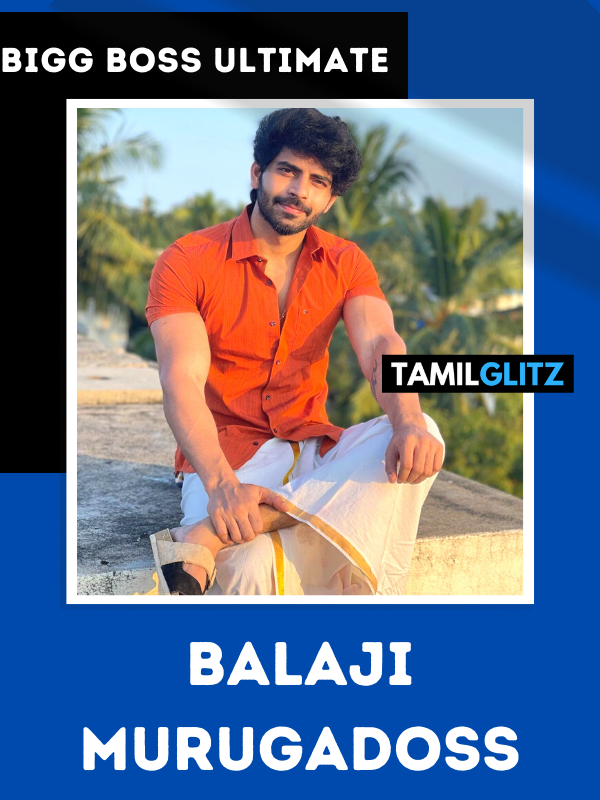 Balaji Murugadoss is an Indian Actor, Supermodel, and Entrepreneur. Not only that he is also a beauty pageant titleholder. Balaji was born on 2nd December 1995 and is 25 years old. He was born and brought up in Tamil Nadu. He did his schooling in Chennai itself. He is a graduate of SRM university. Apart from academics, he was also a district level kabaddi player. His love and dedication towards modeling and acting made him seize every opportunity that came his way. He was announced as the Top Voted Fresh Face 2017 and walked for huge fashion labels. He won many beauty pageants since then including Mr. Perfect Body 2017 organized by Times of India in Mumbai. He was also listed as one of the Chennai Most Desirable Men 2019 again by the Times of India.
Shariq Hassan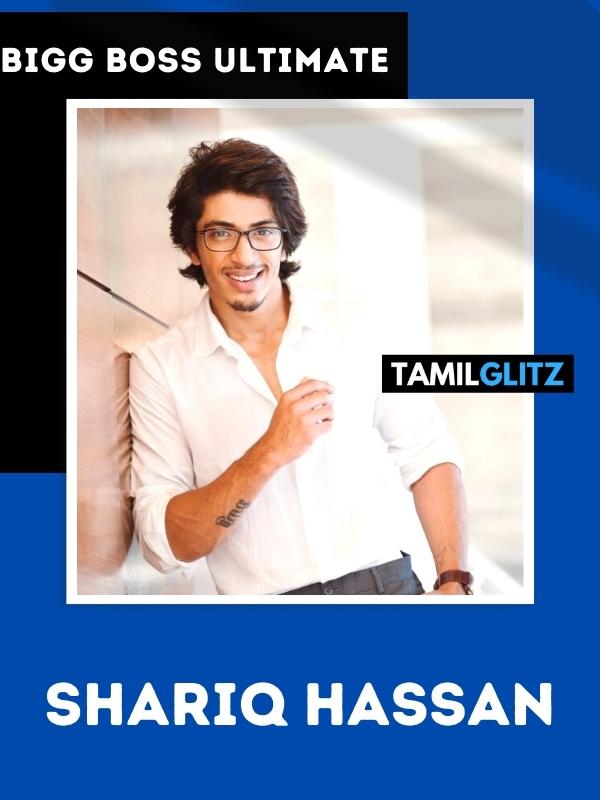 Shariq Hassan is the son of the famous Antagonist Riyaz khan. Riyaz Khan is best known for his famous movie with Vadivelu which was named as Winner. His son Shariq is very young, talented in sports and acting. His debut movie named "Pencil" was done by actor and music director G.V.PRAKASH and actress SRI DIVYA, he did a villain role in that movie. After this movie, he gets a chance to enhance his skills and show them to the Tamil audience. Now again he got a chance to prove himself. He is also a contestant of Bigg boss ultimate.
Julie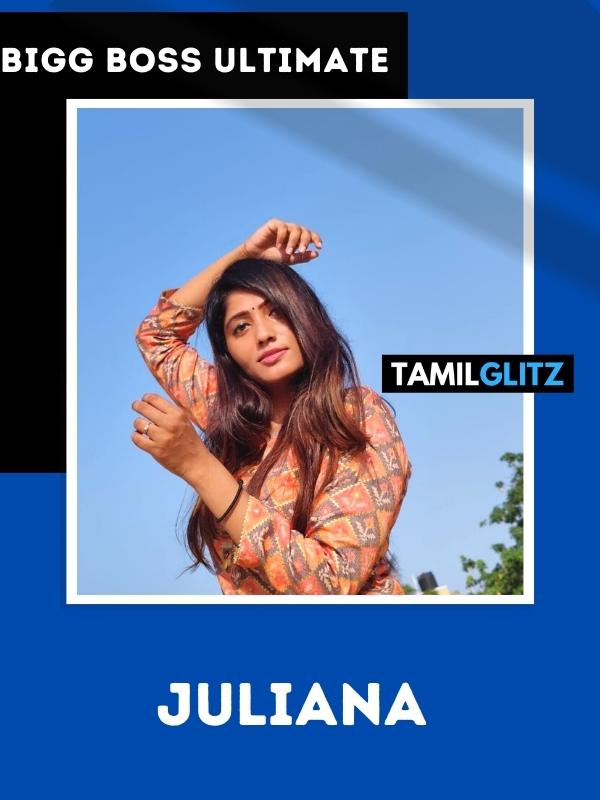 The most heard voice during the famous jallikattu protest was hers. From a nurse professional to a powerful activist. She grabbed the attention of the people easily by raising her voice aloud. the first entry into the television industry was through Bigg Boss. She underwent many controversies over there and her fight with other people over the house where the topic of the day. After she participated in Bigg Boss, she started her career as an artist in a few movies of the Kollywood industry and now she has a lineup of movies to do.
Vanitha Vijayakumar
One such personality who never fails to make news with every set of is Vanitha. She is a multi-faceted person like an actress, entrepreneur, fashion designer, etc. She came into the limelight after she entered the Bigg Boss house. Her controversies with the other participants were the talk of the town. After she participated in the show, she also came up with many new projects in reality shows. Her activities never fail to entertain us each day. Though she has not a much impressive personal life hair growth in a career is progressive. She is very busy shuffling between her new tasks and her lineup for the next movies always ready.
Niroop Nandhakumar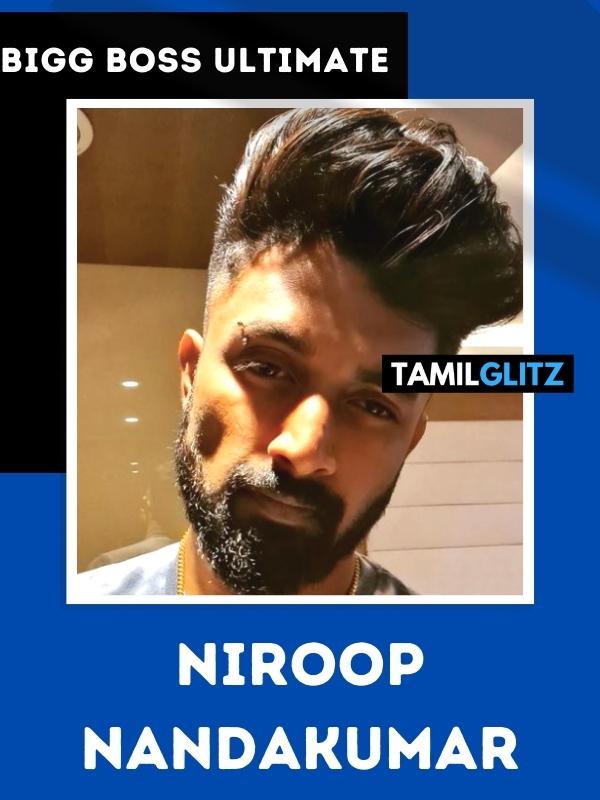 Niroop Nandhakumar is an Indian based model born in Vijayawada, Andhra Pradesh and brought up in "namma" Chennai, Tamilnadu. The manly model is celebrated most for his physique and height. Niroop Nandhakumar is well proclaimed for his 6'4″ feet inches. The tallest person in the Bigg Boss season 5 is awaiting to win the title and put on a tough competition with his hefty competitors. Niroop recently completed his performing arts course training at MindScreen Film Institute. The aspiring actor is the existing example to claim the quote,"love for hair has no gender".
Suja Varunee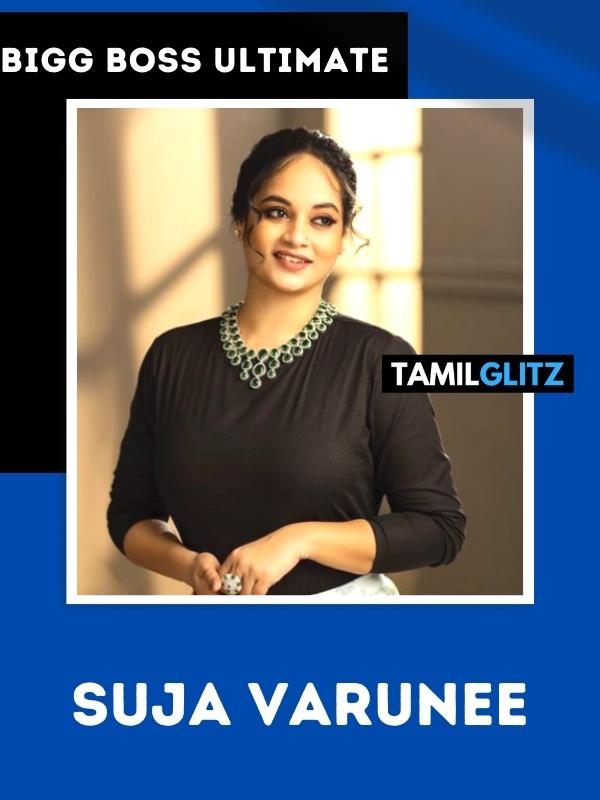 Her quench for acting in the industry begins at the very early age of 14 itself. As her age grows their skills in acting and dance grow up fast along with her. She is notable for her works in South Indian language movies and her dancing skills were spoken by many. She is a very passionate and hardworking actor. He deserves a role in certain films where a great feast for cinephiles. Her modeling skills are amplified each day and she proves that anything could be achieved by her hard work. A very loving mom as well as she continues her daily task by grooming herself each day.
Abhirami Venkatachalam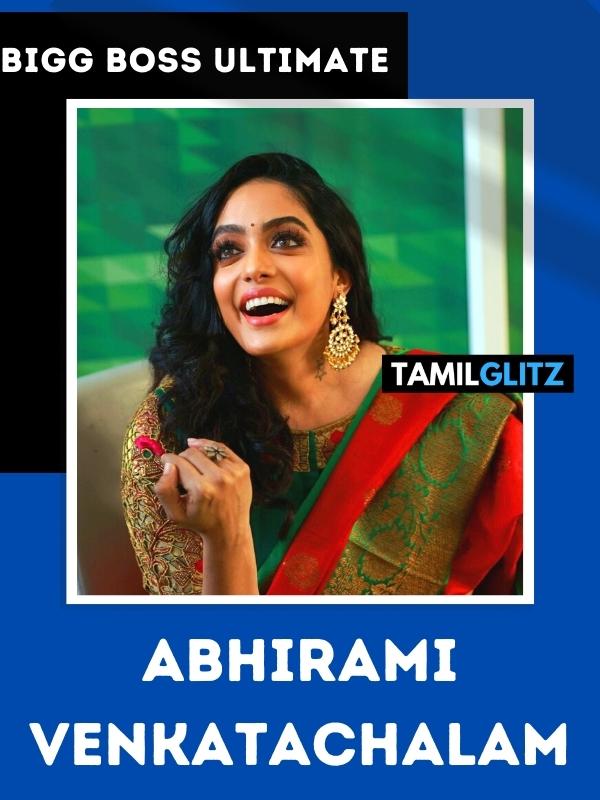 The young talented lady from the South is known for her splendid modeling skills. She is a pan-Indian star and always makes us mind stuck with her performance in the cini industry as well as her passion towards the classical dance is never ending and she passes it to the other people by teaching the dance. Her growth in the industry has set up and benchmark for everyone who aspires to their dreams to glow in the industry. Her voice on public issues or not just on the screen alone but on the human trafficking platform as well slowly she is turning to be a Boss lady.