Bigg Boss Vote is a public opinion process in Bigg Boss Tamil Television show conducted by Vijay Television hosted by our very own UlagaNayagan Kamal Hassan. No wonder people are already crazy about the show and has started voting for their favourite contestants. The voting for bigg boss started from the second week of its airing. The Show is planned for 100 days and is said to have seasons in the coming years. People have already begun to show their love and hatred towards the contestants. Let's wait and see who wins the title of Bigg Boss Tamil season 1.
Each week the housemates will nominate the Candidates for elimination. One person can nominate 2 participants. These participants who are nominated will be left for the public to vote. The person with the least votes will be eliminated. You can Vote bigg boss Tamil here. The public can vote either through online or by using Missed call service. The complete details of the voting process is as follows.
Bigg Boss Vote

This week all the contestants will be in elimination.You can vote for the candidates here: ( The person with least votes will be eliminated )
Vote for the individuals who you wish to save.
Cast your Vote for Bigg Boss Tamil below:
Bigg Boss Vote through Missed Call Method:
1.) Go to Google and Search 'Bigg Boss Vote' (or) Click here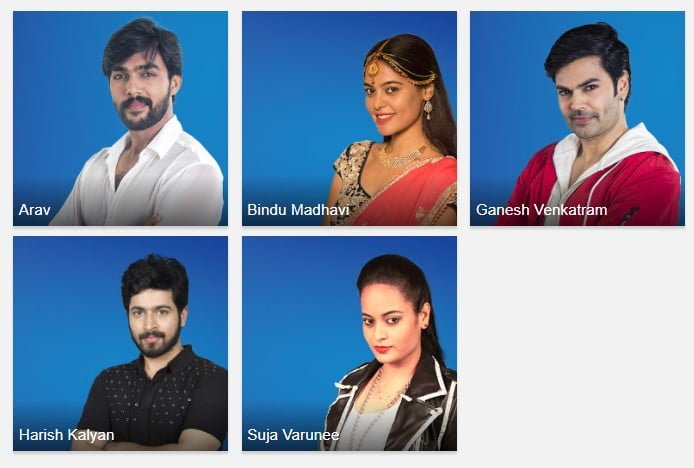 To vote for your favorite big boss contestant, just give missed call to the below mentioned mobile number.
Vote for VaiyaPuri – Missed Call Number – 7210122314
Vote for Ganesh – Missed Call Number – 7210122304
Vote for Snehan – Missed Call Number – 7210122313
Vote for Raiza – Missed Call Number – 7210122311
Vote for Aarav – Missed Call Number – 7210122301
Vote for Gayathri – Missed Call Number – 7210122306
Vote for Sakthi – Missed Call Number – 7210122315
Vote for Bindu Madhavi – Missed Call Number – 7210122316
Bigg Boss Tamil Contestants:
Vaiyapuri: One of the strong contestant of Bigg Boss and is a veteran comedian in Kollywood industry. He gained people support because of his honesty and humor sense. Though he was pushed into eviction many times people have never forgotten to save him.
Bindhu Madhavi: She entered the house after 4 weeks as a surprise to all contestants. She already knew what people think about the show and can play accordingly. Bindhu Madhavi hopes that the Tamil version of Bigg Boss will be a big breakthrough in her career.
Snehan: Lyricist in Kollywood and another strong contestant. He gained people support because of his caringness to all and especially when they are depressed.
Ganesh Venkatraman: He has played many supporting roles in Tamil Cinema Industry and is known for his silence and patience within the house. He has been criticized for eating more eggs by other housemates.
Shakthi: The son of famous director P. Vasu. He was not so successful in his acting career and hopes BB will be a breakthrough. He has a popular nickname among people " Trigger Pandi " for the reason that he uses the word "Trigger" often for no reason.
Raiza: A model who was not so famous initially has now gained people support after some recent changes. She often uses the word " True… True ". Will be a strong contestant for all inmates.
Aarav: He is also a model and Oviya was truly in love with him during the show but he refused but he himself revealed that he kissed Oviya and which lead to the meme of " Maruthuva Mutham".
So you can vote for the Bigg Boss Tamil housemates here and also check various other polling methods. Let us know your opinion about Bigg Boss vote in comments and whom you wish to support. Let's wait for the winner.