TN 12th Result 2019 will be released on 19th April @ 09:30 hrs officially in the website tnresults.nic.in by Tamil Nadu HSC Department. The Tamil Nadu Board Higher Secondary Examination was held during the period of 1 March to 19 March. Around 8 lakh Students are awaiting the Plus Two result 2019 today. Below you will find all the details on how to check your TN 12th Result 2019 online via tnresults nic in.
12th result 2019 :
Every year the 12th results will be published in May but owing to the LokSabha Election this year the plus two result 2019 will be declared on April. As we knew the 12th results are very important for the students future, both the students and their parents are awaiting the big day with Fear and hope.
tnresults.nic.in 12th result 2019 :
The results can be officially viewed on the tnresults.nic.in website managed by the Government of Tamil Nadu, Directorate of Government Examination. Students should enter their Registration number and Date of Birth in order to view their marks scored in each subject. We wish All the best to the students awaiting the Tamilnadu 12th result 2019.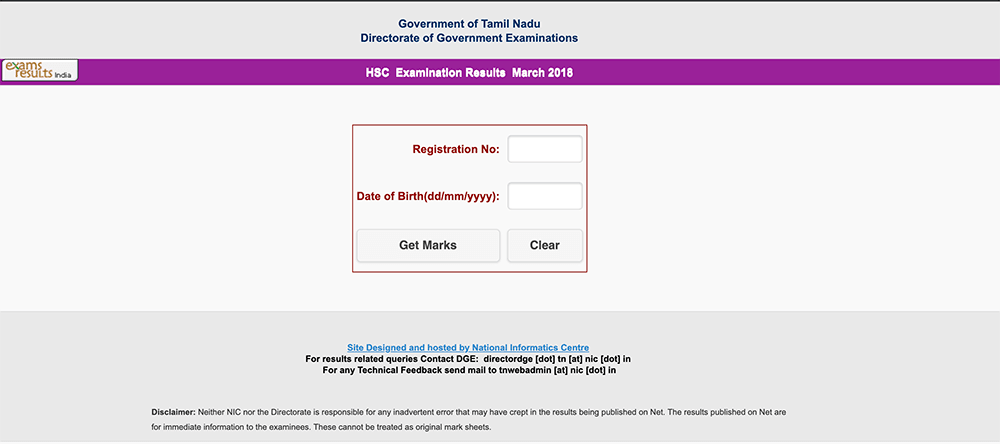 How to Check Tamilnadu 12th result 2019 :
Here are the steps on how to check your TN HSC Result 2019.
Go to the website "tnresults.nic.in" or search "tn results nic in 2019".
Choose the option " HSC March 2019 Results".
Enter your Registration Number in the first box.
Enter your Date of birth in the format dd/mm/yyyy in the second box.
Click the "Get Marks" button.
Now your tn 12th result 2019 (aka) plus two result 2019 will be displayed.
Take a printout of that result in

www tnresults nic in website for further reference.

List of Official Sites for Checking Tnresults 2019 :
Here are the official websites given by Tamil Nadu HSC Board for viewing your Tn results 2019.
tnresults.nic.in
dge.tn.gov.in
dge.tn.nic.in
dge1.tn.nic.in
dge2.tn.nic.in
Check your TamilNadu 12th result 2019 / TN +2 Result here –> https://bit.ly/Tnresults2019
Where can you print your 12th result :
You can print your HSC +2 result 2019 in either www tnresults nic in or www dge tn gov in. The tnresults.nic.in 12th result 2019 is preferred most among the students and we at TamilGlitz wish all the +2 students a Great Career ahead.