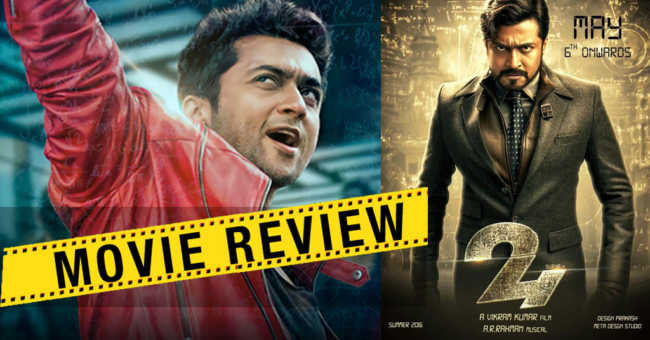 24 Movie Review
24 Movie Review: 24 Movie is one of the most expected movie in the career of Suriya and this also marks his Production debut with high budget. As well known 24 is a sci-fi thriller. Suriya has 3 characterization in this movie. After a disappointing Massu and a sweet but underrated Pasanga 2, Suriya returns this year with his first huge release, 24. Directed by Vikram K Kumar, who made the engaging Manam, this sci fi thriller is about time travel. Scary premise to make, of course, but kudos to the makers for trying something different.
'24' is the story of a watch, with which the owner can travel to the past and future and control the time. It is invented by Sethuraman (Suriya) a scientist and his twin brother, the dreadful Athreya wants to snatch it from him. When you're done watching few minutes or perhaps the first half, one thing that instantly strikes your mind is the brilliant writing by Vikram Kumar, where it is so obvious that he has worked so hard on the script over and again for a better perfect version.
Yes, Suriya has already proved his proficiency in a much colossal style in his previous movies, exhibiting his prowess in unique roles with different looks, but this one is incredibly the best that he can boast about. It's so much revealing how much effort he had to exert for 'Athreya', especially the aged one, inspired from Stephen Hawking look.
Before going into details it has to be said that '24' is a film that gives a unique and highly gratifying experience with the time travel concept as its core Though the concept as such is not entirely new to Tamil audience (as the same concept was used in last year's super hit film 'Indru Netru Nalai'), this script is filled with a lot of suspense and thrills.
Apart from AR Rahman's background score and cinematography by Thiru, it's Amit and Subrata Rao who deserve special mention for creating an outstanding set work. VFX team is the absolute backbone in this film, where they have exhibited an immense perfection.
'24' is a beautiful product of team work. Cinematographer Tirru's visuals, Rahman's apt music, art direction and VFX- all these intangible crew members have contributed equally to uplift the film.
VERDICT : Project 24 gets a Distinction
24 Movie Rating : 3.5/5