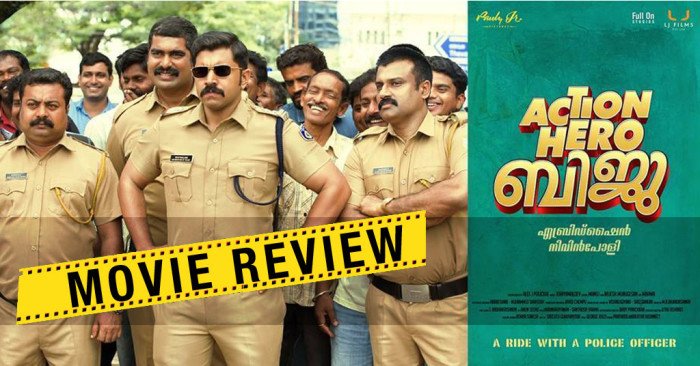 Action Hero Biju Review : Action Hero Biju is a Malayalam film directed by Abrid Shine and starring Nivin Pauly in the title role. This is Shine's second venture as a director after his debut 1983. The movie also marks Nivin Pauly's debut as a producer. Wikipedia
After the Huge success of 1983 Nivin Pauly and Abrid Shine hit the screens with Action Hero Biju. This film is attempt to reinvent the hero in a common man and keeps its uniqueness from the cult police stories in Mollywood.Typical police stories always have the tendency to focus only on the hero and his extraordinary martial skills used in actions. But the movie Action Hero Biju is not a typical police movie but a matter walking the road less travelled.
Each and every common man can have something to relate to with his day-to-day experience in the movie . The current social issues are being discussed in the movie with utmost care and provides the society a number of valuable messages.
The Character " Biju " is well played by Nivin Pauly. Nivin has easily adopted to the character. Nivin Pauly will always remain as a loved hero in both Mollywood and Kollywood if he continues such variety in his characters.Nivin Pauly has the right to be proud as an actor and producer because both roles came into fertile. Action Hero Biju clearly marks a victorious beginning for the year in his both roles.
Maestro Jerry Amal Dev music is soulful and is a strength to the film . Anu Emmanuel was so cute to see as Benitta but had nothing more to do with role. She seemed more comfortable with her role. Alex J Pulickal's cinematography is colorful and free flowing to match the tone and mood of the movie.
Action Hero Biju stands out tall from all other police stories in the way of narration and many rela live incidents that can be seen in the movie. This makes the BIJU a must watch .
Verdict : Action Hero Biju – Realism on Reels
Rating : 3.5/5