Actor Surya responds to Adyar Prem Kumar Slapped Controversy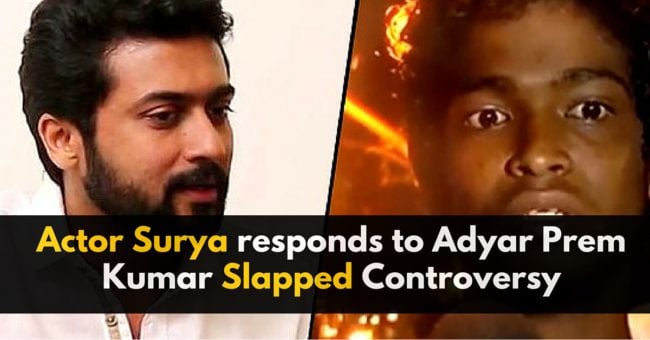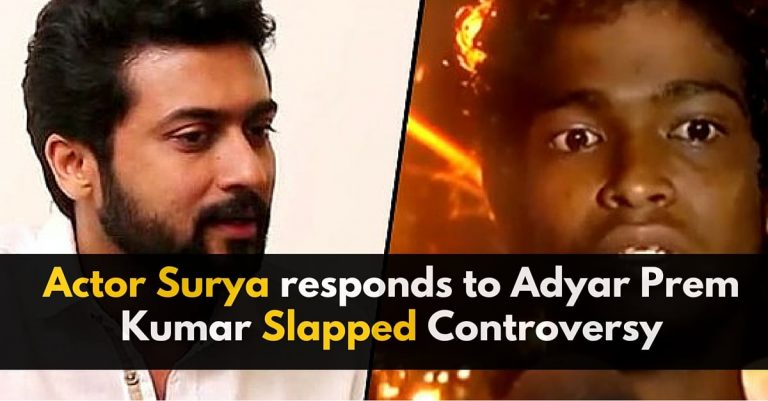 Actor Surya was earlier accused by Prem Kumar (a Football Player) for slapping him during a verbal fight with an elderly woman on road regarding a small accident. It is said that they were not letting her get away and were threatening her that they will break her car glass windows if she doesn't pay them.
Actor Surya who was on his way to his shooting interfered in this, solved the issue & informed the police.
The boy was not paid anything so he gave a false complaint on Actor Surya regarding the issue. He also added that Actor Surya came nearby and slapped him twice, which got him brain fever, vomiting, head pain and etc as he claims.
Finally after all this drama, Actor Surya gave an official reply on this controversy.
Actor Surya is known for his good social deeds such as Agaram Foundation. [an initiative to provide quality education and equal opportunities to the under-privileged children, who are studying in Government Schools]
Guess what, He didn't even slap him.
In midst of all the drama appreciate your boldness for this message!! Respects!! Pls take care! Thank you All!🙏 https://t.co/Dw3aab0IR1

— Suriya Sivakumar (@Suriya_offl) May 31, 2016
The woman who was saved by Actor Surya backed him up on Twitter,
@Suriya_offl Thank you very very much for telling those two boys not to lay hands on me when they were abusing and threatening me yesterday

— Pushpa Krishnaswamy (@PushpaKrishnasw) May 31, 2016