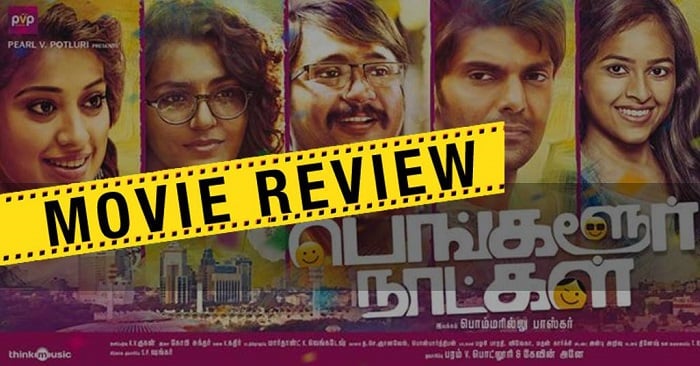 Bangalore Naatkal Movie Review & Rating: Bangalore Naatkal is a Tamil comedy drama film directed by Bommarillu Bhaskar The film is a remake of the 2014 Malayalam film Bangalore Days written and directed by Anjali Menon. Wikipedia
Cast & Crew:
Arya as Arjun (Aju)
Sri Divya as Divya Raghavan (Ammu)
Bobby Simha as Kannan (Kutty)
Rana Daggubati as Prasad
Parvathy as Sarah Elizabeth (RJ Sarah)
Raai Laxmi as Lakshmi
Samantha as Grace
Prakash Raj as Grace's father
Saranya Ponvannan as Kannan's mother
M. S. Bhaskar as Kannan's father
Rekha as Sarah's mother
Pattimandram Raja as Raghavan Divya's father
Sriranjini as Divya's mother
Directed by Bommarillu Bhaskar
Produced by Prasad V. Potluri
Based on Bangalore Days
by Anjali Menon
Starring Arya
Sri Divya
Bobby Simha
Rana Daggubati
Parvathy
Raai Laxmi
Samantha
Music by Gopi Sunder
Cinematography K. V. Guhan
Edited by Marthand K. Venkatesh
Production
companies
PVP Cinema
Bommarillu Bhaskar Cinema
Distributed by PVP Cinema
Release dates
5 February 2016
Country India
Language Tamil
Bangalore Naatkal Review:
Bangalore Naatkal is a remake of the Malayalam Superhit Movie Bangalore Days. As you know, It's a very difficult task to make a Remake of a Hit Movie successful due to high expectations. But, Kudos to the Bommarillu Bhaskar, he delivered an entertaining flick with Bangalore Naatkal.
Arya, Bobby Simha, Rana, Parvathy and Sridhivya play the lead roles. Lately, a lot of Malayalam Movies got Tamil Remakes and were successful. We are sure that even Bangalore Naatkal will also join the Group.
Divya (Sridhivya), Arjun (Arya) and Kannan (Bobby Simha) are cousins with a great bonding. They have a lot of fun together. Arjun in a crazy Youngster & Divya is a Chirpy Girl.
They have a craze for Bangalore City. It was their Dream to go and have fun in Bangalore.
Divya gets married to Prasad (Rana Daggubati) who is a no-nonsense guy and settles in Bangalore. Arjun and Kannan get a job in Bangalore and settle there.
How well do they all get along? – That's the Story!
Sridhivya steals the show. Gopi Sundar's Music is good in the Movie.
TamilGlitz Rating: 2.5/5