Bogan Movie Review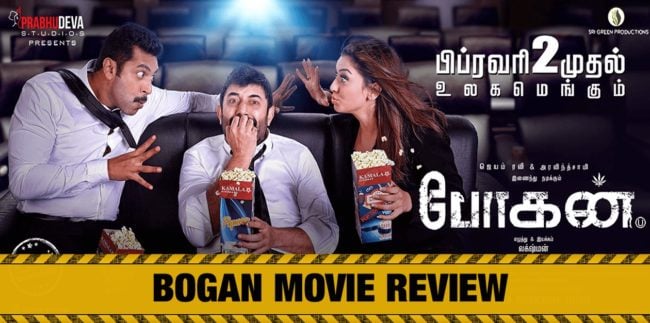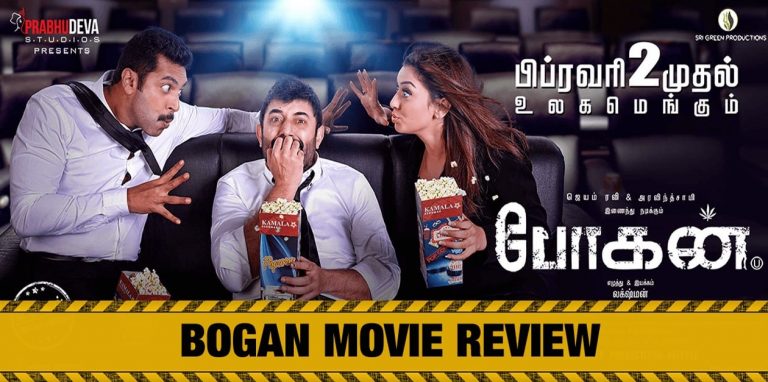 Bogan, This is the second time Jayam Ravi and Arvind Swamy acting together after Blockbuster Thani Oruvan. Jayam Ravi plays as cop in this movie. His role is a bit similar to Ajith's role in Mangatha, Because Jayam Ravi turns out to be a baddy in the second half of this movie.
One thing to note is prabu deva is the producer of this movie. He had previously directed Jayam Ravi and Hansika in Engeyum Kadhal which was a Superhit. This is an action thriller movie. The story of this movie is about two people trying to figure out a mysterios person, he is referred as Bogan (which means a wealthy person).
The Background of the story is Arvind Swamy is from a Royal Family. Later he faces lots of debts and economical problem, then comes he starts to cheat people and get money. The turning point of the story is Arvind Swamy finding a palm script (Olaichuvadi in Tamil) in an archaeologist site. From that palm script he learns how to go into other peoples body (koodu vittu koodu paaythal). Arvind Swamy robs banks using that technique and there he interferes with Jayam Ravi's Father. Then only Jayam Ravi getting involved into the story. In Second half Jayam Ravi goes into Arvind Swamy's body and vice versa.
The visuals of 'Damaalu Dumeelu' song looks like "Dandanakka" song from Romeo Juliet. Hansika looks pretty as usual in the movie. Editing has done nicely by Anthony. Cinematography is another positives of this movie. Songs also have come nicely. Climax could have been better and logical. Bogan has got positive reviews from most of the audience. This is good try from Director Lakshman.