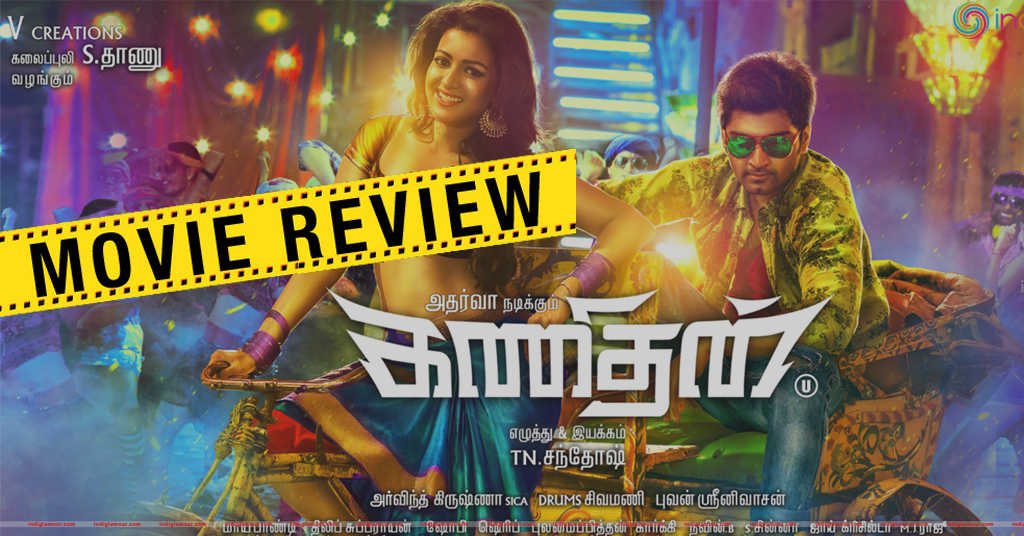 Kanithan Movie Review : Kanithan is a Tamil action-thriller film written and directed by T. N. Santhosh and produced by S. Thanu. The film features Atharvaa and Catherine Tresa in the lead roles, while Sivamani composes the film's music. Wikipedia
Kanithan Review
Kanithan created a little buzz after its racy trailer and the plot revolving around fake certificate printing . The director who worked as ARM 's assistant also added the hype and let us now see the movie review of Kanithan.
Raciness has become the most fascinating concept of young filmmakers, who want to
keep the audiences on edge of their seats much accordingly to their tastes. Few
months back, it was Anand Shankar, a former associate of AR Murugadoss who had
applied the same theory in 'Arima Nambi' and now T.N. Santhosh offers a similar styled
film, which in many places look like a collage of his mentor's Thuppakki and Arima
Nambi in few parts.
The film is about a young journalist (Atharva Murali) working at a low profile satellite
channel and the chance of getting a job in BBC is so closer. He woos down his boss'
daughter (Catherine Tresa) and they are in love now. Everything proceeds with a
picture perfect life until a shocking moment blows him out of water. He is held as a
criminal along with 5 other youngsters for fabricating fake documents in educational
institutions for loan. Now he has to set out a mission on breaking the mystery behind
the fake fabrications and trap the ones who was responsible for this fraudulent act in
order to redeem his life.
The good thing with Kanithan is that the hero and lead villain are equally matched and it is as much a battle of brain as brawn. Director Santhosh shows good attention to detail in the scenes when we are shown the modus operandi of the fake documents mafia and the characteristics of an authentic degree certificate. His screenplay pattern and structuring reminds us of his guru A.R.Murugadoss, particularly from Thuppakki.
Atharva Murali is choosing some scripts with the aspirations that would take him to the
next level. Much alike Eeti, he sticks to commercial formulae in this movie, where
there is plenty for him to perform in a larger than life role. Catherina Tresa is abruptly
used only for glamorous quotient to appeal the young commercial audiences.
Bhagyaraj does his portions well. Aadukalam Narain as Atharvaa's father does justice
to his role. Sunder Ramu is okay. Karunakaran could have gained some more intensity
in the role. The baddie really looks perfect and is sure to gain more offers in Ktown
now.
Although the makers have been promoting the movie as a dedication to journalists, it
is not actually the one. Too many artificial elements with logic missing across the
drama keep it a middling one. As cited above, the entire film travels with the same
treatment of Thuppakki, where the meeting of protagonist and antagonist becomes the
major plot and this one is a mere replica.
The songs are too loud and maybe, it was placed for a pakka commercial movie, it
could have made more sense. But this one being a different treatment doesn't hold
them accordingly.
Cinematography by Aravind Krishna is best in places and editing looks so amateurish
with abrupt cuts.
Overall, although the plot looks interesting and as we are reminded off 'Thuppakki' in many places.
VERDICT: Racy Thriller ! Give it a try
Rating: 2.5/5