In an unprecedented move, Prime Minister Narendra Modi addressed the nation through Doordarshan, India's state television.
Currency notes of Rs 500 and Rs 1,000 won't be valid from midnight, PM Narendra Modi says in an address to the nation.
"Currency notes of Rs 1000 and Rs 500 will be just paper with no value," the PM says.
Modi says the citizens' money will be safe as they can deposit the notes in the bank before December 30, 2016.
"People can deposit notes of Rs 1,000 and Rs 500 in their banks from November 10 till December 30, 2016," says PM.
All other coins and notes can continued to be used.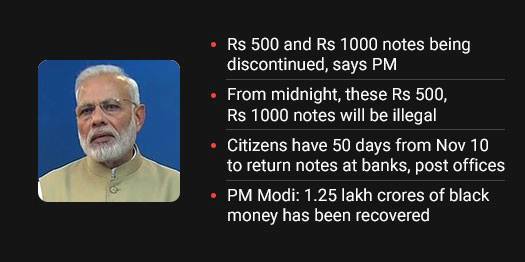 The Reason Behind this Act is to Fight Against Corruption !!!!
Here is The official Tweet of Financial Express :
#BREAKING: Notes of Rs 500 and Rs 1000 not valid from midnight tonight, says PM @narendramodi

— Financial Express (@FinancialXpress) November 8, 2016