Priyanka Deshpande, the hilarious super fun video jockey of Tamil audiences. Priyanka Deshpande is a punner, anchor, VJ, and a supporting actress on the professional front. Set aside the professional forum she is well known and well-received for her down-to-earth humble attitude, breezy kindness and charm overloaded conduct. More than anything in real life she is an extrovert who would definitely love helping, supporting, guiding, monitoring, and promising her beloved ones and acquaintances. Yep! She falls into the giver personality trait and awestruck people with her admirable graceful etiquette.
                                                    Priyanka Deshpande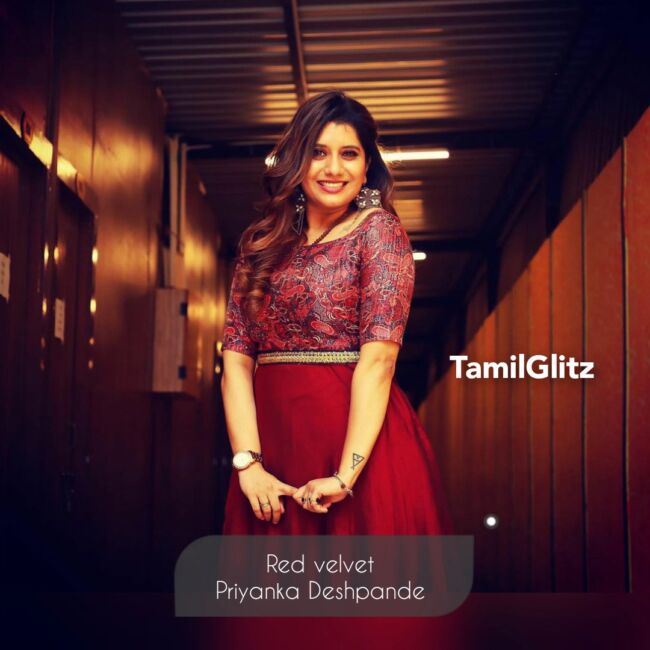 Priyanka Deshpande is highly acclaimed as " Vijay TV Priyanka" or "Super Singer Priyanka" by Tamil audiences. She has an impeccable reputation for her work forum and has received many felicitations from varied veteran stars all across India, counting from Badshah Shahrukh Khan to rising star Sivakarthikeyan. In between is also felicitated for herself learnt vocal training skills from Rockstar Anirudh Ravichandar to legendary singer Shankar Mahadevan. The lead anchor in Vijay Television is also one among the highly paid Vijay TV stars.
Real name

Priyanka Deshpande 

Nickname

Priyanka

Profession

TV anchor, VJ, Hostess, supporting actress 

Height

162cm

Weight

65 to 70 kg

Skin tone

Indian brown 

Eye colour

brown

Hair colour

black

Date Of Birth

28th April 1990

Age

31 years

Birthplace

Hubballi, Karnataka

Residing place

Chennai, Tamilnadu.

Address

Tambaram, Chennai, Tamilnadu.

Marital status

Married

Spouse

Praveen Kumar 

Spouse profession

Assistant director

Siblings: Brother

Rohit Deshpande

Hobbies

 cooking, anchoring, singing, acting, bantering.

Favourite actors

Thalapathy Vijay and Actor Dhanush

 

Favourite food

Veg Briyani

Favourite place

 Garden city "Bangalore" 

Favourite Co-anchor

Ma Ka Pa Anand.

 

Favourite song

Kanavae Kanavae from David movie.

Favourite music director

Rockstar Anirudh Ravichandar.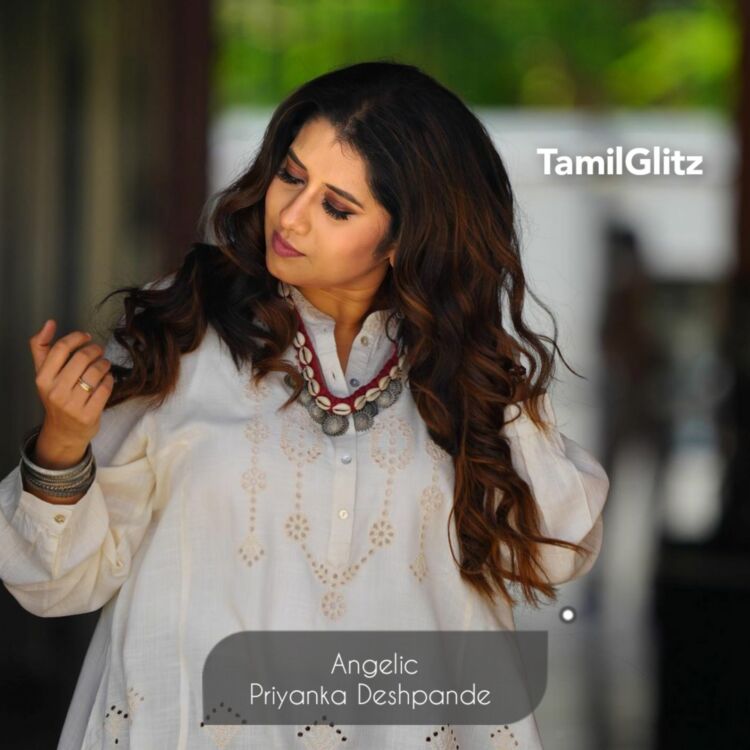 Priyanka Deshpande Early Life
Priyanka Deshpande's parents are originally from Maharashtra & Kerala but they moved and settled in Karnataka. Following which the VJ's early life and schooling were in Karnataka and later she moved to Tamilnadu to pursue her higher education and degree. Considering all these facts Priyanka is well versed in Tamil, Telugu, Malayalam, Kannada, Marathi and English. It was unfortunate that Priyanka lost her beloved father when she was in 7th grade in 2003. In 2016 she tied the knot with Praveen Kumar, assistant director and also assistant director for Super Singer. Her wedding was a love cum arranged marriage.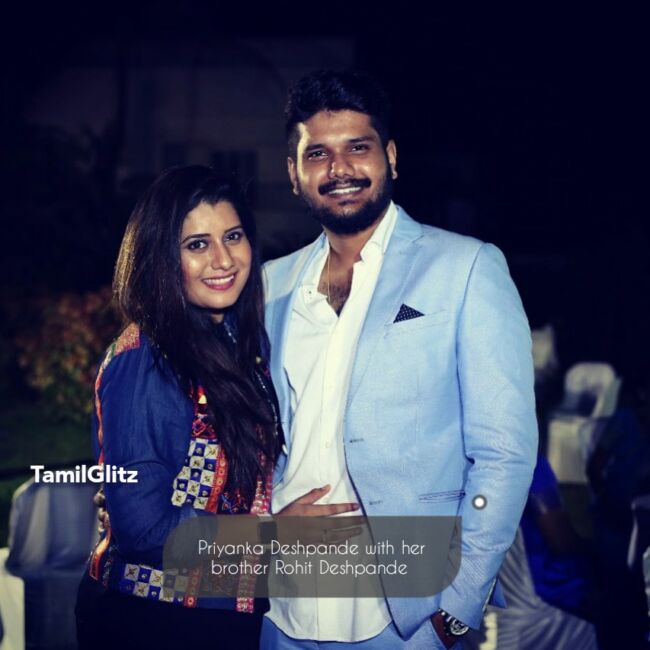 She is the present leading female anchor in Vijay television and reveals that her professional role model is Divya Dharshini (DD) yet another lead anchor in the Tamil industry. Priyanka has hosted the most successful and highly praised programmes including Super Singer, Kalakka Povathu Yaaru, Kings of Comedy juniors, Super Singer Juniors, Start Music and The Wall. It is also under speculation that Priyanka Deshpande is likely to contest in the big bash hit show Bigg Boss season 5 in Tamil, which is hosted by Universal hero Kamal Haasan
Priyanka Deshpande career as Television Presenter
Priyanka started her career as an anchor by an accidental incident when she was substituted by her friend due to her friend's unforeseen commitments. Later the anchor herself found interest in the profession and shaped herself accordingly by learning, unlearning and relearning the ethics in media. Her stepping stone in her career was her commitment to Zee Cinemas, where she worked for a few years.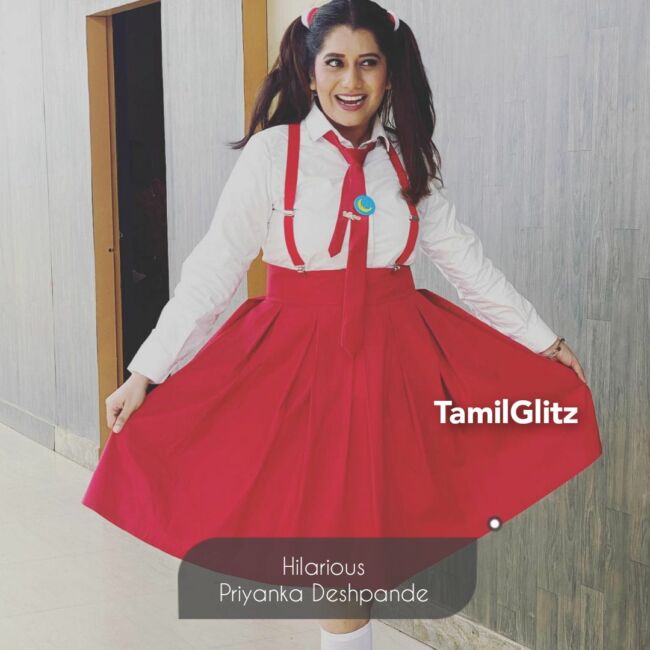 Later following this Priyanka moved to Sun Network and enrolled herself with the very famous and most successful music channel until today Sun Music which was definitely a milestone in her career. She took part as VJ in her favourite show, "Mami's day out" and occasionally she was welcomed to host special festive day programmes on Sun TV too. She was also seen on the children channel Chutti TV where she attracted toddlers and budding young viewers with her funny comical engaging talks.
Priyanka Deshpande success in Vijay Television
Priyanka then building up her resume and gaining experience she moved to Vijay Television where she kick-started her career in Vijay TV with her show Cinema Karam Coffee along with her favourite co-anchor Ma Ka Pa Anand. She threw up impressive impromptu performances and received many felicitations by her presence of mind from her editors and bosses. She was then provided with a second chance to host the Olli Belly programme under Vijay TV.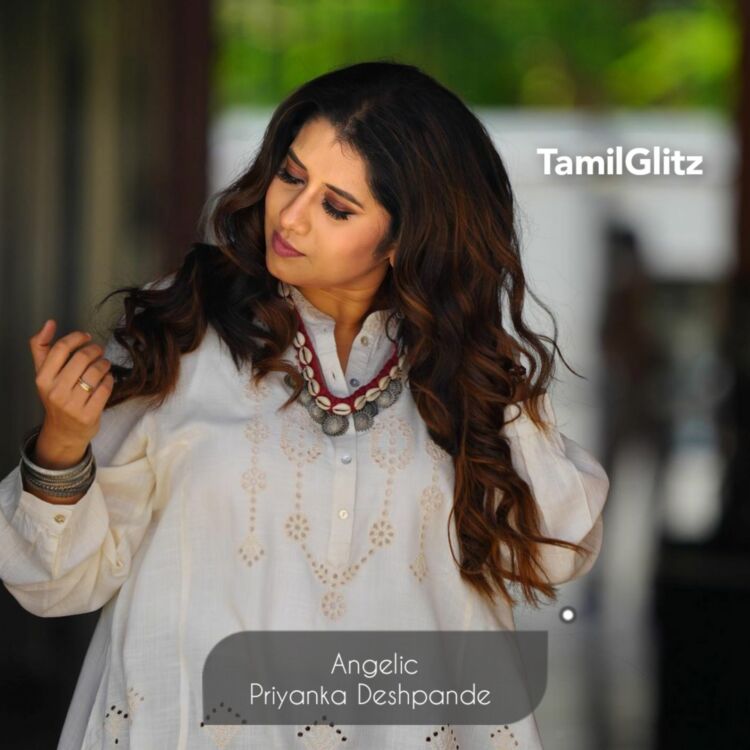 She nailed her performance in this one too. Then came her lucky ticket to the paradise she was called upon to host the highly spoken million viewed top listed Airtel Super Singer along with Ma Ka Pa Anand and Bhavana. No sooner than she started her venture with Super Singer her reach spiked to infinity. 
Priyanka Deshpande as Vlogger
Priyanka Deshpande is also a multi-talented super engaging vlogger; her YouTube channel webs in around 1.36 million subscribers and yet counting. Her vlogs are super hilarious which burns out stress in no time. The views for her videos catch up to the metaphor of forest fire of around 28,263 views per day. The anchor cum vlogger has a special field of fan bases for her ultimate humorous engaging content.
The dialogue "Namakku Soru Than Mukkiyam" was significantly known to have gained popularity by Priyanka Deshpande. During the Behindwoods Award ceremony she even pulled in Rashmika Mandanna fondly remembered as a national crush throughout India to deliver the hilarious famed dialogue "Namaku Soru Than Mukkiyam". The actress too aced it perfectly with her rhetoric expressions as she called too.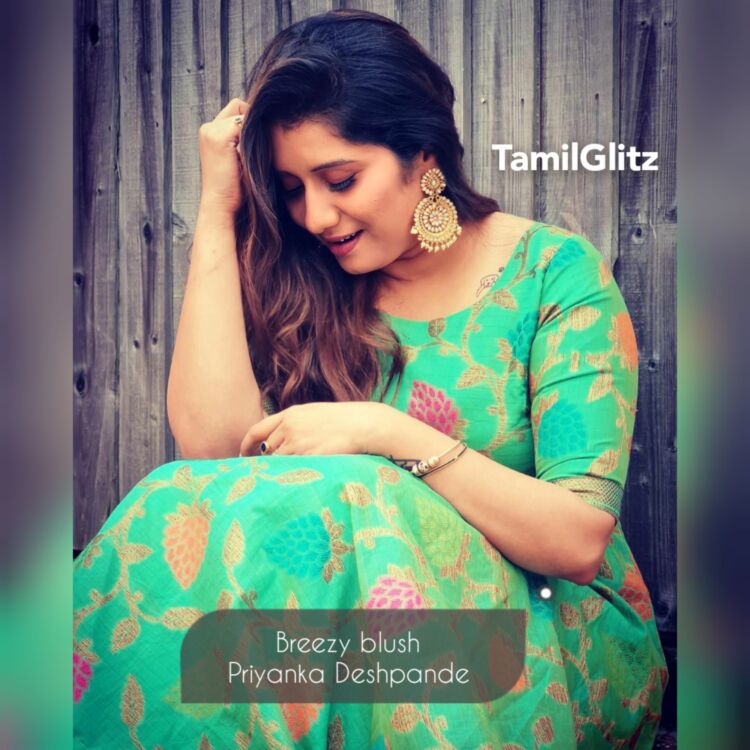 To be remembered once she left her fan bases under striking shock after the anchor was hospitalized early this year in the month of April. Leaving the fans with heartache then revealing to her world that she was admitted due to food poisoning. Then comes in to frame anchor Dheena Kaithi and Master fame, countering Priyanka Deshpande that she would gallop anything and everything that looks eye appealing. The hilarious anchor too burst out into gales of laughter amidst the video recording, then the fan bases would revive after a big sigh of relief. The proud foodie Priyanka is loved especially for her bubbly chubby looks.