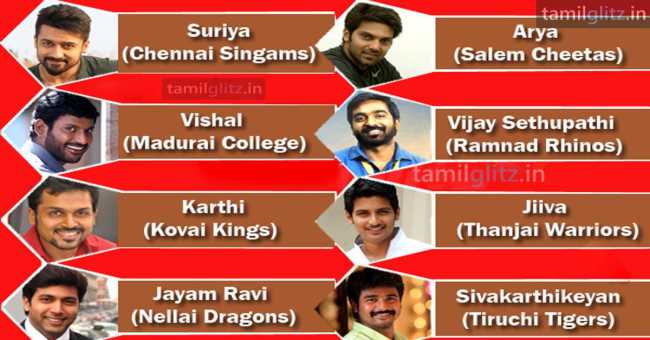 Tamil Actors Star Cricket – Complete Players List: With just a few more days to go for the big bash Star Cricket tournament to be held on the 17th of April the all star players list has been released and here we have them for you.
Chennai Singams – Captain Suriya
Vikranth, Siva, Nanda, Uday, Arun Vijay, Arjun, Hansika, Keerthi Chawla, Gowri Mungal, Divya and Rukmani.
Madurai Kaalais – Captain Vishal
Rishi, Soori, Arulnithi, Ramanaa, R.K. Suresh, Manzoor Ali Khan, Varalakshmi, Janani Aiyer, Madhumitha, Chandini and Nikki Galrani.
Kovai Kings – Captain Karthi
Prashanth, Bharath, Vishnu, Sanjay, Mahendran, J.K. Rithish,Tamannaah, Madhu Shalini, Shrushti Dange, Mumtazm Misha and Abhinayasri.
Nellai Dragons – Captain Jayam Ravi
Arvind Swamy, Vijay Vasanth, Soundarraja, Prithvi, Ashwin Shekar, Vaibav, Sri Divya, Namitha, Manisha Yadav, Vijayalakshmi, Komal Sharma and Parvathy Nair.
Ramnad Rhinos – Captain Vijay Sethupathi
Jai, Kalai, Bose Venkat, Varun Iyswari Ganesh, Shakthi, Sirish, Arun Balaji, Remya Nambesan, Soniya Agarwal,Vasunthara, Gayathree and Rythvika.
Thanjai Warriors – Captain Jiiva
Atharvaa, Lakshman, Pasupathy, Sharan, Ashok, Black Pandi, Amala Paul, Dhanshika, Nikisha Patel, Flora Shiny and Sanjana Singh.
Salem Cheetas – Captain Arya
Karthick Muthuraman, Udhayanidhi Stalin, Athav, Udhaya, Jithan Ramesh, Senthil, Bindu Madhavi, Nandita, Poonam Kaur, Ragasiya and Suja Varooni.
Tiruchi Tigers – Captain Sivakarthikeyan
Vikram Prabhu, Ashok Selvan, Shaam, Hemachandran, Nithin Sathya, Sathish, Sriman, Keerthi Suresh, Chaaya Singh, Gayathri Raghuram, Tejasrhi and Vedhika.