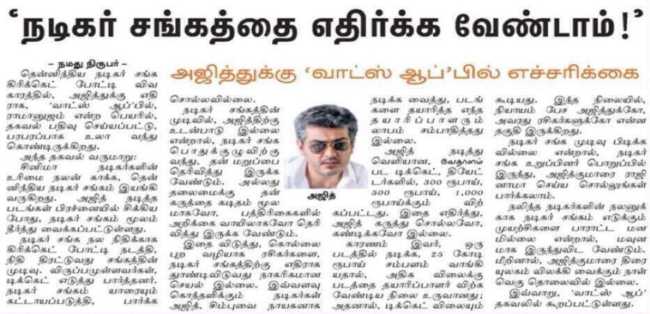 Ajith Kumar is an Indian film actor working predominantly in Tamil cinema. He has won four Filmfare Best Actor Awards, all for films which showcased him in multiple roles. Wikipedia
As Thala Ajith kumar does not support Nadigar Sangam due to various reasons.
He even did not attend Natchatira Cricket, the Cricket Match conducted by Nadigar Sangam and he refused to contribute funds for Nadigar Sangam Building Construction. Few days back several Cinema Sites and Traditional Media ( Times of India ) published that Vishal insulted Thala Ajith kumar by refusing to play his song in a DJ Party.
Some Anonymous Guy sent a threatening message to Actor Ajith kumar stating that
" If u are not interested in nadigar sangam just come froward and officially quit from nadigar sangam " and he personally attacked him with some words that were not revealed due to privacy concern.