Theri Review: Theri Movie is undoubtedly the Most Expected movie of this year. This is Vijay's 59th film and Music Director GVP's 50th movie as a music director. The movie which created a huge buzz after its teaser and trailer is all set for a grand release.
Theri Review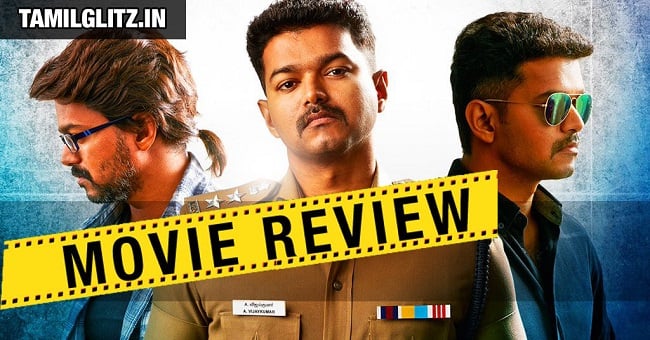 Theri Movie Review
Theri Movie Review:
Theri's plot is just a clash between two Dads one being good and another one not.
Highlight scenes are Vijay's Malayalam dialogue, classroom scene, interval mass, few
twists. Theri is an action film that has a message for society. The film tries to stress the importance of raising our children well and making them responsible citizens of the country. And the safety of women is also stressed.
Vijay's Theri is loaded with emotions and action sequences to satisfy all sorts of viewers. Only negative is we can guess what could happen next especially before the climax portion. But that's how everyone wants it to go. Thanks to Editor Ruben for making the screenplay taut. Decent DOP.
Theri shows Vijay in a different level. He shoulders the whole burden and truimphs. His body language and mannerisms would draw more children towards him. Vijay has been marvelous throughout the movie in "Cracking timing comedies, Young muscular look,
KickAss dance movements, High Octane dialogue deliveries, Action sequences, Emotional scenes, Outstanding body language and Awesome screen presence".
Director Atlee has shown a good versatility in his second outing and eventually Theri has turned out to be an another very good film in his career. He has blended the police efficiency, father-daughter relationship, emotions, love portions and action sequences at right proportions. Atlee has made the movie in an impressive manner.
Veteran filmmaker Mahendran makes his debut as an actor only to impress, With loads of
experience behind the camera, he steps before the same to give a stupendous show. His catchy one-liners make it count. Baby Nainika has done wonders throughout the movie. The dad–daughter relationship scenes were a treat to watch.
Samantha is cute and she has a big role with enough contribution to the story. Amy Jackson looks stylish but doesn't have much space to act. Nan Kadavul Rajendran as comedy cop comes up with one-liners that are laughable.
Theri is a pretty tight–packed at just above two and half hours and one has to say
there are hardly any needless scenes. Music by GVP is good overall but some BGM's lacks mass appeal. The Cinematography is handled by George C Williams and he has done a great job.
On the whole, Theri has lived the hype and yes Atlee's Veri than intha Theri ! Will definitely be a treat for all Ilayathalapathy fans.
Theri Review Verdict : Theri – Make way for the COP! Salute :)
Theri Movie Rating : 3.5/5