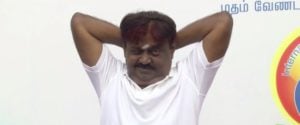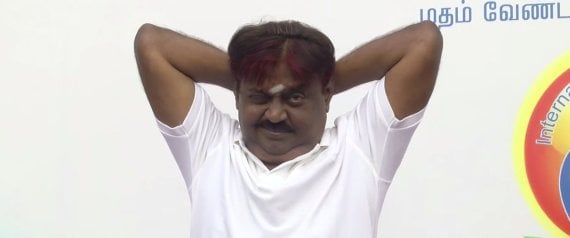 Actor-turned politician Captain Vijaykanth gave yoga a try on International Yoga Day.
The video of that yoga session went viral over FB and Youtube. This session contains lot of hilarious yoga steps.
Though instructions were given to him over microphone he felt very difficult to bend and stretch and all his yoga positions were almost wrong.His Wife tried to correct him several times. He was not able to even perform an ordinary Breathing exercise correctly.
Captain who is usually the charm of all MEME CREATORS didn't fail to entertain them. After this video was released, FB over flooded with Captains's Yoga MEME's. Everyone tried the best out of that and every meme was so Funny and hilarious that people cant avoid it from sharing ! That is a dad for all MEME creators :P
Adding to the craze Vijayakanth was trending in FB at the first spot for more than 24 hours.
Almost all Leading Newspapers had an article on this Hilarious Yoga session :P