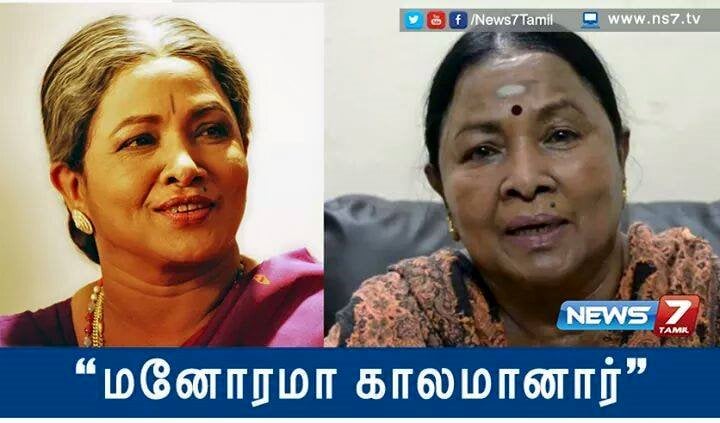 Legendary Actress Manorama Passed away today and almost the whole industry was schoked . She was kindly called as " Aachi " by her fans and the whole tamil industry !
She has acted in more than 1000 films and 1000 stage dramas and also in some TV serials.
She is also found be one of the greatest female Comedian !
Achi Manorama passed away!! @ 11.30pm @ Apollo hospital. let her soul rest in peace
She has shared screen space with all top actors and actresses for generations. She is only second to Sukumari in most number of films acted.
She also has a unique record for being able to work with five Chief Ministers of Andhra Pradesh and Tamil Nadu. She played the female lead in the plays written, directed and acted by CN Annadurai, former CM of Tamil Nadu. She has also appeared in plays with M Karunanidhi.
Awards & Distinctions :
She was awarded the Padama shri in 2002. She won the National Film award for best supporting actress for the movie Pudhiya Pathai in 1989. She was the recipient of the Kalaimamani award by the government of Tamil Nadu. She holds a Guinees world record for acting more than 1000 number of films.
Cho ramasamy claimed on the Tamil TV show Koffee wid anu that he was the first one to call Manorama the female Sivaji Ganesan : He admired her for her versatility and the ability to surprise with her performances
As singer :
"Vaa Vathiyar" (Bommalattam)
"Dillikku Rajanaalum" (Paatti Sollai Thatthathe)
"Madrasa Sutti" (Maya madam)
"Thangaienum Pasakkili" (Pasa kiligal)
"Theriyatho Nokku Theriyatho" (Suriyakanthi)
"Paarthaale Theriyaadha" (sri ragavendra )
"thatha thatha podi kodu" ["magale un samathu"]
Basic Details :
Born

Gopishantha


26 May 1937


Manarungudi , Tamil Nadu, India

Died
11 October 2015 (aged 78)


Chennai, Tamilnadu, India

Cause of death
Heart attack
Other names
Aachi, Gopishantha
Years active
1943-2015

Spouse(s)

S.M.Ramanathan
(m.1964–1966) (divorced)
Children
Bhoopathi (b.1965)