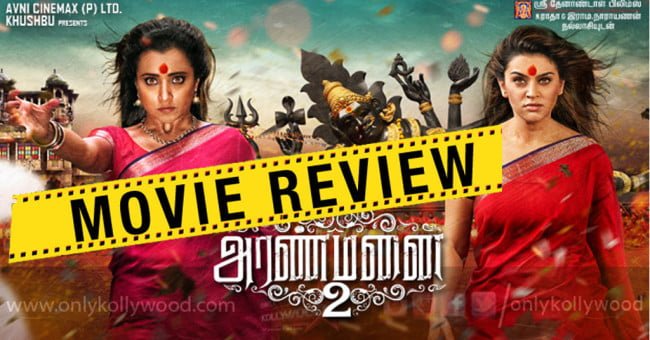 Aranmanai 2 is a Tamil horror comedy film written and directed by Sundar C. The film stars Siddharth, Trisha, Hansika Motwani, Sundar himself, Soori, Kovai Sarala and Manobala will be seen in leading roles. Wikipedia
Cast:
Siddharth
Sundar C
Trisha Krishnan
Hansika Motwani as Maya
Poonam Bajwa
Vaibhav Reddy
Soori as Devadas
Kovai Sarala
Aranmanai 2 Review
After the huge Success of Aranmanai Movie, Director Sundar decided to make Sequel of this movie and Titled as "Aranmanai 2" and the Story of this movie is written and Director by Sunder himself. Aranmanai movie will be same as the Horror Comedy like part one and in this movie the Horror part will be more when compared to Aranmanai. The lead cast in this movie is played by Sundar C, Siddharth, Hansika, Trisha, Vaibhav Reddy, Kovai Sarala, Poonam Bajwa, Soori and some more senior artists in Tamil and Telugu movie industry. As this movie is made in Tamil and Telugu Sunder Selectively selected the cast of this movie who are well known in Telugu and Tamil.
Murali (Siddarth) and his Cousin Anitha (Trisha) are going to a Village to spend their Vacation. They both stayed in a Palace in the Village, where Trisha faces a lot of Super-Natural Behaviour. Thinking that the Palace is haunted, Trisha call her elder brother Ravi (Sundar C). Ravi finds out about Maya (Hansika) & her story.
How Murali, Anitha & Ravi get out of all these troubles is the Story!
Sundar C delivered a Commercial Entertainer with Aranmanai 2. Aranmanai 2 has more Visuals compared to it's prequel Aranamani.
Siddharth plays his role very well. Trisha did a very great job. You can see a different Trisha in this Movie. Hansika also did her best for her role. The chemistry between Siddarth and Trisha was great.
Background Music is Okay. Kuchi Mittai Song was taken Well. We just missed Santhanam from the prequel.
Overall: Old Story Made Pakka Enjoyable by Sundar C
TamilGlitz Rating: 2.5/5