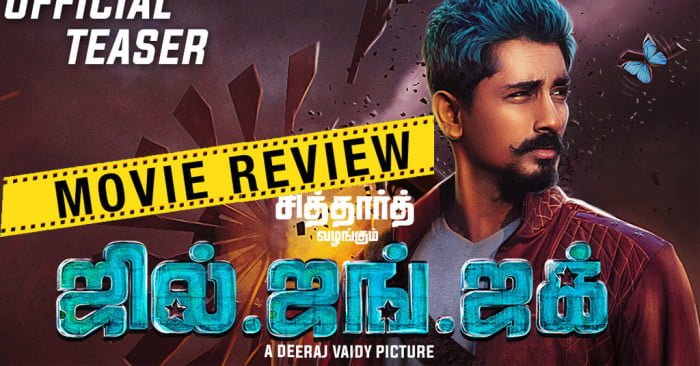 Jil Jung Juk Review (aka) Jill Jung Juck Review: Jil Jung Juk is an upcoming Tamil comedy film directed by Deeraj Vaidy, starring Siddharth, Sananth Reddy and Avinash Raghudevan in the leading roles. This will be the 25th film of Siddharth. Wikipedia
Jil Jung Juk Movie Cast:
Siddharth as Nanjil Shivaji (Jil)
Avinash Raghudevan as Jungulingam (Jung)
Sananth Reddy as Jaguar Jagan (Juk)
Radharavi as Rolex Rawther
Nassar
R. Amarendran as Deivanayagam
M. G. Sai Dheena as Attack Albert
Nassar
RJ Balaji
Bagavathi Perumal as Marunthu
Bipin as Pai
Jasmin Bhasin
Jil Jung Juk Review:
Jil Jung Juck is surely an over rated movie in spite of the new young team and this is mainly because of its uniqueness and a trendsetter in Tamil Cinema. This film has impressed everyone right from its Teaser, Trailer and Songs. This film also marks Siddharth's second film as a producer.
Jil Jung Juk is a story about the three characters and their journey towards a target with black comedy theme.The movie as touted was a black comedy genre. Siddharth as Nanjil Shivaji (Jil), Avinash Raghudevan as Jungulingam (Jung), Sananth Reddy as Jaguar Jagan (Juck) were assigned a simple task of transferring cocaine. The job of taking the candy pink car to Hyderabad and hand it over to the waiting Chinese mafia is given to three conmen Jil (Siddharth) Jung (Avinash Raghudevan) and Juk (Sananth). What follows is a hilarious macho ride that keeps audiences in splits right until the very end.
The lead characters are the backbone of the movie. Their facial expressions itself lighten up the whole screen. RJ Balaji appears for few minutes. But still he makes an impact. Veteran actors Radharavi and Naasar prove their mettle. Siddharth proves his versatility once again. Cinematographer Shreyas Krishna deserves a pat on his back for setting the mood with the right play of lights and movements. BGM is another high point for the movie, especially at the fight sequence, a classical bit is too good. Editing is not sharp enough which is a big let down for the movie.
BGM, no heroines, interval block, funny dialogues are the highlight of the movie
where the length of the movie is very big let down! At one point, it feels like when the
movie concludes.
VERDICT: Jil Jung Juk falls under "JUNG" Category.
Rating: 3/5