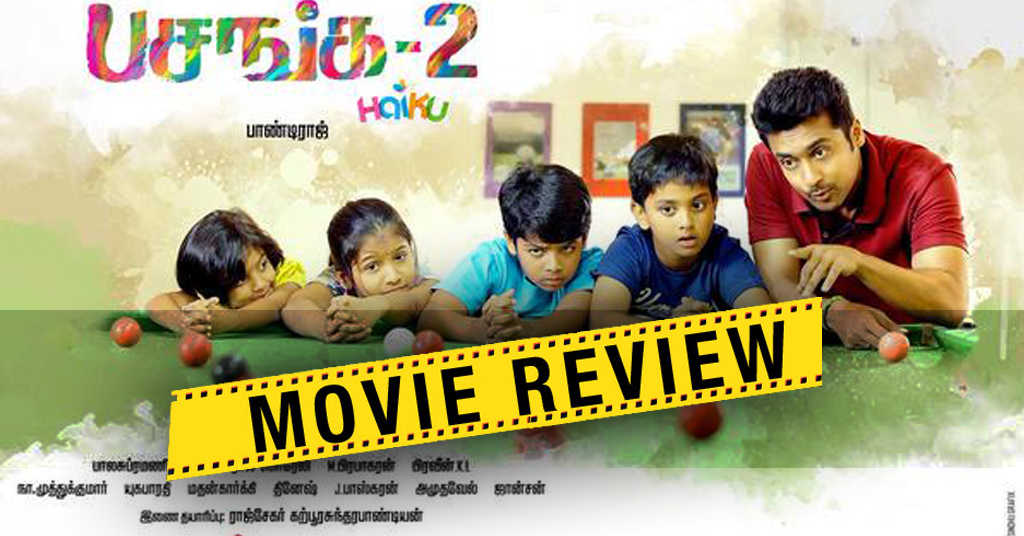 Pasanga 2 Review aka Haiku Review from TamilGlitz team.
Pasanga 2:Haiku is a 2015 Indian Tamil children's film directed by Pandiraj. The film, starring three children—Kavin, Nayana and Abhiman, all newcomers—alongside Karthik Kumar, Bindu Madhavi, Ramdoss. Wikipedia
Director Pandiraj's film Pasanga was a huge hit and that was his trademark film and now he has came out with the sequel of that film PASANGA 2 ( Haiku). This film was produced by Suriya's 2D Entertainment and also by Pandiraj's Pasanga Production. Suriya has also acted in this film along with Amala Paul.
"Pasanga 2" is a children's movie featuring Nishesh, Baby Vaishnavi, Aarush, Karthik Kumar, Bindu Madhavi and others. Suriya himself will be seen in extended cameo along with Amala Paul in the flick. This movie is close to the actor's heart and he has produced the movie without worrying about the box office fortunes of the flick.
Review :
Pandiraj should be lauded for taking up a social cause with a message. The movie has a shot at winning a few national awards for its social theme. However, the movie lacks a good script to engage the audience. The script has no sign of spark and falters in execution. As a result, the end product turns out to be an amateurishly made docu‐drama.
To acknowledge and support a good script is one thing. But being top stars, agreeing to play supporting roles, requires great sense of regard and appreciation towards art of good cinema. Firstly, kudos to Suriya and Amala Paul. Not only have they brought in their brands into the film, but also high spirits, good intentions and heartfelt performances.

The songs are forgettable and the background tracks try to lend the necessary support to engage the audience. Balasubramaniem's camera work is adequate. The editing shows no ingenuity in translating the screenplay elements to something engaging.
VERDICT : Pasanga 2 – Tamil Cinema 2
Rating : 3.5/5