Priya Raman is a well-famed south Indian actress both on the silver screen and on the television screen. Fondly remembered for her performance in the television serial Sembaruthi. The actress appears in an authentic, women-centric, strong female character in the serial. As well as she happens to be a good-hearted, kind loving mom and an authoritarian mother-in-law. This serial has earned her a distinct fan base and brought out Priya Raman to the limelight after a break from her industrial life. Once after Priya Raman started featuring in Sembaruthi her widespread fan base included children who watch television serials along with their homemaker moms or the ones who accompanied their grandparents.
Priya Raman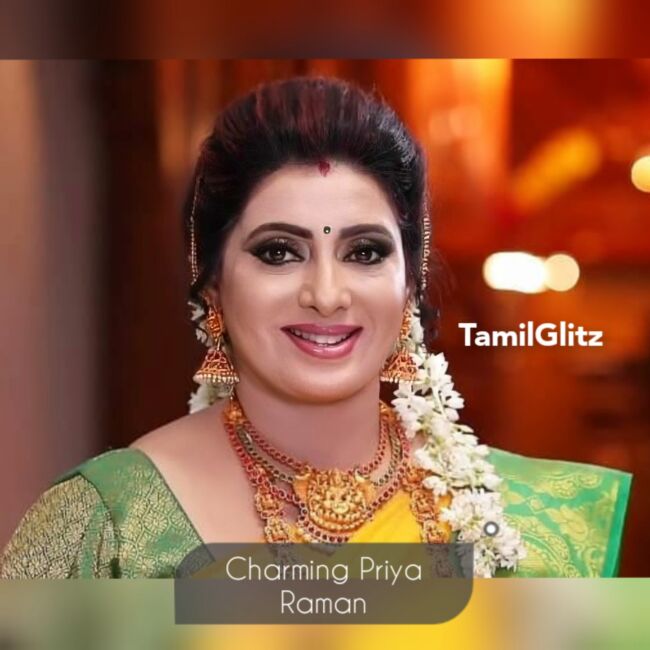 Priya Raman is an actress, supporting actress, television program producer, who is well versed and well appeared in Tamil, Telugu, Malayalam, and Kannada film industries. Priya Raman's debut Tamil film was Valli, the most fascinating fact about the movie is that it was penned down and produced by Superstar Rajinikanth. The movie Valli was helmed by K Natraj, bankrolled and propagated by Rajini Arts.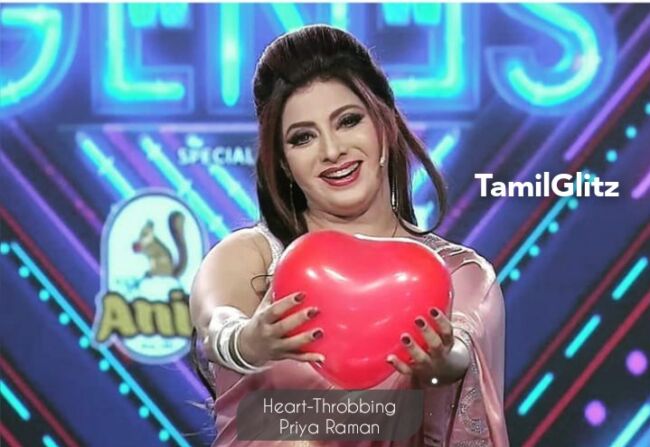 Superstar Rajinikanth also was seen as a cameo character in the movie. The music was scored by legendary music director Ilayaraja. The movie featured Priya Raman and Hariraj in the lead roles, actor and producer Rajini Kanth in a guest role, and also roped in Vaigai Puyal Vadivelu as the movie's comedian. Priya Raman threw out an imperial entry into acting through her Tamil debut Valli as it involved Kollywood bigwigs.
Priya Raman Biography
| | |
| --- | --- |
| Real name: | Priya Raman |
| Nickname | Priya |
| Marital Status | married |
| Spouse | Ranjith (1999 m – 2014 div), 2018(patched up) – present |
| Children | Aadhithya Rao and Akash Rao |
| Parents | Mr and Mrs Pattabhi Raman. |
| Date of Birth | 18th June 1974. |
| Awards | Tamil Nadu State Award for Best Actress |
| Birthplace | Aluva, Kerala |
| Native place | Aluva, Kerala |
| Residing Place | Chennai, Tamil Nadu. |
Priya Raman's successive venture back then in 1993 was Arthana her Malayalam debut helmed by I V Sasi. With this movie, she entered Mollywood too.
The movie starred late actor Murali and her co-actress to date, Raadhika Sarathkumar. Priya Raman is remarkable for her acting mastery in innumerable television serials and also in countless movies.
Priya Raman's early life
Priya Raman married actor Ranjith in 1999 and due to subjective predicament, she divorced him in 2014. Later on, actor Ranjith married actress and model Ragasudha yet again due to confidential rationales he divorced her. Again in 2018 Priya Raman and Ranjith patched up sorting out their misreadings regarding one another. The partners are leading a happy and prosperous life from then on.
Priya Raman and her television serials
Priya Raman is reasonably prominent for her numerous television serials out of which few successful ones are the Tamil serial Sri Durga in which she appeared as Durga in Jaya TV in the year 2001 and the Malayalam serial Kavyaanjali bankrolled by Ekta Kapoor under the banner Balaji Telefilms in which she was materialized as Anjali. This serial was telecasted on Surya TV. She started her serial performance with Snehatheeram in the year 2000 which was telecasted in Malayalam on DD Malayalam. This was her debut in serial acting in the same year she was seen in the serial's sequel which was then telecasted on Surya TV.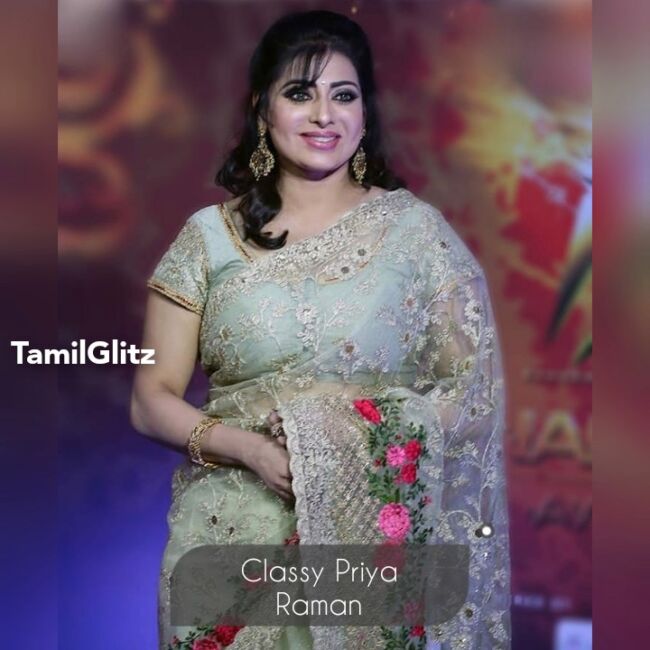 After successive serials in the Malayalam television industry, Priya Raman returned to Tamil in 2007 with Girija M A serial in the character role as Girija which was cast in Jaya TV. Following this in 2008 she appeared in Porantha Veedu Puguntha Veedu which aired on Sun TV. This serial possessed a distinct fan base especially women at every next door.
Priya Raman played the role of Lakshmi in Porantha Veedu Puguntha Veedu. Priya Raman's most power-packed strong women-centric position gained her an impeccable love for the currently ongoing serial Sembaruthi. Priya Raman plays the role of a businesswoman and as a courageous lineage head as Aadhikadavur Akhilandeshwari fondly known as Akhila Purushothaman. The serial Sembaruthi features Shabana Shajahan and Karthik Raj later replacing VJ Agni. This serial is running successfully and has crossed over 1142 episodes. The serial kickstarted on 16th October 2017 and runs to the present. The serial is telecasted on Zee Tamil. Priya Raman and her husband together are sharing screen space in their next project Senthoora Poove in which Priya Raman appears as Aruna, the first wife of Duraisingham the protagonist of the serial none other than Ranjith. This serial is currently aired on Vijay Television and is one of the highly watched television serials which is increasing its viewer's count day by day.
Priya Raman and Reality shows
Priya Raman hosted the well-famed television show Genes which was telecasted by Zee Tamizh starting from 2018 continuing till 2021, for almost three seasons Priya Raman hosted this show fantastically. Later in 2019, she turned out to judge Dance Jodi Dance Juniors show again aired on Zee Tamizh. This was a completely dedicated show for under 14 years to rekindle the kid's dancing maestro. Following this in 2021 she hosted a talk show Stylish Tamilachi vs Mass Tamilan again aired on Zee Tamizh. The actress turned television presenter impeccably aced her role in whichever avatar she picks.
Priya Raman's best-picked movies
Priya Raman is featured in a handful of Tamil movies as she is a native speaker of Malayalam. Her Malayalam movies list comparatively more surplus than Tamil. She nailed her performance in Suryavamsam starring Sarath Kumar and Devayani in lead roles. In 1998 she was seen in movies including Ponmanam, Hari Chandra, and Pudhumai Pithan. Her Malayalam movies chronicle goes eternal.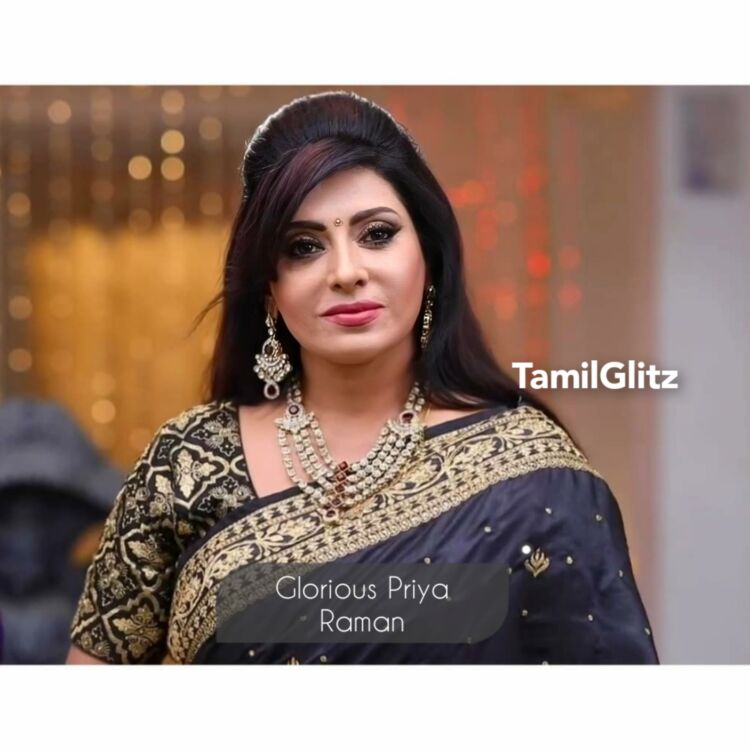 A few of her triumphant flicks in Malayalam are Saniyam, Manthirkam, No 1 Snehatheeram Bangalore North, Kumkumacheepu, Bhoopathi, Asuravamsam, and Aaram Thamburam. The successful heart-throbbing actress, tireless hard worker is whizzed about to stride into Bigg Boss Tamil season 5. If so, this will be Priya Raman's succeeding endeavor.