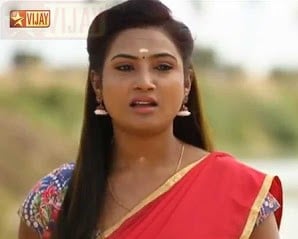 Serial Actress Nandhini is soon getting married, According to Tamil Serial Sources. Upon enough investigation, It has been confirmed that at first she rejected the guy who came to see her in her house according to our Cultural rules.
But later, They both fell in love and now they are planning to marry. Arranged Marriage was rejected and got converted into Love marriage. Serial Actress "Nandhini" got famous for her role as Nandhini in "Saravanan Meenatchi" as "Myna".
In the recent film "Vamsam", produced by Satyaraj, She was acting in a comedy role. She has even worked as a judge in "Kalaka Povathu Yaru Season 5". She claims that timing sense is required to shine in reality shows like "Kalaka Povathu Yaru".
She is gonna marry the guy whom she rejected at first when he came with his parents to see her, but fell in love with him later.
When Karthikeyan went home to see her, She said that she is not interested in marriage anytime soon. Then he called her to come to his gym. They became friends and ended up in love. With the approval of their parents they are gonna get married soon. She is getting ready for her marriage as of now.
Click on the Images Below to View Full Size