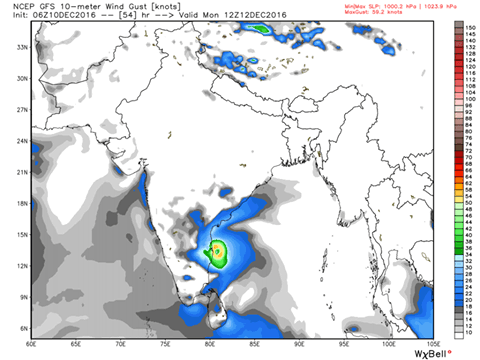 The severe cyclone has intensified one further notch and it is a Very Severe Cyclone Vardah now. It will continue to maintain the intensity till tomorrow and will then will start to weaken before landfall close to Chennai but still as a cyclone. Windspeed of close to 80-100 km/hr can blow over Tiruvallur, Chennai and Kancheepuram coast at the time of landfall which will happen around 12th afternoon or evening.
The JTWC model consenus track has changed close to Chennai from morning as they were initially showing landfall close to Ongole in the morning. Waiting for IMD to change landfall close to Chennai. Mostly they will change tomorrow. But as i said in the earlier post, not much change can be expected in the track with the models as there is some tight agreement among the World No.1, 2, 3, and 4 models (skill score).
Tomorrow the weather will start to change in Chennai and some rains can be expected and on sunday night / monday heavy rains are possible. More on rains a post will be put tomorrow.
Content Credits : Tamil Nadu Weatherman