Isaivani was born on January 1, 1996, in Royapuram, Chennai. Her Father's name is Siva Kumar and her mother's name is Selvi. She got married at the age of 24 and her husband's name is Satheesh. She is a local famous Ghana singer and she started singing at the age of 6. Her father was a Harmonium player and thus she has a natural talent for music. She performed 10000+ shows along with his father Siva Kumar. She was popularly known as GANA ISAIVANI as she has sung many Gana songs in the Tamil film industry and also as an album. In 2017, she joined a band named CASTLESS COLLECTIVE. This band's main motto is to raise the voice for the people of SC/ST through her songs. In 2020 she was awarded as BBC's 100 WOMEN AWARD
Isaivani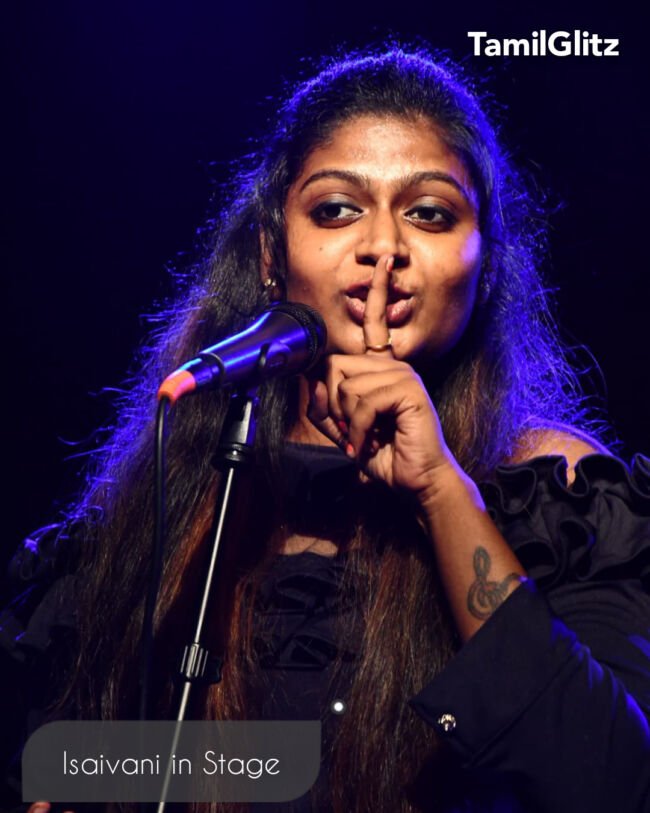 Isaivani Bio
| | |
| --- | --- |
| NAME | ISAIVANI |
| NICKNAME | GANA ISAIVANI |
| FATHER | SIVA KUMAR |
| MOTHER | SELVI |
| PROFESSION | SINGER, PLAYBACK SINGER |
| DATE OF BIRTH | JAN 1 1996 |
| AGE | 25 |
| ACTIVE YEARS | 2016 |
| MARITAL STATUS | MARRIED |
| HUSBAND NAME | SATHEESH |
| EDUCATION QUALIFICATION | GRADUATED |
| BIRTHPLACE | ROYAPURAM, CHENNAI, TAMIL NADU |
| CURRENTLY LIVING | ROYAPURAM, CHENNAI, TAMIL NADU |
| HOME TOWN | ROYAPURAM, CHENNAI, TAMIL NADU |
| NATIONALITY | INDIAN |
| RELIGION | CHRISTIAN |
| SIBLINGS | ONE BROTHER |
Isaivani Early life and career
Isaivani started her singing career at the age of 6 along with his father. His father was a Harmonium instrument player. She got more interest in singing and has sung many Gana songs to raise a voice for Dalit people. She is a follower of DR. AMBEDKAR. At a young age, she used to sing normal songs as she is very interested in music.
Later, she got interested in Gaana songs as she hears most of them from her community people who always sang for all the emotions. She got to know about her gaana singing talent accidentally in a function where her elders asked her to sing a gaana song.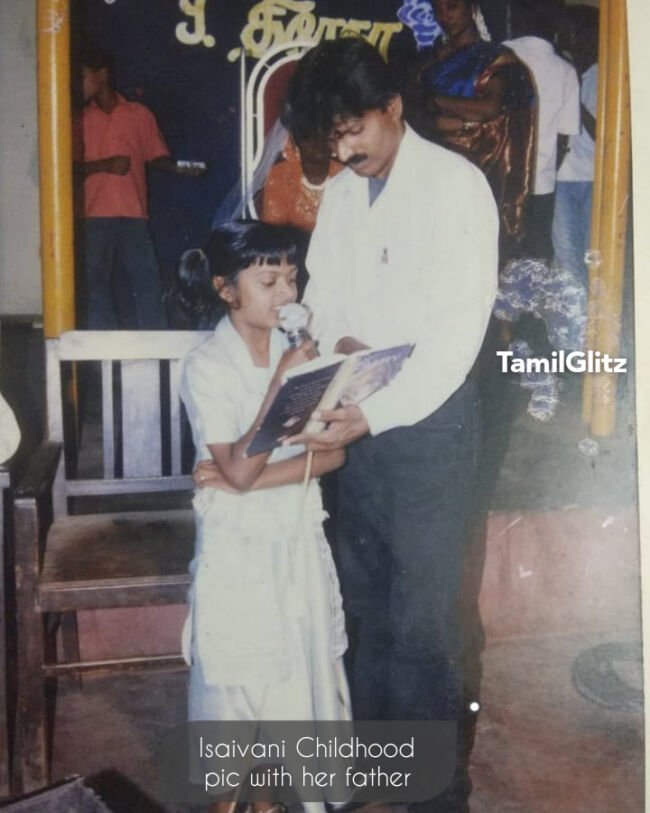 After she started singing, people enjoyed it and started dancing to her songs. Then she fully makes her involved in the gaana song. Her parents also supported her talent despite many people not agree with female gaana singers. She performed in many stages and she is the first female Gana singer in India. In 2017, she joins a band which is called Casteless collective. This casteless collective band was formed by the film composer Tenma and director Pa.Ranjith who is very popular among Tamil filmmakers and some of his hit movies are Madras, Kabali, Kaala.
In this band, she is the only female singer, also in 2018 Casteless collective band released a song named BEEF SONG which was sung by Isaivani for the murder of Dalit peoples and this went viral on the internet for some days. In her songs, she sings about the problems faced by men, women, transgenders, and also farmers. Also in 2019, she released a song about the Sabarimala temple controversy.
ISAIVANI FILM CAREER :
Her ultimate goal is to sing a song in the films and it happened recently in the Pa. Ranjith movie. She inspired many women to come forward for the Gaana singing. She strongly believes that Ghana singing is not only for men but also for women. Mostly Ghana songs are sung by males and the recent famous gaana singers are Gaana Bala, Gaana Sudhagar, etc. But currently, she is the only famous female gaana singer across Tamilnadu.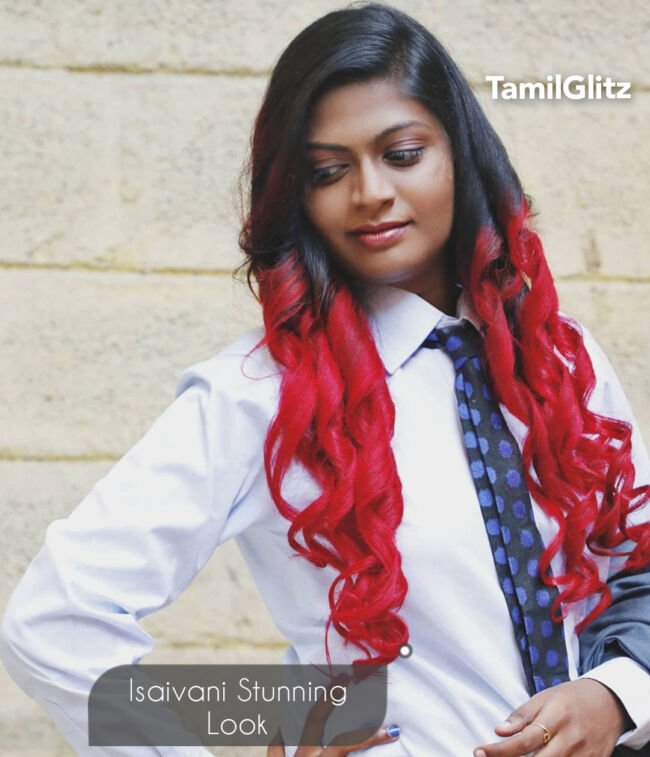 As she is the first female gaana singer, people started to like the new voice of the gaana songs. No one had heard gaana songs from a girl's voice, then when she does that and it becomes a famous voice for the gaana. She is a big fan of Isaignani Ilayaraja who is a maestro music director in the Tamil film industry. Also, she got a chance to meet him and she was really happy and excited about that experience. In 2020, she is married to Satheesh.
RISE OF ISAIVANI
She owns a Youtube channel named ISAIMEDAI. In this channel, she published all her album songs and she has a separate fan base for her songs. She also performed many programs and functions all over Tamilnadu.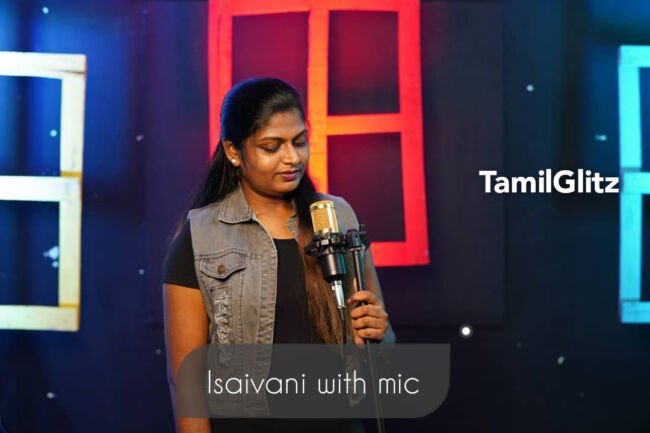 Isaivani Songs
beef
vada Chennai
tik tik
varungalam engaladhu
thalaivaa
quota
Priya Priya
jaibhim anthem
vaiyulla pulla
magizhchi
vivasayam
othadi
thapille thangachi
nanga platform
kaalu rooba dhuddu
moola mandhiram
kooturil kudikondu
sidar potrigal
angalamma paramma
guru potrigal
kuttrin kuladeivam
alaithen nee varuvai
virutham
aathi parasakthi paamalai
vambula thumbula
mannalakkum mari
venduthal kooru
kappu
moolaguru potri
2020 turns out to be a great year for her as she was nominated and won BBC's 100 Women in the category of 21st century Indian women singers and for the first time, Tamil girl selected for the BBC awards. BBC's 100 Women is a multi-format series, which examines the role of women in the 21st century.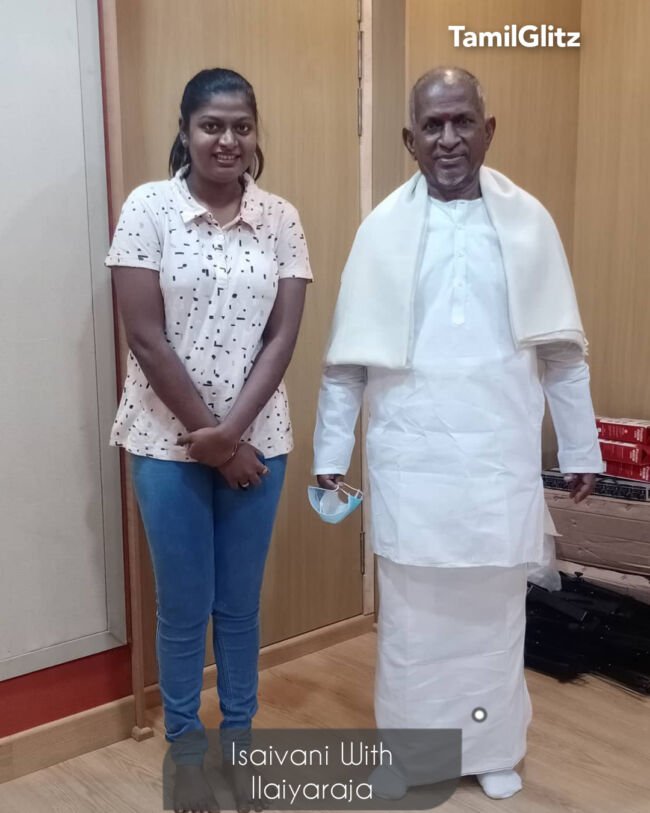 Currently, she has sung many songs in the Tamil film industry like VAMBULA THUMBULA in SARPATTA PARAMBARAI movie which is a trending song in Social media.