Namitha Marimuthu, a gorgeous Indian model and film actress in Tamil Industry. Namitha Marimuthu is all obliged to receive a big round of applause from the Tamil audience as she represented India for the first time in Miss Trans Star International and also earned the title. She stands proud as the first Indian transgender to participate in the quest. Namitha Marimuthu the much-forwarded actress in her reflections and perception brings Tamilnadu a dignified moment.
Namitha Marimuthu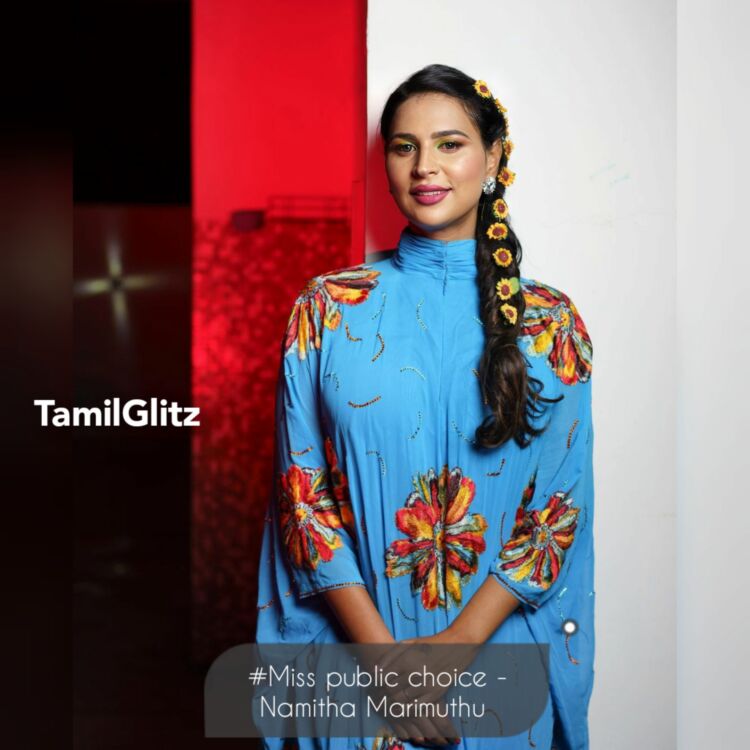 In 2019 she was perceived as the brand ambassador of Miss Trans Queen India, she carried out her diplomacy with much exemplary. In the same year, the great shot for her to stride into the silver screen awaited. She was seen in Samuthirakani's Nadodigal 2 movie in the characterization of Prithika Yashini. Namitha Marimuthu also holds the Miss Koovagam title. The stunning actress desires to establish an organization exclusively for aspiring transwomen in the country to rekindle the burning blaze in them for accomplishing a high rank in the modeling field. 
| | |
| --- | --- |
| Real name | Namitha Marimuthu |
| Nickname | Namitha Ammu |
| Profession | actress and model |
| Father name | Marimuthu |
| Mother name | Vennila |
| Siblings | none (single child) |
| Birthplace | Chennai, Tamilnadu |
| Residing Place | Chennai, Tamilnadu |
| Religion | Hinduism |
| Nationality | Indian |
| Mother Tongue | Tamil |
| Schooling | St. Ramjas School |
| College | St. Peter college of Engineering and Technology |
| Qualification | Engineering (not completed) |
| Marital status | single  |
| Hobbies | cosmetic garnishing, self-grooming and listening to music. |
| Height | 185 cm (centimetres) 1.85 (meters) 6'1″(feet) |
| Weight | 68 kilograms |
| Eye colour | Indian Black |
| Hair colour | Indian Black |
Namitha Marimuthu: Early life
Namitha Marimuthu shares her struggle for survival in the world with immoral conceptions in esteeming the lifestyle of transwomen. In the talk shows which she attends she reveals the hardship that she faces right from her kin, clan, society, community and culture. She sadly lets out to the audience that until her 10th grade she stood first in her academics and aimed at becoming a medical professional. Later unfortunately she couldn't help herself pursue medicine because of which she chose to engineer just the way every typical Tamilian does. Namitha Marimuthu was groomed in a family where she was pampered the best her parents could, moreover she was a single child in her nuclear family. Namitha Marimuthu says that she lived as an introvert in her preadolescence owing to which she couldn't step out of her home and didn't learn anything about civilization.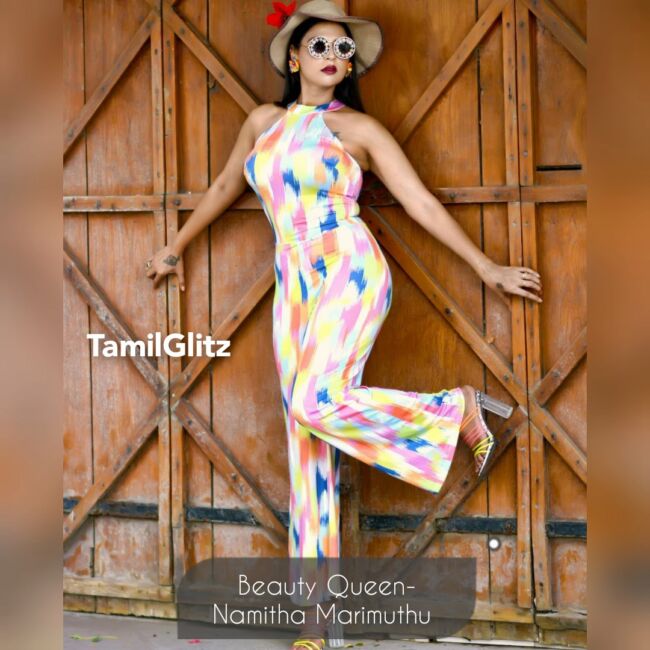 Later during her college days, she encountered a hostel lifestyle for the first time, just then she came across the existence of trans women. It was then she witnessed the changes in her physique and psyche. The transitions in her urged her to shatter her existing inconvenient life and build a blissful life for her to live the way that she would like to. Namitha Marimuthu leaned on her parents then described to them the grief and agony that she faces in her life. Her parents refused to accept her transformation into a woman. They denied her desire and by pressure tried to counsel her, it seems her parents went to the verge to lock her up and torment her. Once she was even admitted to mental health care centers so that she would behave the way that appeals to their notion. The adversity that Namitha Marimuthu experienced in the mental health care center was beyond normalcy.  
Namitha Marimuthu shares that she could not resist her existence in the mental health care center and she broke out from there and reached Mumbai. She felt as if her life collapsed entirely after watching out the miseries that trans women confront in the industrial capital of India. Namitha Marimuthu later evacuated from there and came back to Chennai where she met a person thankfully who supported trans women. She then underwent the surgery- male to female transition. 
Namitha Marimuthu's strength
After much struggle and hardship, Namitha Marimuthu finally transformed to the way she wished for. Her parents then accepted her after realizing that nothing much could be done to her. Namitha Marimuthu expresses her pain when even after her parents accepted her but along with her parents, she was ostracised by her lineage and relatives for the way she is. In the community, she was not provided accommodation to live in the sense she couldn't rent out an adobe for her living.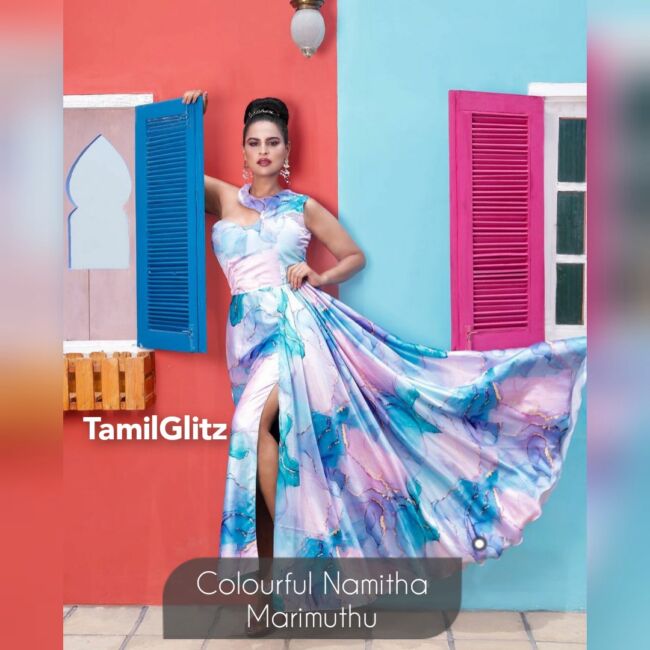 Considering all these adversities her parents sold out their possessions and brought her a flat in Chennai in which she can live a peaceful life. Namitha Marimuthu realizes that she is endowed much when her parents supported her to this extent. Her parents even requested her to look after more people like her. Namitha Marimuthu is so kind-hearted and is now a caretaker of 35 other trans women in her flat. 
Namitha Marimuthu's success story
Furthermore, Namitha Marimuthu's passion didn't give her a halt; she was provoked even more and her vision and mission grew wilder and tougher. Namitha Marimuthu for the first time won the award of Miss Koovagam exclusively for trans women. Similarly, she won Miss Chennai, Miss Tamilnadu, and Miss Pondicherry (3 years) titles. Later Namitha Marimuthu won Miss Trans Star India, the first trans woman to win this from Tamilnadu. Subsequently, she achieved the title of Miss Trans Star International 2020, yet again the first trans woman from India to succeed in this prestigious award.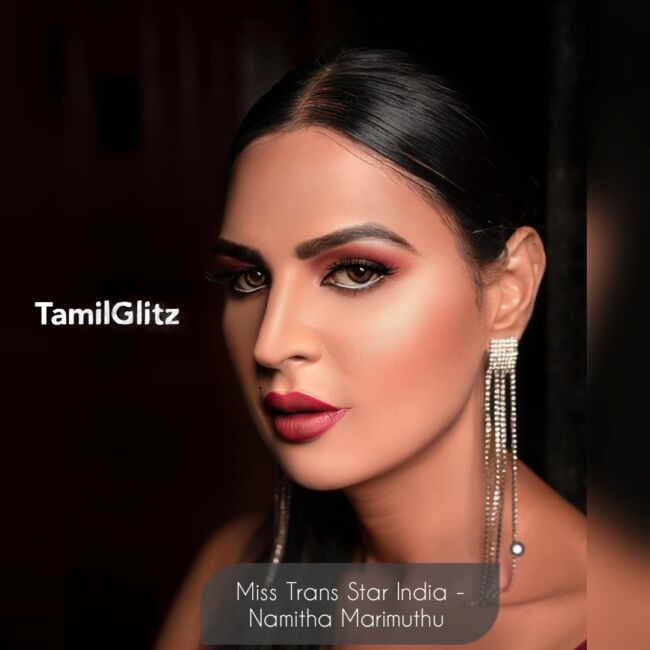 Every year she would leave her footprint in Bangalore Fashion Week. Her victory doesn't cease there; she took her craving to the next degree by winning the best role model for women title from Zee Tamizh television network. She strode into the silver screen following these endeavors. She was selected as Miss Popular and Miss Public choice in the Miss World contest held in Barcelona, Spain. This is absolutely a triumphant moment for India as it is the first time for a transwoman to accomplish such a prestigious title. 
Namitha Marimuthu's excellence was watched and admired by the Tamil audience in her debut movie as one of the leading characters in Nadodigal 2 helmed by director cum veteran actor Samuthirakani.